Never one to shrink away from controversy, inaugural NMCA Radial Wars Champion Keith Berry (above) recently held court with DRAG ILLUSTRATED's Ainsley Jacobs to share his vision of the coming drag radial season.
As far as racing at Alabama's Huntsville Dragway goes (which hosted several record-shattering passes in the 2014 season, including Brad Edwards being the first to run in the 3s on a radial tire), Berry is quite opinionated.
"All Huntsville times are bullshit," Berry states. "WOOO! Nation will expose it for what it is in 2015. There's a reason in 2014 that radial buzz started out as Berry vs. Mullins, then Berry vs. Valden, then Berry vs. Mills, then Berry vs. Hancock, then Berry vs. Edwards … anybody can have 15 minutes of fame, but I AM fame.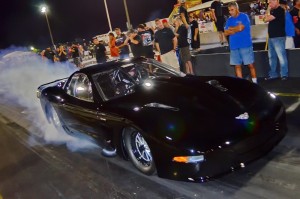 "I make bitches famous and happy then never heard of again all in one pass," he adds confidently, with a hint of good-natured, tongue-in-cheek sarcasm.
His opinions, though, are not limited only to Huntsville. Lately, Berry's been busy making it known online that he's unhappy with "shifty rules" at certain races in regard to weight breaks and suspension regulations which he feels unfairly handicap him and his particular setup, and laments about the perils of "when keeping it real goes wrong." Time will tell whether Berry and others will be able to rise above the digital debates and put down respectable numbers despite the restrictions.
Berry also predicts, "by the end of this season, cars will be switching from drag radial to Outlaw 10.5 so that they can be more competitive; whereas in the past it's been just the opposite." He forecasts that "NMCA Radial Wars will become–if it hasn't already–the cornerstone of radial racing and others will soon follow suit. Most already have. Donald Long's races (at South Georgia Motorsports Park) will be the only crazy rule package race(s) that will survive."
To add even more fuel to the fire, rumor has it that Berry, who tends to always be at the forefront of the radial world's innovations and drama–which he quite obviously enjoys–will soon be heading down to Bradenton, Florida, with a well-known tire manufacturer to test a new bias slick-radial combo tire. "The data that they get from my test passes will decide what they do with the new tire that's coming out," he says.
No matter what, with the start of the 2015 season looming closer each day it looks like the leader of WOOO! Nation expects last year's achievements will quickly be blown out of the water by those who are looking to make their own mark in the radial tire scene.