In the high-performance world, you are only as good as your latest performance and in the case of Emtron Engine Management, they are one of the leaders in the wildly exciting Radial vs. The World competition. Hyperaktive Performance Solutions, an authorized dealer and calibration specialists for Emtron Engine Management, recently set the mark as the quickest and fastest DOT-equipped turbocharged drag car in the world. Customer Tim Slavens stopped the clocks in 3.62 seconds at 217 mph with his 1969 Chevy Camaro during Lights Out 10 at South Georgia Motorsports Park.
Joe Oplawski, lead engine calibration and power management expert at Hyperaktive Performance Solutions, marked the Emtron Engine Management system as a critical component in achieving the team's record-breaking performances.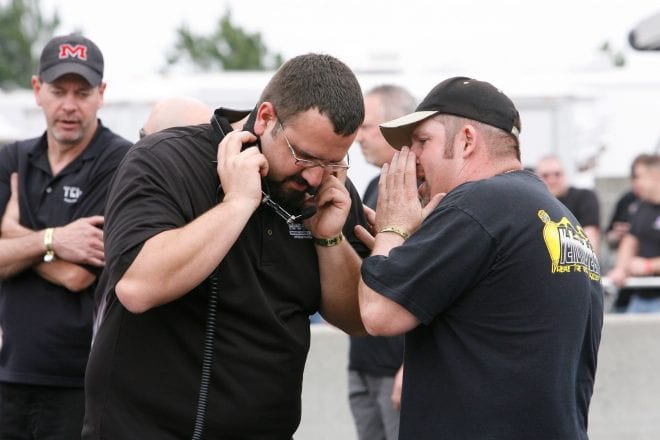 "Our phone has been ringing non-stop following the Lights Out 10 race with interest in the Emtron EFI system. The ECU has a lot of great features and capabilities for a wide variety of applications. We've been using the KV-series ECU on street cars and racecars for a few years and are very impressed. Switching to the KV-series, in some applications, has been a night and day difference," Oplawski explains. Hyperaktive Performance Solutions recently worked with the Roadster Shop to convert its latest superstar project, Road Rage, to an Emtron KV-series.
The Emtron KV-series is the company's top-of-the-line ECU and certain models offer an industry-leading 44 Input/Output channels. The KV8 will also support up to eight channels of fuel and eight channels of fully sequential ignition. The ECU is housed in a durable billet-aluminum enclosure and has up to 64Mb of permanent memory for on-board data acquisition, oscilloscope function, drive-by-wire control, twin Lambda controllers, twin digital knock control, Ethernet communications, and a 3-axis G-force sensor, amongst other options.
Hyperaktive Performance Solutions is an authorized dealer and tuner for Emtron USA with units in stock, ready to ship.