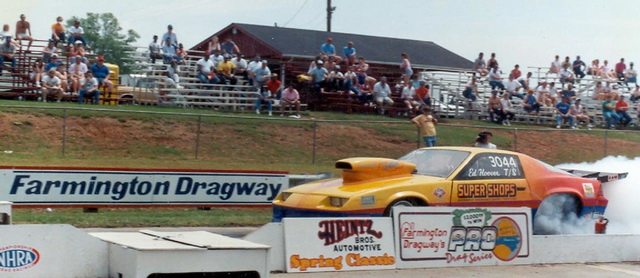 This Saturday (May 25), Ed Hoover will lead a cast of Quick 8 Pro Mod all stars into Farmington Dragway for the inaugural Quick 8 Pro Mod Reunion race.
Hoover, who won the first-ever Farmington Quick 8 Cup back in 1990, is also credited with winning the first sanctioned Pro Modified event. This weekend Hoover will headline a Quick Eight Pro Modified field while driving Paul Trussell's supercharged Chevrolet Camaro.
"Nothing could be better than to have one of the true pioneers of Farmington Quick 8 racing as apart of this special Reunion race" said former track owner and event co-promoter Mark Joyce. "Ed did a lot of winning back in the early '90's not only at Farmington , but all over the south and me and Denise [co-promoter Tutterow] is proud to have him aboard for the event."
Joining Hoover in the battle for the Quick 8 Pro Mod Reunion victory will be the Todd Tutterow along with  Galot teammate Kevin Rivenbark. It is undetermined at this time whether Tutterow will race his supercharged or turbo entry.
A score of other drivers will be battling for a $4,000.00 to win and $1,200.00 runner-up purse. Each semi-finalist will receive $1,000.00 and those who lose in the first round will earn $750.00.
Qualifying begins at 12:15 PM, round two is at 2:15 PM and the final round scheduled for 4:15 PM.
A special celebrity race is scheduled as well with Gene Fulton and Sonny Leonard among the entrants in the race for charity.
Besides the Quick 8 Race and Celebrity shootout, the stars and cars of Tony Brown's Pro Tree Racers Association series will be in attendance with their 4.90 Index Door Cars, 4.90 Index Dragster, 6.0 Index, 7.0 Index, True Street , Performance Street , Pro Tree Eliminator, Street Eliminator and Pro Tree Junior Dragster classes.
Event Schedule, Saturday, May 25th
Gates Open at 8 AM
Time Runs start at 11 AM
Quick 8 Pro Mod qualifying at 12:15 (Rd1)
Grill Out Contest starts at 1PM ends at 6 PM
Fun Zone events start at 11 AM to 8 AM (Located in between the two Concession stands)
Quick 8 Pro Mod Rd 2 at 2:15 PM
Celebrity Pro Mod drivers "street car" Shootout Time Runs start at 3:00 PM
Quick 8 Pro Mod Rd 3 at 4:15 PM
Celebrity Shootout elimination's at 5:30 PM
1st Rd Quick 8 Pro Mod elimination's at 6:15 PM
Announce Grill  Out Contest and other award winners at 7:00 PM
2nd Rd Quick 8 at 8:15 PM
Finals at 9:15 PM