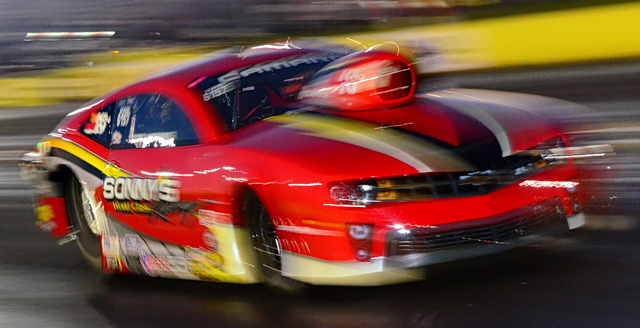 Driving the same car he campaigned in 2012, but sold at the end of the year, Forest, Virginia's Todd Hoerner will be making his ADRL Extreme Pro Stock (XPS) season debut at Rockingham (NC) Dragway Sep. 6-8, in Dragstock X, the all-eighth-mile series' oldest event.
Hoerner, last year's ADRL Rookie of the Year , will be in the same 2012 Camaro he drove last season to the first-ever XPS win with an  EFI-equipped engine combination when he beat Trevor Eman in the final at St. Louis.
"We are really excited at the opportunity," said Hoerner, who works at Sonny's Racing Engines. "The new car owner, Tommy Zarella, has always wanted to get into XPS, and this is a great opportunity for our entire team. We have lots of power with the Sonny's EFI engine, and I'm real comfortable in this car.
"This Jerry Bickel car worked great for us last year, and it's real fast.  With the unfortunate sponsor we had falling through on their commitments this year, we went a different direction and we were able to put a deal together with Tommy, to run the remaining races in ADRL and to hopefully run the full ADRL schedule in 2014."
Jeff Dobbins ll also is returning as crew chief for Hoerner.
"Jeff and I had a great season last year, and we are excited to run together again. There's a lot of good hot rods and drivers in XPS, and we look forward to the competition," Hoerner said.
(Photos by Ian Tocher)