Robert Hight powered to a track record to secure the Funny Car No. 1 qualifying position Saturday at the sixth annual AAA Insurance NHRA Midwest Nationals at Gateway Motorsports Park.
Clay Millican (Top Fuel), Greg Anderson (Pro Stock) and Andrew Hines (Pro Stock Motorcycle) were also No. 1 qualifiers in their respective categories at the third of six events in the NHRA Mello Yello Series Countdown to the Championship.
Hight's track elapsed-time record 3.830-second pass at 333.91 mph in his AAA Missouri Chevrolet Camaro SS held up from Friday to earn him his seventh No. 1 of the season, 56th of his career and second at Gateway Motorsports Park. He'll race Dale Creasy Jr. in the first round of eliminations on Sunday.
"Today was getting ready for Sunday. We pushed a little hard today. It was the first time we smoked the tires two runs in a row in a long time," Hight said. "It shows you (crew chief) Jimmy Prock was out there pushing. The conditions were out there. I'm honesty surprised nobody ran better than our .83 and that we're still No. 1 qualifier. We were pushing hard. Sometimes you gotta know your threshold. Going into Sunday if you've gone down the track every time you don't know how close you are to the edge. We definitely know where we're at."
John Force, a 16-time world champion and Hight's team owner, is qualified in the second position with his 3.832 pass at 334.65 in his Peak Antifreeze Chevrolet Camaro SS and will lineup against Brian Stewart. In third is reigning world champion and points leader Ron Capps whose first-round opponent will be Jim Campbell.
Millican piloted his Parts Plus / Great Clips dragster to the quickest pass in NHRA history on Friday with a 3.631 at 330.39 for his fifth Top Fuel No. 1 qualifier of the season and 10th of his career. He'll face-off against Kyle Wurtzel in the opening round of eliminations.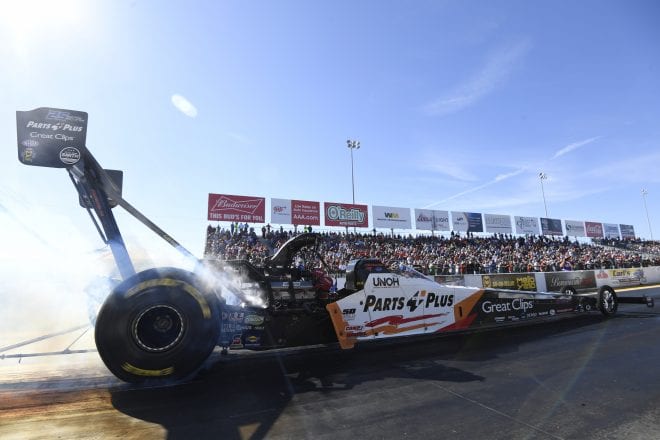 "We felt pretty certain we were going to stay No. 1. The conditions weren't there to run that kind of number there again," Millican said. "Today we were thinking about those bonus points and we were scuffing some tires to get ready for tomorrow. We feel like we have a pretty good handle on this car. Whether it's hot or cold it just continues to be really quick going down the race track. It's going to be a fun day tomorrow. We want to see four win-lights tomorrow. Where we are at in points we need to make a move."
Qualified in the No. 2 spot is Leah Pritchett with her 3.670 pass at 329.10 in her Papa John's dragster from the final qualifying session. She will see rookie Ashley Sanford in round one and Tony Schumacher, who qualified third, will race Troy Buff. Points leader Steve Torrence is qualified seventh and will face Shawn Langdon in the opening round.
Anderson is the Pro Stock No. 1 qualifier after running 6.507 at 212.33 in his Summit Racing Equipment Chevrolet Camaro during the third qualifying session. This is the fourth time this season and 91st time in his career that Anderson will begin eliminations from the No. 1 spot. His opponent will be David River.
"It's a ball to drive in conditions like this. It's fun," Anderson said. "You just hope you can set some kind of track record or world record and go fast. That's what I love about driving these racecars is to go fast. I just want to go fast. It's neat. All races pay the same amount of points and trophies are the same when you win and it feels just as good at the end of it, but it's so much more fun to run in conditions like this as a driver because this is why we do it. We do it to go fast and these are the conditions you can go fast in."
Anderson is followed by KB Racing teammates Bo Butner and Jason Line in the No. 2 and No. 3 spots, respectively. Butner, who is the category points leader, ran a 6.510 at 212.03 in his Jim Butner's Auto Chevrolet Camaro to race Mark Hogan in the first round while Line, the defending world champion, will lineup with Alan Prusiensky.
Hines also improved upon his Friday qualifying with a 6.781 pass at 196.19 on his Screamin' Eagle Vance & Hines Harley-Davidson during the final qualifying session to secure his second Pro Stock Motorcycle No. 1 of the season and 40th of his career. He'll matchup with Andie Rawlings in the first round.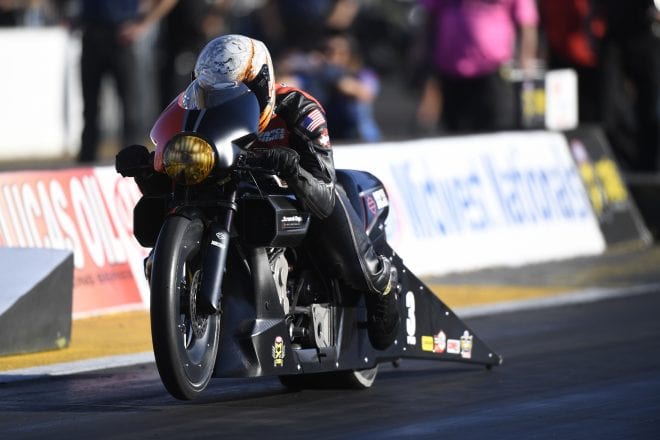 "Our guys have these bikes dialed in right now like they haven't been all season. I've been putting up my best 60-foots of the year this weekend. That just equates to good numbers all the way down the race track," Hines said. "Tomorrow we're looking for consistency. We have the street rods under us right now that are the best I've had all season long. I'm really excited about tomorrow."
Hines' teammate and points leader Eddie Krawiec landed in the No. 2 spot with his 6.783 run at 195.59 in the final qualifying round. He'll see David Hope in round one and qualified third is Matt Smith whose opponent will be Steve Johnson.
Eliminations at the sixth annual AAA Insurance NHRA Midwest Nationals will begin Sunday at 11 a.m. Catch the action live on FOX Sports 1 (FS1) at 2 p.m. ET.