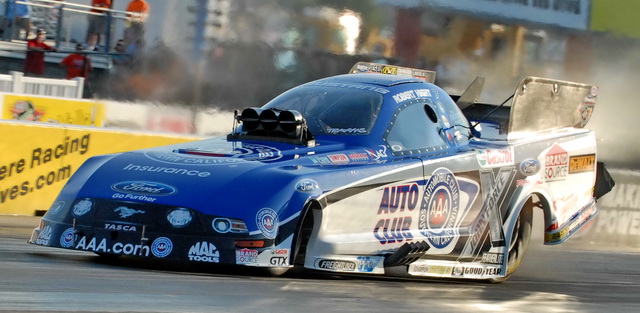 For one afternoon history repeated itself at the 6th annual Carlyle Tools Carolina NHRA Nationals as Robert Hight and the Auto Club Ford Mustang won and made a dramatic jump up the Mello Yello Funny Car point standings. In 2009 Hight defeated Matt Hagan in the final and in the process jumped from 10th to 3rd in the point standings.
In front of a packed crowd at zMax Dragway Sep. 15,  Hight again bested Hagan and moved from 9th to 3rd heading to the second race of the Countdown to the Championship.
Hight used a superior reaction time .055 to .074 to seal the win when his Auto Club Mustang crossed the finish line with an elapsed time of 4.083 to Hagan's 4.066.
"Not many people beat Matt Hagan on a holeshot. I am not going to count on doing it again either. That team has been No. 1 for a reason all year. I am pretty sure there are a lot of Funny Car drivers that are happy that I won," said Hight, who has now won eight rounds of racing in a row.
"To have him come in here No. 1 in points and leave with the win would have been devastating to the whole class trying to catch him. That was a 40 point swing for me. I was 100 back coming into the Countdown and if I would have lost it would have been 120. Now it is 80 points with five races to go. 120 points is a mountain to climb."
In 2009 it was a Hight and crew chief Jimmy Prock combination getting the win and today Hight relied on crew chief Mike Neff to lead him to victory.
"I have said it before, but Mike Neff is the smartest Funny Car racer out here. We could have tried to go up there on Friday night and do something we have never done before which is try to make a three second run, but Neff made it go down the track. We ran 4.04 and it got us in the top half. Mission accomplished for Mike Neff," said Hight, who was the No. 8 qualifier this weekend.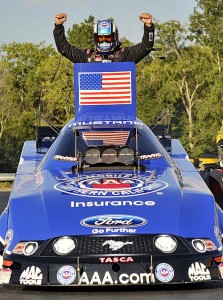 "That is how he races. Yesterday we came out here and in the first session we were the quick car and we were second quickest in the second session in the worse of the two lanes. We picked up five bonus points and we are definitely counting points. I have learned from Mike Neff that even if we are struggling a little in qualifying you ignore it because he gets his act together on race day."
Hight came out in the first round and outran rookie Chad Head 4.075 to 4.863 seconds. In the second round he had to race No. 1 qualifier Cruz Pedregon and Hight stepped up with a 4.055 seconds to 4.103 seconds win and set up a JFR versus JFR semi-final match-up with teammate Courtney Force.
"The first three round we were the quick car. We don't have a whole lot of time to celebrate we move right on to the AAA Texas Fall Nationals in Ennis next weekend. It will be a total different set of circumstances. You know it will be hot this time of year," said Hight.
Coming into this race Hight had some momentum for him win at the Chevrolet Performance U.S. Nationals. It was Hight's first win in 35 races and his third win at the biggest race on the NHRA Mello Yello Series schedule.
"The Indy win was huge. When we switched teams I knew I was getting in a really good race car. Suddenly we just went silent and I started doubting myself. I started thinking it was me. When you have self-doubt you are not performing to your best. To pull it all together at the biggest race of the year was huge. I am not looking back because you can't be over confident. We will have our hands full," Hight added.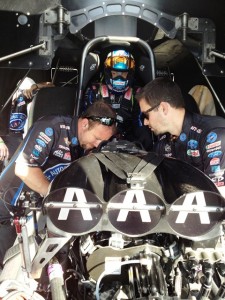 "The standings haven't shown how good this team is. We had a lot of goofy things happen. I lost on a hole shot in Sonoma when the fire bottles went off. We just had a lot of goofy things going wrong like spark plugs going out. We were better than that and luckily we pulled it all together before Indy.
"I have a great team. These guys work night and day and they are so meticulous. My guys at the Auto Club team were awesome too. I have been lucky to work with two great teams. I watched my guys between rounds today and my blower guy took the blower apart because he wanted to double check that he put oil in it. It was all correct but he wanted to be sure. These guys aren't leaving anything to chance. We are clicking. This is only one race."
(Photos courtesy NHRA/National Dragster; JFR; Click to enlarge)