Funny Car driver Robert Hight (above) made it back-to-back wins by kicking off the NHRA's Countdown to the Championship playoffs with a victory Sunday at the Carlyle Tools NHRA Carolina Nationals presented by NAPA Auto Parts at zMAX Dragway.
Morgan Lucas (Top Fuel), Jeg Coughlin (Pro Stock) and Andrew Hines (Pro Stock Motorcycle) also were winners at the first of six races in the NHRA Mello Yello Drag Racing Series Countdown to the Championship playoffs.
Hight powered his Auto Club Ford Mustang to a run of 4.083 seconds at 312.64 mph to race to the holeshot victory against points leader Matt Hagan in the final round. Hagan had a quicker run of 4.066 in his Magneti Marelli/Rocky Boots Dodge Charger, but Hight posted a quicker reaction time (.055) to hang on for his second win in 2013 and 29th of his career.
Hight beat Chad Head, No. 1 qualifier Cruz Pedregon and teammate Courtney Force to reach the final round. It was also reminiscent of Hight's 2009 win at zMAX Dragway where he beat Hagan in the final round and a daughter of team owner John Force (Ashley in 2009) in the semifinals en route to a world championship. Hight started that Countdown in 10th place and in similar fashion jumped all the way to third from his ninth place start with the victory on Sunday.
"We're trying to pick up every point we can," Hight said. "Not many people beat Matt Hagan on holeshots and that team has been No. 1 all year for a reason.
"That was a 40-point swing for me but we don't have a whole lot of time to celebrate. We're getting back at it again next week at the AAA Texas NHRA FallNationals in Dallas under a whole different set of circumstances and conditions. It will be a whole new ballgame."
Hagan maintained the points lead in Funny Car and now holds an 82-point advantage over Ron Capps. Hight trails the Don Schumacher Racing standout by 86 points after continuing his momentum following his victory at the Chevrolet Performance U.S. Nationals in Indy.
"We've pulled it all together and I've got a great team," Hight said. "These guys aren't leaving anything to chance and we're clicking right now. We've got our work cut out for us, but we definitely did what we had to do (on Sunday). I've got some confidence, but we've got our hands full and our work cut out for us."
Lucas also moved to third place on a wild day in Top Fuel topping new points leader Spencer Massey in the final round with a run of 3.788 at 317.49 in his GEICO/Lucas Oil dragster. Lucas, who now has nine career wins and two victories in the past four events, was able to hold off Massey's run of 3.816 at 319.60 in his Battery Extender/Schumacher Electric dragster.
"It was just our weekend and our guys just continue to work really hard," Lucas said.
"I'm proud to see we're getting out of the car what we put in. We feel comfortable knowing how to win races and put ourselves in that position, but we're just trying to have fun and enjoy what we've got."
Shawn Langdon, who has a class-best five wins in 2013, lost the points lead with a first-round exit and dropped to second behind Massey. Seven-time world champion Tony Schumacher fell to fifth with a first-round loss, while Lucas climbed to third by knocking off Terry McMillen, Brandon Bernstein and Doug Kalitta to reach the championship round.
"We've never been in this situation of chasing a championship and we just want to continue to run well," Lucas said.
"The team gave me a great car and they carried me, and I'm just genuinely proud to be a part of this team. We've got a great car that everyone has a lot of confidence in and we're just fortunate right now."
Pro Stock's Coughlin earned his third victory this season and 55th in his career by outrunning Jason Line in the final round. Coughlin posted a winning time of 6.583 at 210.05 in his JEGS.com Dodge Avenger, knocking off Line and his Summit Racing Equipment Chevy Camaro on a holeshot. Coughlin had a .026 reaction time to hold off Line's quicker run of 6.578 at 210.97. Coughlin also moved past teammate and defending world champion Allen Johnson into second place in the points standings.
"There is absolutely a rivalry between the JEGS and Summit teams but I've been on the other side of that coin a few times," Coughlin said. "To win this time it was great. Jason and Greg (Anderson) have done wonders in the last 30 days. Whatever they did, they did one heck of a job with it. We never counted them out, and those two horses will be extremely tough in the Countdown."
Mike Edwards maintained the points lead, while Line's strong performance moved him to third and dropped Johnson to fourth. Coughlin beat Greg Stanfield, Shane Gray and Edwards to reach the final round.
"We had a great car in qualifying and really the difference between us and No. 1 was just a hundredth and we felt that if we could clean up some of our inefficiencies we'd be right there," Coughlin said.
"I had the utmost confidence going into race day and to finish it off with a win in the first race in the Countdown is extremely gratifying.
In Pro Stock Motorcycle, Andrew Hines picked up his first win of the season in his first final round appearance of the year by beating Hector Arana Sr. Hines rode his Screamin' Eagle Vance & Hines Harley-Davidson to a winning time of 6.966 at 190.97 to knock off Arana, who fouled out with a red-light start on his Lucas Oil Products Buell. The victory was a big boost for Hines, who struggled the majority of the season and failed to advance to the Countdown.
"This is a bit bittersweet because we didn't make the Countdown, but I plan to be a nightmare for the rest of them," Hines said.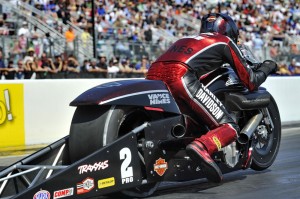 "I said that one win during the Countdown would be sufficient for the year and I'm going to be that nightmare by taking out our Countdown competitors."
Hector Arana Jr. maintained the points lead in the class. Matt Smith is second and Arana Sr. is now in third after advancing to his second final round of 2013.
The NHRA Mello Yello Drag Racing Series continues Sept. 19-22 with the AAA Texas NHRA FallNationals at Texas Motorplex near Dallas. It is the second race in the Countdown to the Championship.
(Photos courtesy NHRA/National Dragster; JFR/Lewis, Baker; JEGS/Kommel; Click to enlarge)
CONCORD, N.C. — Final round-by-round results from the 6th annual Carlyle Tools NHRA Carolina Nationals presented by NAPA Auto Parts at zMax Dragway, the 19th of 24 events in the NHRA Mello Yello Drag Racing Series:
TOP FUEL
ROUND ONE — Spencer Massey, 3.822, 288.21 def. Brittany Force, 3.834, 300.73; Morgan Lucas, 3.769, 319.37 def. Terry McMillen, 3.857, 322.04; Bob Vandergriff, 3.835, 323.19 def. Shawn Langdon, 3.795, 325.45; Leah Pruett, 3.854, 316.52 def. Tony Schumacher, 7.458, 85.94; Doug Kalitta, 3.795, 326.32 def. Khalid alBalooshi, 4.210, 248.20; Pat Dakin, 3.833, 317.34 def. Steve Torrence, 8.450, 71.10; Clay Millican, 4.288, 249.16 def. Billy Torrence, 6.838, 101.20; Brandon Bernstein, 4.324, 233.92 def. David Grubnic, 4.281, 246.30; QUARTERFINALS — Millican, 3.827, 321.27 def. Vandergriff, 3.825, 321.73; Massey, 3.834, 316.23 def. Pruett, 3.860, 317.49; Kalitta, 3.843, 323.04 def. Dakin, 6.410, 92.25; Lucas, 3.886, 288.70 def. Bernstein, 5.946, 103.86; SEMIFINALS — Lucas, 3.796, 320.13 def. Kalitta, 3.818, 325.61; Massey, 3.830, 321.35 def. Millican, 3.827, 319.14; FINAL — Lucas, 3.788, 317.49 def. Massey, 3.816, 319.60.
FUNNY CAR
ROUND ONE — Tony Pedregon, Toyota Camry, 4.083, 308.78 def. Tim Wilkerson, Ford Mustang, 5.204, 142.34; Courtney Force, Mustang, 4.094, 313.95 def. Bob Tasca III, Mustang, 4.119, 312.42; Cruz Pedregon, Camry, 4.087, 308.07 def. Bob Gilbertson, Chevy Monte Carlo, broke; Matt Hagan, Dodge Charger, 4.107, 311.56 def. Jeff Arend, Charger, 4.117, 309.70; Ron Capps, Charger, 4.103, 311.92 def. Alexis DeJoria, Camry, 11.066, 78.26; Jack Beckman, Charger, 4.100, 310.77 def. Del Worsham, Camry, 5.358, 154.02; John Force, Mustang, 4.076, 315.93 def. Johnny Gray, Charger, 4.144, 309.42; Robert Hight, Mustang, 4.075, 310.77 def. Chad Head, Camry, 4.863, 169.13; QUARTERFINALS — Beckman, 4.075, 311.70 def. T. Pedregon, 4.312, 244.96; C. Force, 4.107, 311.77 def. Capps, 4.112, 309.20; Hight, 4.055, 316.97 def. C. Pedregon, 4.103, 310.84; Hagan, 4.063, 314.17 def. J. Force, 4.098, 314.31; SEMIFINALS — Hagan, 4.084, 312.57 def. Beckman, 4.116, 311.70; Hight, 4.057, 311.41 def. C. Force, 7.585, 83.80; FINAL — Hight, 4.083, 312.64 def. Hagan, 4.066, 313.58.
PRO STOCK
ROUND ONE — V. Gaines, Dodge Avenger, 6.566, 211.30 def. Buddy Perkinson, Chevy Camaro, foul; Greg Anderson, Camaro, 6.596, 209.75 def. Vincent Nobile, Avenger, 12.600, 69.61; Jeg Coughlin, Avenger, 6.572, 209.75 def. Greg Stanfield, Camaro, 6.619, 208.07; Erica Enders-Stevens, Camaro, 6.578, 210.28 def. Rodger Brogdon, Camaro, 6.636, 208.71; Jason Line, Camaro, 6.563, 210.70 def. Warren Johnson, Pontiac GXP, 6.614, 208.97; Mike Edwards, Camaro, 6.581, 210.80 def. Steve Kent, Camaro, 6.640, 208.78; Shane Gray, Camaro, 6.579, 209.92 def. Kurt Johnson, GXP, 6.613, 209.43; Allen Johnson, Avenger, 6.558, 210.67 def. Larry Morgan, Ford Mustang, 6.646, 208.52; QUARTERFINALS — Edwards, 6.564, 211.20 def. Anderson, 12.987, 54.57; Coughlin, 6.562, 210.28 def. Gray, 7.019, 153.77; Line, 6.546, 211.49 def. Gaines, 16.145, 22.34; Enders-Stevens, 6.586, 209.36 def. A. Johnson, 6.567, 211.16; SEMIFINALS — Coughlin, 6.576, 210.24 def. Edwards, 6.581, 210.18; Line, 6.579, 210.73 def. Enders-Stevens, 6.597, 210.05; FINAL — Coughlin, 6.583, 210.05 def. Line, 6.578, 210.97.
PRO STOCK MOTORCYCLE
ROUND ONE — Andrew Hines, Harley-Davidson, 6.931, 191.76 def. John Hall, Buell, foul; Hector Arana Jr, Buell, 6.902, 195.42 def. Steve Johnson, Suzuki, 6.943, 192.14; Eddie Krawiec, Harley-Davidson, 6.892, 191.59 def. Mike Berry, Buell, 6.957, 192.22; Michael Ray, Buell, 6.864, 193.68 def. Jerry Savoie, Suzuki, 6.955, 192.44; LE Tonglet, Suzuki, 6.930, 188.94 def. Adam Arana, Buell, 6.922, 193.18; Hector Arana, Buell, 6.955, 194.55 def. Angie Smith, Buell, broke; Scotty Pollacheck, Buell, 6.919, 189.71 def. Shawn Gann, Buell, 6.970, 191.51; Matt Smith, Buell, 6.897, 193.82 def. Jim Underdahl, Suzuki, 6.958, 192.06; QUARTERFINALS — Tonglet, 6.928, 191.73 def. Pollacheck, foul; Hines, 6.936, 191.70 def. M. Smith, 6.934, 193.46; H. Arana, 6.907, 195.17 def. Krawiec, 6.918, 192.82; Arana Jr, 6.891, 193.71 def. Ray, 6.894, 193.77; SEMIFINALS — Hines, 6.968, 190.94 def. Tonglet, foul; H. Arana, 6.971, 192.80 def. Arana Jr, foul; FINAL — Hines, 6.966, 190.97 def. H. Arana, foul.
CONCORD, N.C. — Sunday's sportsman final results from the 6th annual Carlyle Tools NHRA Carolina Nationals presented by NAPA Auto Parts at zMax Dragway. The race is the 19th of 24 in the NHRA Mello Yello Drag Racing Series:
Top Alcohol Dragster — Brandon Booher, 5.357, 266.16  def. Rich McPhillips, 5.399, 265.38.
Top Alcohol Funny Car — Frank Manzo, Chevy Monte Carlo, 5.593, 263.41  def. Mickey Ferro, Monte Carlo, 5.704, 260.26.
Competition Eliminator — Glen Treadwell, '23-T Ford, 8.894, 110.61  def. Steve Szupka, Ken Keir, broke.
Super Stock — Bryan Worner, Chevy Camaro, 9.883, 131.13  def. Anthony Bertozzi, Pontiac Grand Am, foul.
Stock Eliminator — Anthony Fetch, Chevy Nova, 11.447, 110.42  def. Bo Butner, Ford Mustang, 8.873, 156.01.
Super Comp — Jack Sepanek, Dragster, 8.937, 156.73  def. Brian Guthrie, Dragster, 8.871, 167.05.
Super Gas — Sherman Adcock, Pontiac Trans Am, 9.891, 162.55  def. Ralph Musi, Olds Ciera, 9.877, 160.06.