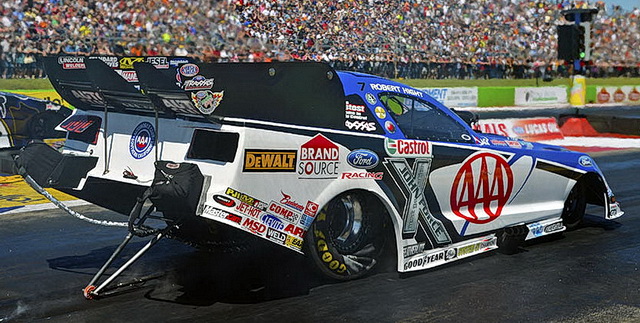 NHRA Funny Car driver Robert Hight (above) secured his second No. 1 qualifying position of the season and 45th of his career on Saturday with a track-record performance, and he will try for his third straight victory of the season on Sunday at the AAA Texas NHRA FallNationals at Texas Motorplex.
Shawn Langdon (Top Fuel), Erica Enders-Stevens (Pro Stock) and Hector Arana Sr. (Pro Stock Motorcycle) also led their categories as the No. 1 qualifiers at the second of six races in the NHRA Mello Yello Drag Racing Series Countdown to the Championship playoffs. Rains washed out both of Friday's qualifying sessions as competitors made two runs Saturday. Sunday's eliminations start at 11 a.m.
Hight and his Auto Club Ford Mustang climbed to the top of the class with an impressive second round showing of 4.052 seconds at 311.85 mph. The red-hot Hight, who broke the elapsed time track record with the run, will open eliminations against two-time event winner Del Worsham.
"It's a lot of fun right now. It couldn't happen at a better time than at our sponsor's race," said Hight, who jumped to third in the points standings with a win at Charlotte last weekend. "That was a good run. (Crew chief) Mike Neff is not one of these guys that goes up there and throws a Hail Mary."
Snap-on Tools Toyota Camry driver Cruz Pedregon, a three-time event champ, holds the second position with run of 4.092 at 304.32 while series points leader Matt Hagan sits in the third spot with a performance of 4.093 at 312.78 in his Magneti Marelli/Rocky Boots Dodge Charger. Hagan's speed also broke the track record.
In Top Fuel, Langdon powered his 8,000-horsepower Al-Anabi Silver Racing dragster to his fifth No. 1 qualifier of 2013 and 11th of his career with a strong pass of 3.819 at 321.04. Langdon, who has a class-best five wins this year and earned three bonus points with the quickest pass of the first session, will meet T.J. Zizzo in the first round of eliminations.
"It was huge to come out here and make as strong a run as we did in the first session," said Langdon, who claimed the No. 1 qualifying spot in Dallas for the second straight year. "It was our goal to try to bring the deficit behind (points leader) Spencer Massey to less than one round. Now our focus is to win the race."
Doug Kalitta claimed the No. 2 spot with a run of 3.825 at 318.39 in his Mac Tools dragster. Protect the Harvest/MAV TV dragster driver Brandon Bernstein, who holds the track record in Dallas, secured the third spot after going 3.827 at 316.38. Fellow Texans Steve Torrence and points leader Massey, who has been the runner-up at his home track the past two years, took the No. 4 and No. 8 qualifying positions, respectively.
In Pro Stock, Texas native and fan favorite Enders-Stevens earned her first No. 1 qualifier position of the season and sixth of her career with a stellar performance of 6.557 at 210.93 in her newly-funded Husky Liners Chevy Cobalt.
"This is a great feeling for sure, especially doing it in front of my hometown fans in Texas," Enders-Stevens said of her first No. 1 qualifier in her home state of Texas. "It was kind of nerve-wracking with only two qualifying sessions, so I hope to have more peace of mind during Sunday's eliminations."
Rickie Jones in his Elite Motorsports Chevy Camaro took the No. 2 position with a run of 6.574 at 211.33 while his teammate, Gray Motorsports Chevy Camaro driver Shane Gray, finished as the No. 3 qualifier with his pass of 6.591 at 210.77.
Enders-Stevens, who currently sits in the No. 7 spot in the series points standings, will take on fellow Texan Chris McGaha in the first round. Points leader Mike Edwards qualified No. 6 and will race Larry Morgan in the opening round.
In Pro Stock Motorcycle, Arana earned his second No. 1 qualifier of the season on his Lucas Oil Products Buell with a run of 6.846 at 195.42. Arana, who was the runner-up last weekend in Charlotte, claimed his 23rd career No. 1 qualifier with the run and will meet Michael Phillips in the first round.
"We've always had the power, but now we're focusing more on consistency, taking it one round at a time," said Arana Sr., who is the No. 1 qualifier for the second time in the past three races.
Son and points leader Arana Jr. took the No. 2 spot after a challenging first session on his Lucas Oil Buell, going 6.897 at 194.66 in the final qualifying session. He will face No. 14 qualifier Shawn Gann in the opening round. In the third spot is Matt Smith with his time of 6.893 at 194.07 on his Viper Motorcycle Company Racing Buell.
"We've always had the power, but could not take full advantage of it," Arana Sr. said of his racing family. "This year, we've taken it easy on our runs. I'm truly blessed because I'm racing for a living and having my sons right with me to help out."
(Photos courtesy NHRA/National Dragster; JFR/Nastase; Click to enlarge)
ENNIS, Texas — First-round pairings for eliminations for the 28th annual AAA Texas NHRA Fall Nationals at Texas Motorplex, the 20th of 24 events in the NHRA Mello Yello Drag Racing Series.  Pairings based on results in qualifying, which ended Saturday. DNQs listed below pairings.
Top Fuel
1. Shawn Langdon, 3.819 seconds, 321.04 mph  vs. 16. T.J. Zizzo, 3.949, 290.44; 2. Doug Kalitta, 3.825, 320.58  vs. 15. Larry Dixon, 3.939, 292.71; 3. Brandon Bernstein, 3.827, 316.38 vs. 14. Antron Brown, 3.895, 311.05; 4. Steve Torrence, 3.832, 320.89  vs. 13. Tony Schumacher, 3.878, 320.20; 5. Clay Millican, 3.835, 320.74  vs. 12. Morgan Lucas, 3.872, 317.87; 6. Spencer Massey, 3.839, 318.02  vs. 11. J.R. Todd, 3.871, 311.27; 7. David Grubnic, 3.848, 320.43  vs. 10. Brittany Force, 3.871, 312.06; 8. Billy Torrence, 3.853, 316.52  vs. 9. Bob Vandergriff, 3.870, 316.75.
Did Not Qualify: 17. Scott Palmer, 3.975, 302.48; 18. Troy Buff, 4.041, 284.45; 19. Khalid alBalooshi, 4.179, 260.31; 20. Terry McMillen, 4.302, 124.13.
Funny Car
1. Robert Hight, Ford Mustang, 4.052, 311.85  vs. 16. Del Worsham, Toyota Camry, 4.262, 291.95; 2. Cruz Pedregon, Camry, 4.092, 304.32  vs. 15. Blake Alexander, Dodge Charger, 4.210, 294.56; 3. Matt Hagan, Charger, 4.093, 312.78  vs. 14. Jeff Arend, Charger, 4.187, 301.27; 4. Ron Capps, Charger, 4.096, 306.88  vs. 13. Tony Pedregon, Camry, 4.178, 288.39; 5. Courtney Force, Mustang, 4.115, 309.13  vs. 12. John Force, Mustang, 4.174, 297.94; 6. Jack Beckman, Charger, 4.122, 306.12  vs. 11. Alexis DeJoria, Camry, 4.166, 303.50; 7. Bob Tasca III, Mustang, 4.137, 301.87  vs. 10. Chad Head, Camry, 4.161, 304.12; 8. Johnny Gray, Charger, 4.154, 304.39  vs. 9. Tim Wilkerson, Mustang, 4.154, 302.41.
Did Not Qualify: 17. John Hale, 4.430, 277.94; 18. Todd Simpson, 4.706, 192.06; 19. Terry Haddock, 5.701, 126.29.
Pro Stock
1. Erica Enders-Stevens, Chevy Camaro, 6.557, 210.93  vs. 16. Chris McGaha, Dodge Avenger, 6.654, 208.68; 2. Rickie Jones, Camaro, 6.559, 211.33  vs. 15. Matt Hartford, Avenger, 6.622, 209.14; 3. Shane Gray, Camaro, 6.563, 210.77  vs. 14. Steve Kent, Camaro, 6.612, 209.92; 4. Allen Johnson, Avenger, 6.564, 211.23  vs. 13. Greg Stanfield, Camaro, 6.609, 209.17; 5. Jason Line, Camaro, 6.566, 211.16  vs. 12. Rodger Brogdon, Camaro, 6.607, 210.31; 6. Mike Edwards, Camaro, 6.567, 211.56  vs. 11. Larry Morgan, Ford Mustang, 6.601, 209.46; 7. Greg Anderson, Camaro, 6.567, 210.90  vs. 10. Jeg Coughlin, Avenger, 6.583, 210.31; 8. Vincent Nobile, Avenger, 6.582, 210.47  vs. 9. V. Gaines, Avenger, 6.582, 210.31.
Did Not Qualify: 17. Paul Pittman, 6.734, 206.07.
Pro Stock Motorcycle
1. Hector Arana, Buell, 6.846, 195.42  vs. 16. Michael Phillips, Suzuki, 7.071, 189.28; 2. Matt Smith, Buell, 6.893, 194.07  vs. 15. Mike Berry, Buell, 7.034, 188.81; 3. Hector Arana Jr, Buell, 6.897, 194.66  vs. 14. Shawn Gann, Buell, 7.005, 190.75; 4. Michael Ray, Buell, 6.899, 194.21  vs. 13. Angie Smith, Buell, 6.999, 185.18; 5. Eddie Krawiec, Harley-Davidson, 6.902, 193.27  vs. 12. Andrew Hines, Harley-Davidson, 6.969, 190.57; 6. Jerry Savoie, Suzuki, 6.913, 192.55  vs. 11. Jim Underdahl, Suzuki, 6.963, 193.54; 7. John Hall, Buell, 6.933, 190.22 vs. 10. LE Tonglet, Suzuki, 6.955, 190.78; 8. Adam Arana, Buell, 6.936, 193.32  vs. 9. Scotty Pollacheck, Buell, 6.941, 191.46.
Did Not Qualify: 17. Steve Johnson, 7.083, 187.03; 18. Freddie Camarena, 7.132, 189.42; 19. Redell Harris, 24.467, 33.91.