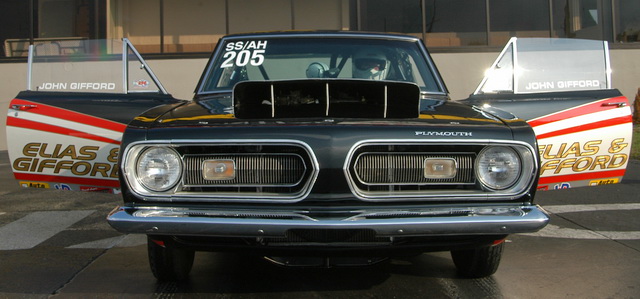 No Problem Raceway (NPR) and NHRA's Division Four are pleased to announce the Inaugural Tim Hebert Hemi "Chootout" to be contested during the Cajun Sports Nationals March 21-23, 2014 in Belle Rose, La.
Tim Hebert was a long time NHRA D4 racer who passed away suddenly at age 53 on June 2, 2013 after participating in the NHRA Englishtown National Event. His orange and white 1968 Barracuda has been seen at NHRA and Hemi Shootout events throughout the United States for decades and will be participating in the inaugural "Chootout" with his son Rory at the wheel.
Qualifying for the $12,000 cash purse and other prizes will be on Friday with "Chootout" on Saturday, March 22.
Southland Dodge (Joe Teuton), Steve Kent Services (Steve Kent), Paillot Bros. Construction (Joe & Jerry Paillot), Engines Inc (Lloyd Wofford), Henson Family Dealerships (Fred Henson), 3001 (Stephen Hebert) and NPR are proud sponsors of the first event.
"If you have a Hemi car or enjoy watching Hemi cars, be at NPR and participate in the celebration of Tim's racing accomplishments," said long time Southland Dodge teammate Lil' Joe Tueton. Over twenty entries are estimated.