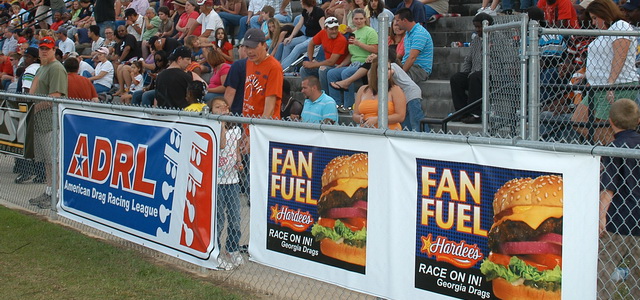 Officials from the American Drag Racing League announced Mar. 26, that quick-serve restaurant Hardee's has been named the title sponsor of the ADRL Georgia Drags VII, April 13 – 14 at South Georgia Motorsports Park, in Cecil, Ga.
"We are thrilled to welcome Hardee's back as the title sponsor of the Georgia Drags," said ADRL President Kenny Nowling. "The Georgia Drags has been one of our most prestigious and successful events and Hardee's has been an integral part of that success."
Free tickets to the ADRL Hardee's Georgia Drags VII can be found at 28 area participating Hardee's locations throughout South Georgia and North Florida. A complete list of participating locations can be found at http://www.adrl.us/schedule/event2/.
"When the ADRL announced that they were returning to South Georgia Motorsports Park our stores in that region started getting flooded with fans looking for free tickets" said Hardee's Vice President of Field Marketing Tim Weigel. "This partnership has been hugely successful for us in the past and we are excited to be back on board as the title sponsor of this great event."
(Photos by Ian Tocher)