Keith Haney Racing completed a successful two-day test of his brand-new Pro Nitrous 2014 Chevrolet Camaro at Rockingham Dragway on Wednesday (Oct. 8), putting a wide smile on Keith Haney's face as he prepares to debut the car in competition. The first race for the new Larry Jeffers Race Cars Camaro will be the PDRA Championship Finals this weekend (Oct. 9-11), at Virginia Motorsports Park in Petersburg, Virginia. Haney's expectations are high for the Lucas Oil/RacingJunk.com Chevy.
"To win — that is the expectation," Haney declared. "We have all the right parts, all the right pieces, all the right people. I've said it before, instead of being a pretender, it's time to be a contender. With the right people, the right crew, I don't think anything can go wrong."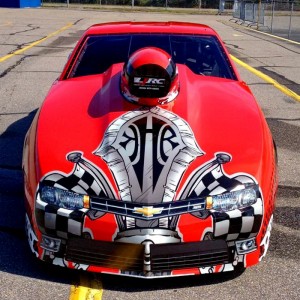 Haney took delivery of the new car a couple of weeks ago, with Kryptonite Kustomz giving the car a modern look with a state-of-the-art wrap. Brandon Switzer of Switzer Dynamics completed the final touches on the nitrous system and Brandon Pesz made the final chassis tune-up. Plus, Reher-Morrison Racing Engines provides the horsepower.
"Larry blows my mind away with the new technology in this car," Haney said. "This is his first Pro Nitrous car. He's got the Pro Extreme world covered, and this is his first true Pro Nitrous car. He's walking on Cloud 9 right now, too."
Haney and his team made four passes Wednesday, with Haney posting his best-ever elapsed time and speed to cap a positive day.
"Steve Earwood and the people here did a great job getting the track prepped for just us, and it's been absolutely amazing all day," Haney said.
As planned, Haney didn't make a full run to the eighth-mile, but the car showed plenty of speed and more potential.
"Today we pulled out and did two 60-foot runs without a front end," Haney said. "Then we made a scheduled pass where we lifted before the 330 mark and another where we lifted before the eighth-mile. Both passes were straight down the race track.
"You couldn't ask for anything more. It can't get any better — unless we win this weekend and next weekend. It is possible; we've got the stuff to do it."
Haney will also race the car in the Osage Casino Throw Down in T-Town on Oct. 17-18 at Tulsa Raceway Park.
(Photos courtesy Keith Haney Racing)