Matt Hagan sprinted to the qualifying lead in Funny Car Friday at the Chevrolet Performance U.S. Nationals at Lucas Oil Raceway at Indianapolis.
Steve Torrence (Top Fuel), Vincent Nobile (Pro Stock) and Jerry Savoie (Pro Stock Motorcycle) also were qualifying leaders in their respective categories at the 18th event of 24 on the 2016 NHRA Mello Yello Drag Racing Series schedule. The Chevrolet Performance U.S. Nationals is the final race of the regular season.
Hagan took the top spot in Funny Car by navigating the track in 3.858-seconds at 330.80 mph in his Mopar / Rocky Boots Dodge Charger R/T. His time was a Lucas Oil Raceway track record. Hagan has three top qualifiers this season and 24 in his career. He was the No. 1 qualifier two weeks ago in Brainerd, Minn. Hagan has qualified first at Indianapolis three times in his career but has never won the Big Go.
"We're grateful for what we got," said Hagan, a two-time Funny Car world champion. "It was a crazy run. The car washes out really hard and I'm over near the wall and I think, 'Man, I should really click this thing off,' but then it starts to come around and it settles back down in the groove. It was digging and running good. We got some more night runs tomorrow and I'm sure everyone is going to be pressing hard and we got a lot to do, but it was a wild run and it'll be one that I'll always remember."
Jack Beckman, the 2015 event winner, is currently second with a 3.859 at a track record speed of 333.08 in his Infinite Hero Foundation Dodge Charger R/T. His teammate and points leader Ron Capps is third with 3.861 at 325.30 in his NAPA Auto Parts Dodge Charger R/T.
Sixteen time Funny Car world champion John Force is fourth in his Peak Chevy Camaro SS and followed by teammate Robert Hight and his Auto Club of Southern California Chevy Camaro in fifth. Tommy Johnson Jr. is sixth and reigning world champion Del Worsham is seventh.
Torrence pushed his Capco Contractors / Torrence Racing dragster to a 3.702 at 328.06 to lead Top Fuel through the first qualifying session. Torrence has eight No. 1 qualifiers so far this season and is currently third in points. He posted runner-up finishes at Indianapolis in 2014 and 2013. He is a two-time 2016 event winner and has notched three runner-ups this year as well.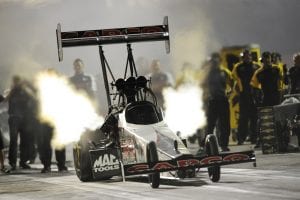 "It's always pretty crucial to come out and run well on the first pass," said Torrence. "You need to get good data for the rest of the runs. Indy is a little bit unique since we have five (qualifying) runs. This one is so late in the evening you can afford the opportunity to go out there and throw everything at it and try to knock one out of the park. There were quite a few cars that ran good in front of us so we knew that the track was out there. We hit the nail a little closer on the head than everyone else tonight."
Tony Schumacher, an eight-time Top Fuel world champion and nine-time Indianapolis winner, sits second in his U.S. Army dragster with a 3.722 at 326.08. Reigning world champion Antron Brown is third with a 3.725 at 326.00 in his Matco Tools dragster and is followed by Brittany Force, pilot of the Monster Energy dragster, in fourth.
The Top Fuel portion of the lucrative Traxxas Nitro Shootout, which boasts a $100,000 purse, will take place during the qualifying sessions on Saturday at Lucas Oil Raceway. Brown will open up against lottery winner Terry McMillen, Doug Kalitta will race Leah Pritchett, Torrence is paired up against Shawn Langdon and Schumacher will battle Force.
Nobile raced to the qualifying lead in Pro Stock with a 6.582 at 209.79 at the controls of his Mountain View Tires Chevy Camaro. Nobile, who raced to a runner-up finish earlier this year in Denver, has six No. 1 qualifiers in his career and two so far this season.
"I don't think there is much to complain about being nearly two-hundredths faster than the next guy," said Nobile. "I'm not going to be greedy, but honestly, inside the car wasn't a perfect run, but I'd be willing to say everybody else out there did not make a perfect run. Just so happened we made the best run that session. Hats off to the guys. They read the track real good. Obviously we're making power with the top speed of the round. I couldn't be any happier."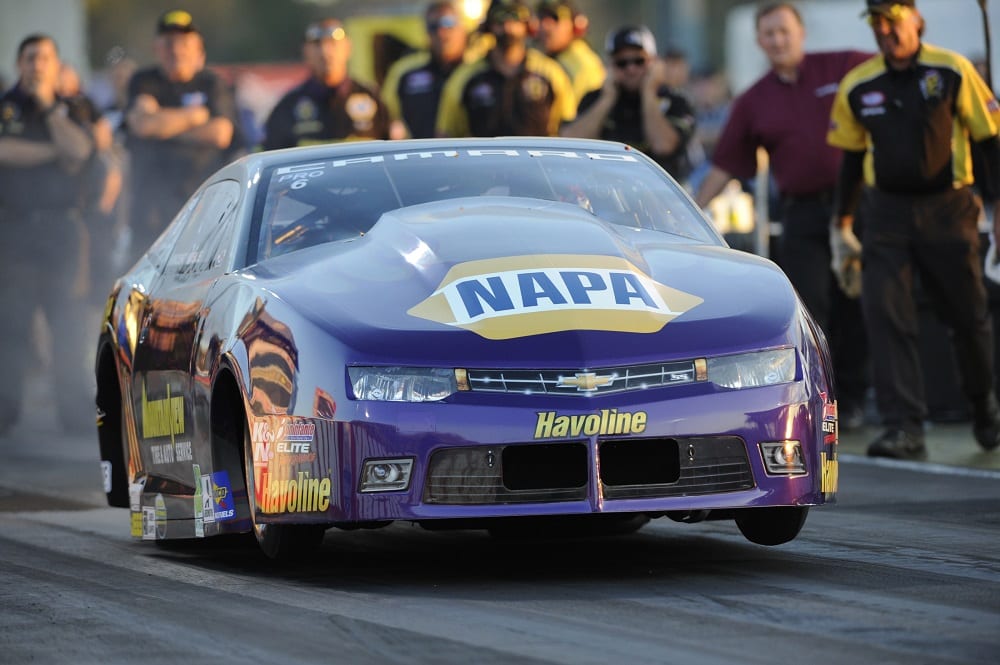 Nobile will race Aaron Strong in the third qualifying session to decide the Seattle final round, which was postponed in early August due to persistent rain.
Greg Anderson pushed his Summit Racing Equipment Chevy Camaro to the No. 2 spot with a 6.600 at 209.26. Anderson, second in points, is a six-time Indianapolis winner and four-time world champion. He has won seven races this year in eleven final round appearances.
Jason Line, Anderson's teammate and the category points leader, is third with a 6.611 at 209.04 in his Summit Racing Equipment Chevy Camaro. Anderson has seven victories and five runner-up finishes this season.
Bo Butner is currently fourth, Alex Laughlin is fifth and Matt Hartford is sixth.
In Pro Stock Motorcycle, Savoie rode his White Alligator Racing Suzuki to the top spot with a 6.848 at 195.28. Savoie, an alligator farmer from Louisiana, has five No. 1 qualifiers in his career. He won the Chevrolet Performance U.S. Nationals last year and posted runner-up finishes here in 2014 and 2011.
"When you come out of the box swinging like we did it's a good thing because you're not struggling to find that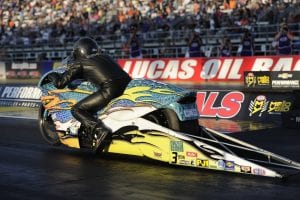 power," Savoie said. "It really wasn't that great of a run. We figured it had an .82 or .83 out there. We bogged it off the line but it gives you a good start to a good weekend. Tonight's nothing to smile about yet but we did good."
Points leader Eddie Krawiec is second with a 6.852 at 194.77 on his Screamin' Eagle Vance & Hines Harley-Davidson. Krawiec, who won this event in 2014, has three wins this year in five final round appearances. His teammate and reigning Pro Stock Motorcycle world champion Andrew Hines is second with a 6.867 at 193.85 on his Screamin' Eagle Vance & Hines Harley-Davidson. Hines is second in points with four wins in six final rounds.
Rookie Cory Reed is fourth with a 6.870 at 192.66 on his Precision Service Equipment Buell. Chip Ellis is currently fifth and Hector Arana Jr. is sixth.
Qualifying for the Chevrolet Performance U.S. Nationals continues Saturday with sessions at 2:45 and 6:45 p.m.