While focused and forceful MGM Grand Detroit Top Alcohol Dragster driver JP Gutierrez flew to a 5.44 and 263 mph and a top ten finish in NHRA competition last year, he has his sights set on going even faster and will be one to watch at the 9th Annual Mickey Mart Rewards Cavalcade of Stars on May 15-17, 2015, at Summit Motorsports Park, in Norwalk, Ohio.
He arrives at the event — which is part of the NHRA Lucas Oil Drag Racing Series — armed with the same 463 cubic-inch Alan Johnson TFX Hemi engine which he built and then backed with a PSI screw supercharger a few years ago, but he and his brother and chief mechanic, Phil Gutierrez, have made upgrades to it to enhance its longevity and further energize it.
Those upgrades include a move to super-trick Wiseco Armor Plating coated pistons, rocker arms by Reid Machine and a move from a magnesium injector hat to a Composite Specialties carbon fiber injector hat, which Gutierrez feels will help lighten up his combination, as well as a move to new Gorr fuel system featuring a fuel pump by Earp Machinery.
"We're asking a lot of our car, and these changes will help us see benefits endurance-wise and get the engine leaner and take it closer to the edge without hurting anything," said Gutierrez, whose Gutierrez Brothers Racing team is based in Berkley, Michigan. "Also, with these changes, we won't see broken rocker arms under the valve covers after every pass. In fact, Reid Machine dares me to break these new bullet-proof rocker arms."
Gutierrez has already reaped the benefits of the upgrades, and zinged his engine's rpm to 11,000 — up from its normal 10,500 rpm — with no complaints from the valvetrain at the 2015 season opener for the Lucas Oil Drag Racing Series at Lucas Oil Raceway in Indiana in early May, but tire-shake and a few hurt rod bearings prevented him from making the qualified field.
"We ran 5.46, and if we would have run 5.40, we would have made the field," said Gutierrez. "We think we had an ignition glitch, and we're getting everything sorted out. I would love to go to 11,000 rpm on every pass because the faster the engine spins, the faster the blower spins, and if we went to 11,000 rpm rather than 10,500 rpm, we'd have about two more pounds of boost from the blower. Everything counts at this level."
Gutierrez is currently going over the combination with a fine-tooth comb in preparation for next weekend's 9th Annual Mickey Mart Rewards Cavalcade of Stars at Summit Motorsports Park, and is confident 5.30s will be unleashed.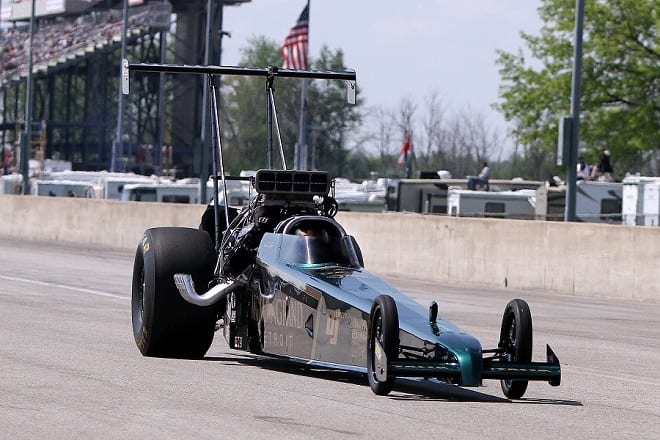 "We learn more about our tune-up with each day that goes by, and our attention to detail gets better and better," said Gutierrez. "Our goal is to be competitive with Marty Thacker, Brandon Booher and the other top drivers."
In addition to Top Alcohol Dragster, the 9th Annual Mickey Mart Rewards Cavalcade of Stars features categories like Top Alcohol Funny Car, Comp Eliminator, Super Stock, Stock Eliminator, Super Comp, Super Gas and Super Street, as well as the Brodix/Steve Schmidt Top Sportsman Series, Spitzer Race Cars Top Dragster Series and Pro Stock Snowmobile and NHRA Harley-Davidson Drag Racing Series. There also will be exhibition vehicles and fireworks will light the nighttime sky on May 15 and May 16.
Fans who can't get enough of Gutierrez there can catch him at the 9th Annual Summit Racing Equipment NHRA Nationals, July 2-5, 2015, at Summit Motorsports Park. Additionally, he and his dragster will be part of the 13th Annual Cruisin' to Drive out Hunger featuring food, music and more, to benefit Forgotten Harvest on Aug. 14, 2015 at Westborn Market in Berkley, Michigan. That event advances the Woodward Dream Cruise, which is Aug. 15.
"Norwalk is a gorgeous facility, and it's my favorite track in the world," said Gutierrez, who completed his competition licensing passes at the park two years ago. "The crowd there is unbelievable, and Bill Bader, Jr. (president of Summit Motorsports Park) takes care of everyone wonderfully. I'm really looking forward to being there to race, watch others race and to eat a pound of ice cream for a dollar."
Tickets for the event cost $20 for one day, $50 for three days. Admission is free for children ages 12 and younger. Summit Motorsports Park is at 1300 State Route 18, Norwalk, Ohio. For information, call 419-668-5555 or visit www.summitmotorsportspark.com.
(Provided by Mary Lendzion/Summit Motorsports Park)