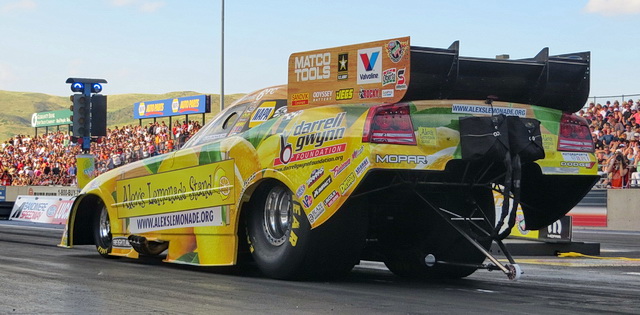 This weekend at Maple Grove Raceway will be a wonderful opportunity for Johnny Gray as he pulls on his driving gloves and slides in behind the wheel of the bright yellow Alex's Lemonade Stand/Darrell Gwynn Foundation-themed Dodge Charger R/T Funny Car at the Auto-Plus NHRA Nationals. Not only will Gray have the chance to go after his fifth win of the season, but the veteran drag racer will also be seizing the opportunity to spread the word about two foundations he and his Pitch Energy team hold in very high regard.
"It is very rewarding and humbling to be in a position to spend time with the kids associated with Alex's Lemonade Stand and the folks with the Darrell Gwynn Foundation," said Gray, who also piloted the eye-catching "Lemonator" theme on his Don Schumacher Racing Funny Car in Reading in 2011 and 2012 in order to raise awareness for Alex's Lemonade Foundation (alexslemonade.org).
"These kids and their families, they are just so brave," Gray continued. "We will have the chance to spend some time visiting with kids at the Alex Scott Day Hospital at Children's Hospital of Philadelphia on Thursday, and then we'll get to have a few families out to the racetrack.
"This weekend is always very important to me, and it's just a real special deal for all of the guys on my team and for my family. It means a lot to all of us."
Alex's Lemonade Stand Foundation was initiated by young cancer patient Alexandra "Alex" Scott (1996-2004), who started a front-yard lemonade stand at 4 years old to raise money towards finding a cure for all children with cancer. The foundation that has carried on in Alex's name funds over 250 research projects annually.
As he has several times already this season, Gray will also be racing to raise awareness for the Darrell Gwynn Foundation (darrellgwynnfoundation.org) and will be part of a special presentation on Sunday in which the donation of a wheelchair will be made on behalf of Gray, his wife Terry, and his sister Terry Chandler in honor of their father, the late John R. Gray.
On Thursday evening following the visit to Children's Hospital of Philadelphia, Gray and several other NHRA drivers will participate in the Countdown for a Cure fundraiser to benefit Alex's Lemonade Stand Foundation at the Classic Harley-Davidson shop in Reading. The driver's night is scheduled for Thursday, October 3, 2013 from 6-8pm and is open to the public.
"It really puts things into perspective when we have a weekend like this ahead of us," said Gray, who is currently eighth in the Mello Yello Drag Racing Series standings with three races left in the 2013 Countdown to the Championship.
"We have a lot of activities planned and we really hope to raise awareness for these foundations and others like them. Hopefully, we'll put the Alex's Lemonade Stand/Darrell Gwynn Foundation Dodge in the winner's circle and get some smiles out of those kids. We've been to the final there at Maple Grove for the last couple of years, and it would be a real neat deal to get it done this time around."