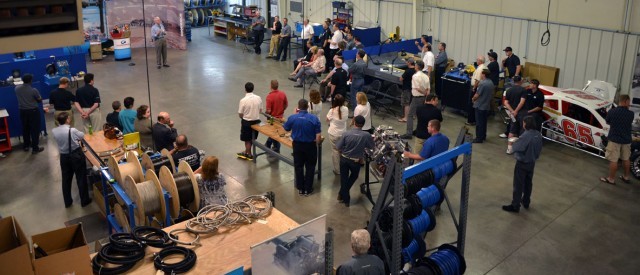 Goodridge, the world's leading supplier of high-performance fluid transfer systems, recently moved to a new 17,000 square foot facility located in the heart of America's fastest-growing motorsports hub, Mooresville, North Carolina.
To celebrate the move the company held an open house on May 22 featuring facility tours, food, drink, live music, iPad and NASCAR Hall of Fame ticket raffles, and vehicle displays. Local doorslammer stars and Team Goodridge drivers Todd Tutterow and Charles Carpenter were also in attendance, with Tutterow showcasing his 2011 ADRL Battle for the Belts championship-winning Pro Extreme '67 Mustang.
Goodridge's USA division has actually been located in Mooresville since its inception in 1993. As Goodridge has continued to grow along with the area's motorsports industry, larger and more capable facilities were required, culminating in the company's latest move to its largest and most feature-rich facility yet.
"This new headquarters signifies not only Goodridge's continued growth, but also its commitment to the Mooresville community," said Jack Hastings, General Manager for North America. "This is not a lease; Goodridge purchased the facility outright, so we plan to be here for the long haul. This facility has everything we need to continue providing our customers with industry-leading hoses and fittings, but with greatly increased efficiency and much faster turnaround times. Every step of the process and every individual part will be in-house."
Goodridge executives from the United Kingdom were also on hand for the grand opening. Jamie Ramsden, VP Commercial North America, and Bill Ray, Group Managing Director, among others, helped christen the new facility while visiting the area for the NASCAR All-Star Race and Coca-Cola 600, both held at nearby Charlotte Motor Speedway.
"It was perfect timing for us to stop in, see the new facility, and thank the hardworking Goodridge USA team as well as their valued customers," Ray said. "I'm confident the excitement and enthusiasm at Goodridge USA will continue to fuel its growth well into the future."
Story & Photos by Mike Carpenter