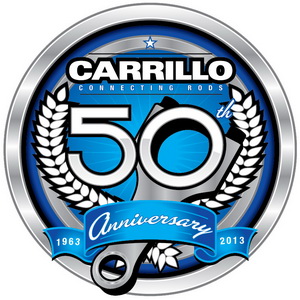 Few companies can claim continued success over a fifty year span, much less companies dedicated to the motorsport industry.  One glaring exception is Carrillo.   Founded by legendary Fred Carrillo in 1963, CP-Carrillo announces the 50th anniversary of Carrillo Connecting rods.
Carrillo, the leading manufacturer of high performance connecting rods is celebrating 50 years of successfully meeting and exceeding customer's high performance connecting rod requirements for the most demanding racing applications in an increasingly diverse and technologically challenging industry.
Fred Carrillo established the Company in 1963, originally known as Warren Industries, with a vision to design, manufacture and test high performance connecting rods.  Fred approached the challenges of manufacturing with the idea of no compromise.  He knew the never ending quest for speed would require the same intensity in component manufacturing.  This Carrillo philosophy is as evident today as it was at Carrillo's conception in 1963– a legacy that remains the backbone of the company today.
"This is an incredible milestone for Carrillo and in particular quite an achievement in this day and age," stated Cindy Verkooij, Marketing and Promotions Manager, CP-Carrillo.  "We want to celebrate this achievement and commemorate this anniversary by honoring our history and the future of this great company."
During the 1960s, Carrillo pioneered the development of the traditional H-beam design for demanding race engine applications.  Fred's involvement with Dan Gurney and Jack Brabham helped propel his connecting rod business after winning the Formula 1 World Championship in 1966.  Carrillo rods became and still are the ultimate high-performance connecting rods, desired by racers all over the world.
In July 2001, Fred Carrillo sold his interest in the company and in 2008 CP Pistons, a member of Pankl Racing Systems,  acquired Carrillo.  In 2009 they moved the corporate headquarters and manufacturing plant from San Clemente, CA to Irvine, CA and in 2010 CP Pistons  and Carrillo Industries incorporated into CP-Carrillo, LLC., continuing Fred's legacy and remaining the leader in the connecting rod field.
Today, CP-Carrillo remains a subsidiary of Pankl Racing Systems, with Barry Calvert serving as the CEO/President.  The company continues to specialize in the innovative design and production of both high performance connecting rods and pistons for the high end racing industry.
Through out the year CP-Carrillo will have various events to celebrate its anniversary.