Give Eric Latino a challenge and most likely he will not only overcome it, but find an innovative solution that has the potential to completely override the status quo. At the heart of his passion for all things cars is research and development, pinpointing the newest trick to be faster, smarter, more efficient. It's this mindset, plus a team of backers, that has taken the Canadian businessman from an average weekend warrior to an international threat on the NHRA Pro Mod circuit.
In September, the Ashburn, Ontario, native pounded his way into the Pro Mod final at the NHRA Carolina Nationals, where he lost by just nine-thousandths of a second to veteran Danny Rowe. Even more importantly for Latino, his supercharged '69 Camaro had run consistently down the track for 21 consecutive passes—posting a mid-5.90 or better run each time—indicating 'The Green Team' had found something significant in their program.
Though just 16 when he began dabbling in drag racing with a '69 Nova SS that he boasts still having to this day, a focus on business forced on Latino a long hiatus from the sport. From 1988 to 2005, he parked his racing efforts to instead build street-performance and drag cars, but an unfortunate series of events in 2005 would be just the ticket to lasso him back into his passion.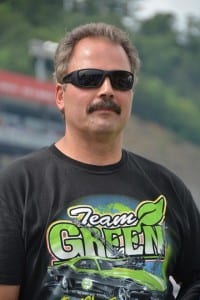 "A friend of mine had this crazy idea to get into drag racing and run a Top Sportsman car," Latino explains. "He ended up breaking his ankle and couldn't drive the car and asked me to drive for him. I took one pass in that car and got hooked. I had a new Corvette and I traded it to a local guy who had a '38 Chevy that used to belong to Carl Moyer years ago. We raced in PMRA (Pro Modified Racing Association), but we struggled with the '38 Chevy. It just wasn't aerodynamic enough to compete. So we ended up getting a brand new G-Force car built in 2011, which is the car I have today."
Peter Olin worked for Latino as the performance engine builder at Redline Automotive. He took the role as car chief and split the role of crew chief with Latino. The crew also consisted of long-time friend Paul Bassil and Gord Campbell, as well as Matt Latino and G-Force Race Cars owner Jim Salemi.
The new G-Force '69 Camaro certainly was a major factor in Latino's performance gain, but he notes the most important piece of his puzzle was teaming up with Rob and Ann Sporring. The Sporrings had parted ways with fellow Canadian racer Tony Pontieri in 2010 and then approached Latino about teaming up in 2011. Pontieri's crew chief Paolo D'Alimonte also joined the team and it has turned into a very successful partnership.
"We won three out of the six races we raced in and came second in our series [in 2011]," Latino says. "In 2012 we qualified number one at all six of the races we raced in and won the championship. We won an IHRA event that year and the biggest race of the year, the Shakedown at Englishtown. In 2013 we were testing in Rockingham. The car performed really well. Al Billes was there and he talked us into going to the NHRA national in Charlotte the next weekend. We went there, qualified seventh and went a couple of rounds. We ended up doing five races on the NHRA circuit in 2013. In 2014 we came out and qualified at all the races we went to, seven NHRA Pro Mod events. We also ran the PDRA Michigan race in 2014 where we qualified number two and won that race."
While successfully qualifying at NHRA events, Latino was frustrated by struggling to get past the second round. A test session in August this year cured the ailments and set The Green Team on their 21-run streak, leading to their final-round appearance in Charlotte. A second test session after the NHRA season-ending Vegas race earned the team its personal best ET, something Latino is most impressed by since The Strip at Las Vegas Motor Speedway is known as a notoriously slow track due to altitude.
While Latino's recent on-track feats have made many stop and take notice, it's really nothing out of the ordinary for the automotive specialist. He has been making widespread waves in the industry for decades. When his business ran into a major roadblock a decade and a half ago, Latino turned it into an opportunity to catapult a whole new venture.
"My automotive shop specializes in high-performance cars," Latino says. "In 1999 our state changed the emissions law and said you need to meet these emission levels in order to get your sticker for your vehicle. All the cars I built didn't pass emissions. We couldn't buy a product that was readily commercialized that would meet high horsepower, high temperatures and emissions. The three just don't mix. It's like trying to mix water and oil together. So I put a team of people together from my customer base and we formed a company called Global Emission Systems.
"Today, KOOKS Custom Headers is the largest manufacturer of header and mid-pipe kits for all the North American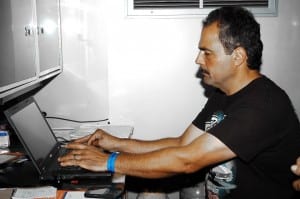 muscle cars. They make these really trick, stainless-steel custom headers and we supply all the catalytics. Vibrant Performance is also a big part of marketing and branding the GESi Cat as the leader in the industry. They are our marketing partner worldwide. Pretty much anybody you can think of that builds high-performance headers, we most likely supply the catalytics. We supply large truck companies, generator companies, the list goes on. So my business spun into this green thing. That's why my car is green and black. The black is where the environment has been going. The barbed wire is a safety barrier saying it's enough and the green is where we're going to bring the air pollution to."
Latino credits access to a chassis dyno and a beneficial government program are keys to tackling the emission issue, but insists nothing would have kept him from performing the necessary research and development.
"The chassis dyno is an unbelievable tool that allows you to measure engine horsepower and by changing the fuel and ignition timing we would see the performance gain at the same time we could monitor emissions. So we could say, 'Wow, we changed the fuel curve from .2 to .3 and we reduced emissions by 50 percent on the output of CO, but we increased the nox limit.' So we started to understand how the two affected each other," Latino says.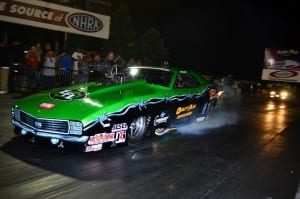 "We are huge in R&D and there are federal and state programs here in Canada that if you develop new technologies and you can show your scientific methods in measuring outcomes they'll refund back a percentage of your original investment. That helped us develop the R&D, but, look, when you're a race car builder you're R&Ding every day. You're always at the track. You're trying new cams and intakes and carbs. The engine is set up for the chassis and you're seeing what makes those changes. So I've been R&Ding all my life just to see what makes cars go faster and now I R&D on emission controls.
"The big thing for us today: how to calibrate an engine to maximize the horsepower, to get the best fuel economy, and to have the lowest possible emissions. And that's a science on its own, but they all play a role with each other."
Latino lives by the statement: "If you're not R&Ding in racing, you're not keeping up;" however, he also recognizes having good people involved is the bottom line for any successful racing operation and points to his NHRA Pro Mod rivals as proof.
"Danny Rowe, for example, has a great budget and he has one of the best guys out there in Jimmy Rector, who develops and keeps him going. Troy Coughlin has Steve Petty with Pro Line Engines, the best turbo guys in the world. I just don't have the money that most of my competitors have, so we do all our own R&D. I go to Al Billes' shop and rent the dyno room from him. We'll go up there with a whole bunch of different parts and run through a bunch of different combinations until we find the maximum power we can make. We do that all winter long.
"I'll be honest; in 2014 to 2015 my engine program picked up huge and Al Billes plays a big role in our program. If it wasn't for his help and advice on our engine program as well as always updating our supercharger we wouldn't be running as good as we are."
Another unique aspect of Latino's setup is his faithfulness to clutches in a day and age in which most teams have chosen the easier and arguably more consistent route of torque converters.
"The clutch is a little more maintenance than a converter, but I still believe it's faster," Latino says. "A torque converter gives you time to focus on your engine program, but we're okay with the clutch maintenance. We have a big enough crew that allows us to have one person that focuses solely on tuning, another that works on the motor and one person that focuses on the clutch program. So if you had a race team with only two or three people, a torque converter is the way to go. Since we have five people on our crew, it makes it easier for us to run a clutch. Torque converters definitely are more consistent, but if you've got a good handle on your clutch program then you can be just as consistent as a converter and faster."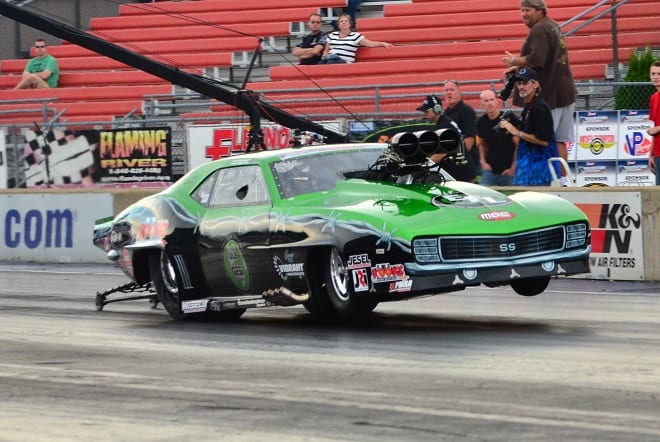 Among Latino's large crew is his son, Matt, who has been learning and getting more involved in the car's maintenance from the firewall back. For Latino, having his family join in his racing operation means more than anything. He even goes as far as saying that "the day my son loses interest in racing is the day I may quit racing. It would be a real tough decision, one I hopefully won't have to make anytime soon! I do it because it's a family sport and we all enjoy it. I love racing. I'm a diehard. It's in my blood and it's all I want to do, but at the same time, my family is really important to me, too. What happens in most families is that once kids turn 16 or 17 they're gone. They want to hang out with their friends. My kid and his friends all think what I do is so cool they want to come with us."
Latino's oldest son is also into cars, but doesn't travel to the events; nor does his wife, Sue, who instead remains at home to run the automotive shop.
"My wife keeps encouraging me to stop racing for a year or two and give all my focus to my business and then I'd be able to go racing full time and not even go to work," he says. "Right now I'm racing and then rushing back to work and then I'm working and rushing back to the race track. It's hard to do that. My wife runs the shop every day and I'm at the GESi business. When I go racing she won't leave and come with because she feels it's bad enough I leave one business, so she won't leave the other. She would love to come, so I hope to free her up to be able to come more next year."
With the support of family at home and at the track, the partnership of the Sporrings, and a hefty list of sponsors, Latino is poised for a solid run next year for the full 10-event NHRA Pro Mod schedule. Not least on his list of goals is bringing an elusive Wally back home to Ashburn.
"If it wasn't for Rob and Ann Sporring I really wouldn't have taken the leap to run NHRA as early as I did, but with his support and truck and trailer and engine parts he made it come together. I've got some really good sponsors and if it wasn't for them I couldn't do it," Latino states.
"I love the sport, and the people around the sport. NHRA is great. The people behind it are real professional. The fans are awesome. They're always coming around and we invite them into our pits. The big thing for me, though, is competition and advancing our program. I love going out to the race track, excited to try out what we were developing in between races. When the competition is low, it gets boring. We want to be challenged."
Photographs by Paul Grant, Ian Tocher and Wes Buck
This story originally appeared in Drag Illustrated Issue No. 105, the Champions Issue, in November of 2015.