Dallas-based Gas Monkey Garage, owned by well-known television star of Discovery Channel's Fast n- Loud, Richard Rawlings, will sponsor the Hennen Motorsports Top Fuel team at the AAA Texas NHRA Fall Nationals Sept. 18-21, at the Texas Motorplex in Ennis, TX.
The AAA Texas Fall Nationals, the second event in the six-race Countdown to the Championship, will be the debut event for the Gas Monkey Garage ride, driven by Texan Kebin Kinsley and tuned by John Smith.
Rawlings, a self-described gear head who loves the extreme horsepower and unmatched excitement of NHRA drag racing, is thrilled to be joining forces with Hennen, both of whom are looking forward to developing a rewarding and successful partnership.
"I'm really stoked to be involved with Roger Hennen Motorsports and NHRA Championship Drag Racing," Rawlings said. "We're going to do this Gas Monkey Garage style so you know it will rock!  Top Fuel is the elite class in drag racing and we're anxious to hit the strip with the kings of the sport. Look out Dallas, here we come!"
Gas Monkey Garage has become a household name for automotive enthusiasts across the country and worldwide, specializing in the restoration and customization of just about anything that has an engine and wheels.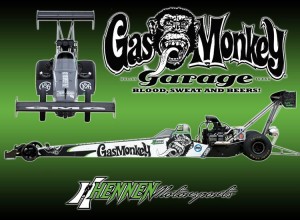 Rawlings, along with Aaron Kaufman, has managed to build quite an impressive following, not just because of the duo's remarkable mechanical skills but also because of their creativity and comedic talents that have earned them a worldwide fan base.
Thanks to this new partnership, Rawlings, who often makes commercial appearances and is featured on television shows, and also is now in the restaurant business, will be seen frequently at NHRA events, running with the kings of the sport in the Top Fuel ranks under Hennen Motorsports.
They say everything is bigger in Texas and this partnership is no different as Rawlings and Hennen have big plans for the future. The focus, however, will remain on the AAA Texas NHRA Fall Nationals as the team anxiously anticipates their Top Fuel debut in a few weeks.
The plan is to play spoiler to the Countdown to the Championship contenders by running hard and going rounds.  Fans can get a sneak peak at the Gas Monkey Garage Top Fuel Dragster at the Pre-Stage Fan Fest on Wednesday, Sept. 17.
The Pre-Stage Fan Fest, which is free, takes place from 5-10 p.m.  Streets in the N. Dallas/Knox area will be blocked off so fans will be able to take full advantage of all the activities, which include music, food trucks and plenty of NHRA professional and sportsman cars. Fans also will have the opportunity to meet drivers and get autographs.
(Photos courtesy Hennen Motorsports/Facebook; Click to enlarge)