"I've always been interested in those things that aren't normal for a female to do," Dystany Spurlock has boldly written on her website.
Spurlock, an accomplished professional motorcycle drag racer, found the love of motorcycles at an early.
"Before I started racing, I was on the back of a motorcycle with my mom and dad. They both rode motorcycles," reminisced Spurlock, preparing to qualify at the Xtreme Dragbike Association Spring Nationals, as passes are heard in the background.
"Then, once I turned 12, I went to the drag strip with my god-dad. He's the one who introduced me to motorcycle drag racing, and I fell in love with it," continued Spurlock. "I had seen Jr. Dragsters. I thought those were cool, but when I saw the motorcycles, I was full-on hooked."
When Spurlock turned 16, she wasn't gifted a "first car." She was given her first motorcycle by her mom – a 2006 Suzuki GSX-R750.
"I raced that for literally like two months. Then BMW had just come out with their brand-new sports bike, so I got the chance to race that. From there, I set the record on it within my third pass going down the track. Then I became an ambassador for BMW, and the rest is history," laughed Spurlock.
Also a model and actor, Spurlock competes full-time in the XDA and the Man Cup Drag Racing Series, achieving much during her racing career. Last year, Spurlock was only one point away from the championship in the Man Cup Series Pro Ultra 4.60 class.
Now, Spurlock is chasing another dream of hers – competing in NHRA Pro Stock Motorcycle. She recently purchased a Pro Stock Motorcycle operation and has been testing the bike to get ready for the 2024 NHRA season.
"NHRA has always been a dream of mine to get to; that has always been the ultimate goal when it came to me drag racing. I've always wanted to go [race NHRA], but I did not know that this year would be the year where all this happened. It was like God pushed me," said Spurlock, explaining how one door closed but another opened when a deal fell through with another race team.
"I walked away from that and literally the opportunity for me to purchase this bike, all these motors, gave me the preparation for Pro Stock," she continued.
With the support of her family and boyfriend, Spurlock never thought twice about pursuing something that is mainly skewed toward men.
"I've always been a male-dominated sports. In the series that I race in now, it's predominantly male-dominated. To me, it's just like another walk in the park. I'm not afraid. I'm not nervous," said Spurlock of entering the NHRA Pro Stock Motorcycle class with a handful of female competitors. "I'm excited because I want to learn so much, and to finally be able to get to the Mecca of drag racing is great."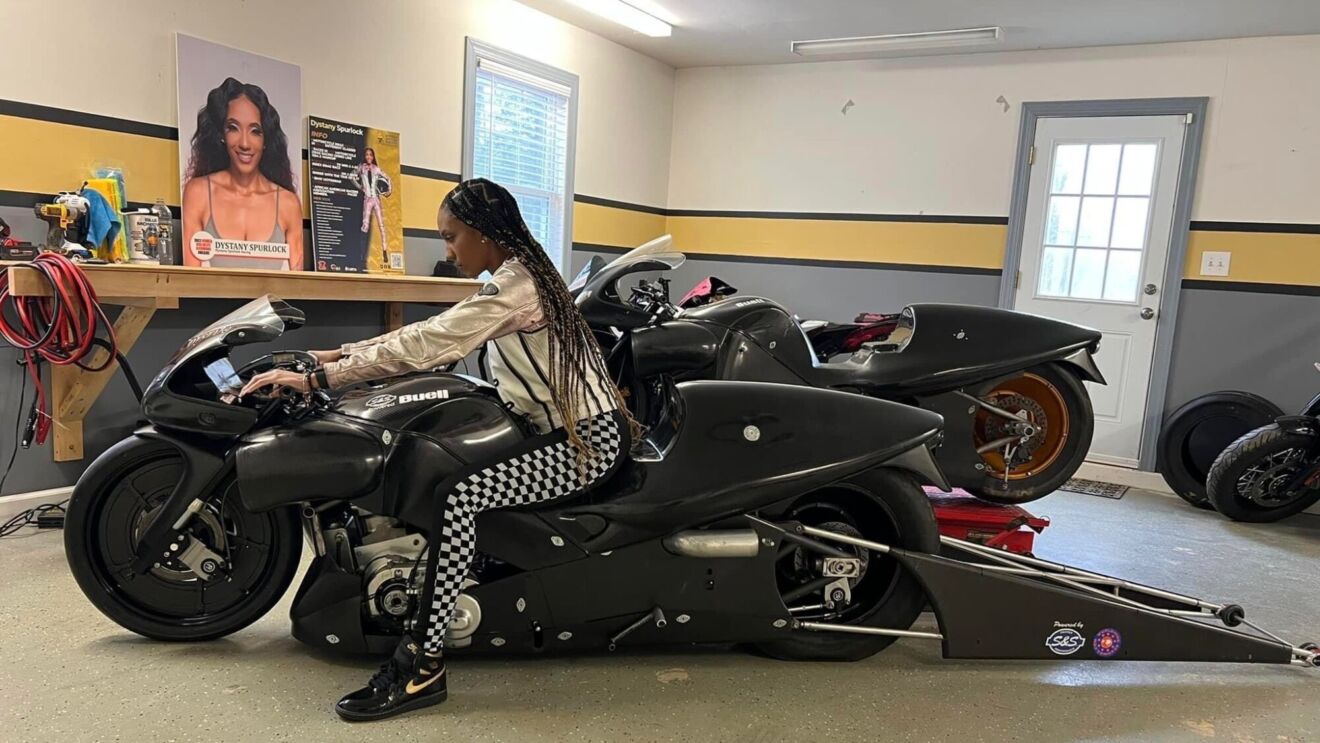 Furthermore, Spurlock has also added open-wheel race cars to her resume as she competes in the Skip Barber Formula Four Race Series. When she's not behind the wheel or the handlebars of her motorcycle, Spurlock devotes her time to her foundation.
"The What's Your Dystany Foundation is to introduce motorsports to kids from elementary to high schools. I'm in the process of working with some companies to make this all happen, but I want to be able to give away sponsorships to kids to race Jr. Dragsters for a year," said Spurlock. "If they already have a team, I would sponsor them that money."
Spurlock even takes her motorcycle to the schools as part of the education process.
"They knew about my motorcycle; they knew nothing about drag racing. They didn't even think that women could do it. They were like, 'Oh my God, you're a girl, and you ride that, and you race?' They were so amazed," Spurlock said. That just reconfirmed that this is something that needs to be done. So I'm like, 'let's push it, let's do it.'"