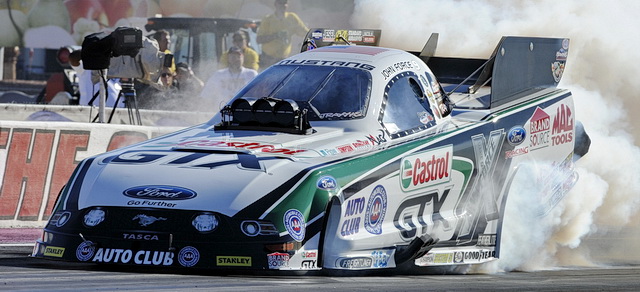 The American Auto Racing Writers and Broadcasters Association  (AARWBA) has named John Force, driver of the Castrol GTX High Mileage Funny Car, as a member of the All-America First Team for the 16th time in his legendary career.
Force won his 16th NHRA Mello Yello Funny Car championship in 2013, winning four times with nine final-round appearances.
"It is always an honor to be recognized as an All-America First Team driver. This award is very special because the media is so important to growing our sport. I have to thank all my sponsors Castrol, Ford, Auto Club, Mac Tools, Traxxas, Freightliner and BrandSource because without their support we wouldn't be able to do what we love," said Force.
"You want to win every race and that is always my focus. Winning the championship last year as a great team accomplishment and we need to keep winning so we can keep chasing corporate America. I want to keep racing with my kids for as long as possible. My health good and I have the fire to keep chasing after these young kids."
A group of special drivers representing multiple forms of professional motorsports is elected each year by AARWBA. The association's members vote on drivers within their participating categories of racing and the top two from each discipline are elected to the first team.
The Drag Racing Category was honored with the driver earning the most votes of any All-America Team nominee. John Force was joined by first time Top Fuel champion Al-Anabi's Shawn Langdon who finished second amongst the drag racer vote getters.
Force is also recognized as the Jerry Titus Memorial Trophy winner for the driver having the most overall votes. This is the fifth Jerry Titus Award for Force. No other motorsports professional has won more than three times.
2013 All-America First Team
Scott Dixon and Helio Castroneves were the top vote getters in the Open Wheel division. Dixon claimed the IZOD Indycar Series Championship driving for Target Chip Ganassi Racing for the third time in his career. Castroneves finished second in the Indycar standings for Team Penske.
Road Racing saw the driving team of Max Angelelli and Jordan Taylor earn the most votes on the strength of their Grand Am title for Wayne Taylor Racing. Scott Pruett and Memo Rojas claimed runner up honors on the Grand Am circuit and in the Road Racing division votes.
USAC was well represented in the Short Track Division. Sprint Car Champion Bryan Clauson led the vote tally while Silver Crown titlist Bobby East was second. Both men drive for Tony Stewart/ Curb-Agajanian Racing. Clauson won seven series features and East saw Victory Lane at Pikes Peak International Raceway.
Jimmie Johnson and Matt Kenseth led the way in the Stock Car category. Johnson won his sixth NASCAR Sprint Cup Series crown driving for Hendrick Motorsports. Kenseth finished second in the Cup standings on the strength of seven wins for Joe Gibbs Racing.
In the Touring Series, Donny Schatz earned his first team position with 23 World of Outlaw Sprint Car A-Main victories for Tony Stewart Racing. Frank Kimmel drove Thorsport Racing's Toyota to his 10th career ARCA Champion and a spot alongside Schatz.
Sage Karam and Johnny O'Connell were the At Large category's top vote earners. Karam was the Indy Lights champ for Schmidt Peterson Motorsports. O'Connell was the Pirelli World Challenge GT winner for Cadillac Racing.
Andretti Autosport Firestone Indy Lights pilot Carlos Munoz was voted the Rising Star award after his Lights crown and a second place finish in the Indianapolis 500.
One other tradition that AARWBA has followed, is to elect a Second Team to be honored with drivers finishing in the third and fourth positions within each voting category.
2013 All America Second Team
Open Wheel: Ryan Hunter-Reay and Will Power
Road Racing: Klaus Graf/ Lucas Luhr and Doug Peterson
Short Track: Daryn Pittman and Christopher Bell
Stock Car: Kevin Harvick and Sam Hornish, Jr.
Drag Racing: Antron Brown and Jeg Coughlin, Jr.
Touring Series: Matt Crafton and Alessandro Balzan
At Large: Frank Manzo and Jim Whitely
The country's top forms of professional motorsports are represented in this championship group voted on by AARWBA as the 2013 All-America Team.
Founded in 1955 AARWBA is a motorsports organization comprised of writers, broadcasters, photographers, and other media-related professionals. The organization's charter is aimed at providing not only proper recognition for members of the motorsports media, but to recognize their work as well as the work of the competitors that they follow in print, on the air, and on film.
(Photos courtesy NHRA/National Dragster; Click to enlarge)