The final day of qualifying for the NGK Spark Plugs NHRA Four-Wide Nationals concluded on Saturday afternoon. Funny Car racer Courtney Force along with her sister Brittany in Top Fuel, retained their No. 1 qualifying positions from Friday at zMAX Dragway.
Drew Skillman (Pro Stock) and LE Tonglet (Pro Stock Motorcycle) are also No. 1 qualifiers in their respective categories at the sixth of 24 events on the 2018 NHRA Mello Yello Drag Racing Series schedule.
C. Force was able to use her 3.873-second pass at 332.92 mph run during the first day of qualifying in her Advance Auto Parts Chevrolet Camaro to maintain the top position. This is her third No. 1 of the year, her most recent at the event in Las Vegas, and the 20th career.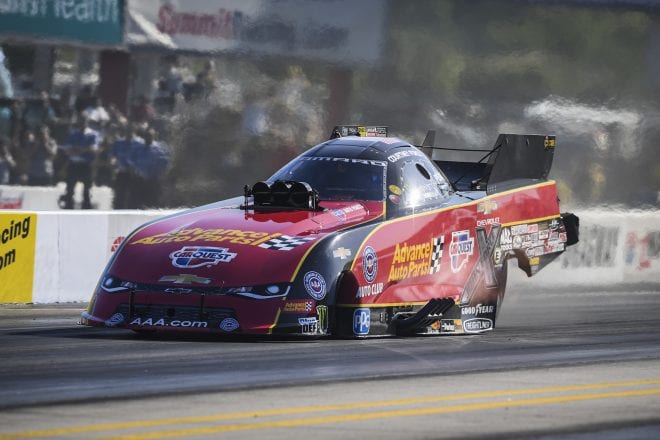 "I'm really excited for us to come here and race four-wide," said C. Force. "For us to do it with my sister Brittany and her Monster Energy team right beside us is pretty amazing. I'm really excited and I hope it is something good for what is to come tomorrow and Brittany and I can celebrate in the winner's circle."
With the unique four-wide eliminations format she will face No. 16 qualifier Jim Campbell as well as her father John Force, and Tim Wilkerson in the first round.
In Top Fuel, B. Force secured her first No. 1 of the season and the ninth of her career with her run of 3.689 at 318.39 in her Monster Energy Dragster. B. Force and her team suffered a setback at the season opening race when she was involved in an incident. While she was uninjured, her primary car was destroyed in the accident. Her team debuted a new car at the most recent event in Houston, which she won, and now has a No. 1 qualifying position with the new machine.
"This is the third car we have run this season and it isn't easy when you have to rebuild a whole new car," said B. Force. "We went out and won the debut race and that is pretty impressive. I have to give credit to Alan Johnson (consultant) and Brian Husen (crew chief) and my Monster guys for making it happen. We are on a role and I'm happy we qualified No. 1 last night, held onto that spot but tomorrow is a whole new day. The plan is to go some rounds and win the thing."
When eliminations begin on Sunday, she will face Audrey Worm as well as Shawn Reed and Scott Palmer.
Pro Stock is led by Skillman who raced to his sixth No. 1. qualifying position of his career as his 6.534 at 210.37 run from Friday remained the category leader. It is his first top position since the Sonoma event in 2017 for the driver of the Ray Skillman Chevrolet Camaro.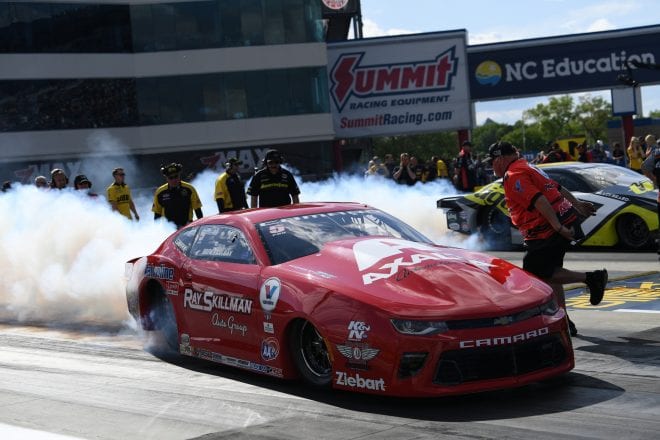 "Our car has run pretty good all weekend," said Skillman. "After the second hit we had a lot of momentum going forward this weekend and we have a little bit of work to go yet before Sunday but our team is ready, our car is ready, and I'm ready to go."
Skillman has yet to win this season and will face Val Smeland, Erica Enders and Jason Line in search of his sixth career victory.
Tonglet, in his first race back with the White Alligator Racing (WAR) Pro Stock Motorcycle team owned by 2016 world champ Jerry Savoie, raced to the No. 1 position with his run of 6.812 at 196.99 in the third round of qualifying. Tonglet the defending event winner, is the 2010 category champion, and earned his sixth career top position on his KPK/Nitrofish Suzuki.
"The success is all on team WAR and we couldn't do it without them," said Tonglet. "The build an awesome team, a really good program, and I'm just fortunate to be part of it. The bike is flying and I'm looking forward to going three rounds tomorrow. This is the only track I can say that. We just need to go out there and get win lights at the other end and I feel like I can do that."
Tonglet will square off against Jim Underdahl, his team owner Savoie and Hector Arana Jr.
Eliminations at the NGK Sparkplugs NHRA Four-Wide Nationals begin at noon on Sunday.