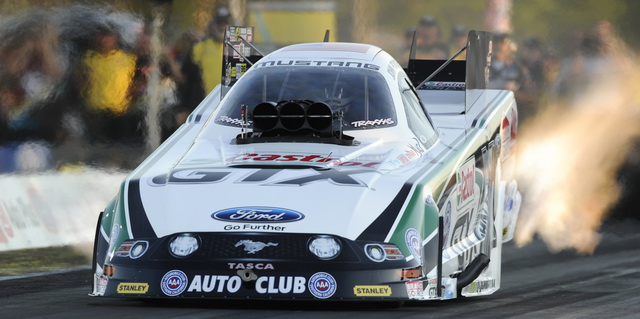 A week after breaking a 31-race winless streak, John Force (above) thrilled New England fans and powered to the No. 1 qualifying spot in Funny Car on Friday at the Inaugural Auto-Plus NHRA New England Nationals at New England Dragway.
Doug Kalitta (Top Fuel), Jeg Coughlin Jr. (Pro Stock) and Matt Smith (Pro Stock Motorcycle) also were qualifying leaders at the NHRA Mello Yello Drag Series event, the 11th of 24 in the 2013 season.
Force, a 15-time Funny Car world champion, powered his 8,000-horsepower Castrol GTX Ford Mustang to a run of 4.051 seconds at 313.44 mph to move to the top of the Funny Car qualifying field. If it holds, it would be Force's second No. 1 qualifier in 2013 and 142nd of his career, the most in NHRA history.
Two qualifying sessions remain on Saturday (12:15 p.m. and 2:15 p.m.) before Sunday's eliminations at 11 a.m.
"We got around them there at Bristol (Dragway) on Father's Day, and you didn't really know what was going to happen here because we've got no data for this racetrack," said Force, who has 135 career victories. "They can tell us how good the concrete is, and my clutch guy, Lanny Miglizzi, said it's awesome. To come out here and run that kind of number, it was wonderful. We're going to give these fans a show."
Matt Hagan was right behind Force in his Magnetti/Marelli Mopar Dodge Charger, running 4.057 at 317.49. Courtney Force and Ron Capps both ran 4.083, as Force went 313.37 in her Traxxas Ford Mustang to claim third. Capps' NAPA Dodge Charger ran 309.91 and is fourth overall.
The provisional number-one qualifier was also impressed with the strong fan turnout at the NHRA's debut at New England Dragway.
"This is a great market, and we're going to give these fans what they bought tickets for," Force said. "This was a big crowd for a Friday night and it was pretty exciting.
It's just really great to be a part of the first NHRA race in this part of the country. I know all the drivers are excited, and the fans, they want those autographs. It goes on and on. It's pretty cool."
Kalitta raced to the top spot in his 8,000-horsepower Mac Tools dragster, running 3.795 at 323.97, making the only Top Fuel run in the 3.70s on Friday. If it holds, Kalitta will claim his fourth No. 1 qualifier this season and 35th of his career.
Kalitta is also extra motivated this weekend after Tammy Oberhofer, the wife of his crew chief Jim Oberhofer, passed away this week after a battle with cancer.
"We're definitely on a mission," Kalitta said. "It's just kind of heart-wrenching to go through what we've gone through this week, but we're out here, and I'm sure Tammy's riding with us this weekend. We've been trying to get a win, and she's our biggest supporter out here, I think, over the years. Hopefully, we can do some good here this weekend and dedicate the win to her.
Shawn Langdon is currently second, running 3.809 at 321.58 in his Al-Anabi, and David Grubnic sits in third after going 3.817 at 321.96 in his Optima Batteries dragster. Kalitta took advantage of optimal conditions for Friday, positioning himself for what he hopes results in his first win of the season.
"The conditions got good here this evening, and we're ready for (Saturday)," Kalitta said. "I think it will be a little warmer (Saturday), but we'll be ready for (Saturday) and for Sunday. That first run, we were a little more conservative than we should have been, so Jim on that one I don't think he had any intentions of being bashful with that. The thing ran good, and it stuck. I'm real proud of my team. They definitely got after it trying to make it stick, and it did, so hat's off to them."
In Pro Stock, Coughlin took command in the second qualifying session, running 6.533 at 212.43 in his JEGS.com/Mopar Dodge Avenger. Points leader Mike Edwards and standout Jason Line followed him in the session, but neither could match Coughlin, a four-time Pro Stock world champion.
"That was a great run but by no means was I optimistic that it would hold up," Coughlin said. "I thought for sure that Mike Edwards or Jason Line, who were sitting in the water behind me would be able to run at least as quick or quicker but we managed to hang on."
Defending Pro Stock world champion Allen Johnson and his Team Mopar Dodge Avenger are currently second with a 6.547 at 212.26, while Edwards' 6.549 at 212.09 in his I AmSecond/Interstate Batteries Chevy Camaro is third.
That run from Edwards was the top in the first session, but Coughlin made strong improvements during his second run on Friday. If it holds, it would be the second No. 1 qualifier this season and 19th of his career.
"We were very familiar with the atmospheric conditions here, but the track was new to all of us," Coughlin said. "It was a little green so we were cautious with our set-up but as it turns out we were a little too aggressive on the first run. On the second run, the track came around and the temperature cooled off a little and it was much better. The car hiked the front end at the top of low gear it hiked the front end up and if there had been a camera under my helmet you'd have seen me grinning from ear to ear."
Smith ran a 6.844 at 196.02 to take the initial top spot in Pro Stock Motorcycle. Should that run hold it would be the second No. 1 qualifier of 2013 for Smith, the 2007 Pro Stock Motorcycle world champion, and the 20th for his career.
"Since this is a new track to us, we were a little conservative on our setup on the first run," Smith said. "We were good from second gear on but missed it a little in the first 60 feet. On our second run, it was going to be better, but the bike would not shift. That was going to be a 6.83 or maybe even a 6.82. I should have a good bike this week. When we got here, we just went off our setup from Englishtown and made a couple of little tweaks."
Smith has battled transmission problems in his Viper Motorcycle Company Buell at recent races, but he powered past the likes of Hector Arana Sr., who is second with a 6.866 at 191.27 in his Lucas Oil Buell, and Michael Ray, who took his Sovereign Star Racing Buell to third with a 6.898 at 194.91. Smith is also confident he will have the problem corrected for the rest of the weekend.
"We're making more power than ever, and the tracks are better than ever, and we've been breaking input shafts," Smith said. "It might be time for us to look at building something a little stronger. I thought I had fixed the problem earlier this year; I didn't have any problems in Englishtown, but we'll have to go back and take a look at it."
(Photos courtesy NHRA/National Dragster; Click to enlarge)
EPPING, N.H. — Friday's results after the first two of four rounds of qualifying for the Inaugural NHRA New England Nationals at New England Dragway and Motorsports Park, 11th of 24 events in the NHRA Mello Yello Drag Racing Series.  Qualifying will continue Saturday for Sunday's final eliminations.
Top Fuel
1. Doug Kalitta, 3.795 seconds, 323.97 mph; 2. Shawn Langdon, 3.809, 321.58; 3.David Grubnic, 3.817, 321.96; 4. Tony Schumacher, 3.817, 321.73; 5. J.R. Todd, 3.831, 316.90; 6. Bob Vandergriff, 3.833, 323.04; 7. Spencer Massey, 3.836, 322.04; 8. Steve Torrence, 3.847, 317.27; 9. Clay Millican, 3.872, 316.38; 10. Khalid alBalooshi, 3.896, 319.67; 11. Antron Brown, 3.959, 289.26; 12. Terry McMillen, 3.986, 301.74.  Not Qualified: 13. Morgan Lucas, 4.161, 218.27; 14. Brittany Force, 5.906, 111.07; 15. Ike Maier, 6.156, 162.76; 16. Tim Boychuk, 11.426, 67.05.
Funny Car
1. John Force, Ford Mustang, 4.051, 313.44; 2. Matt Hagan, Dodge Charger, 4.057, 317.49; 3. Courtney Force, Mustang, 4.083, 313.37; 4. Ron Capps, Charger, 4.083, 309.91; 5. Robert Hight, Mustang, 4.088, 313.80; 6. Johnny Gray, Charger, 4.090, 312.64; 7. Bob Tasca III, Mustang, 4.096, 312.13; 8. Jeff Arend, Charger, 4.115, 307.30; 9. Cruz Pedregon, Toyota Camry, 4.141, 301.13; 10. Tim Wilkerson, Mustang, 4.143, 305.70; 11. Del Worsham, Camry, 4.151, 305.98; 12. Tony Pedregon, Camry, 4.185, 287.11.  Not Qualified: 13. Blake Alexander, 4.211, 299.33; 14. Alexis DeJoria, 4.229, 297.75; 15. Jack Beckman, 4.545, 261.67; 16. Dave Richards, 4.562, 222.25; 17. Mike Smith, 5.622, 134.08.
Pro Stock
1. Jeg Coughlin, Dodge Avenger, 6.533, 212.43; 2. Allen Johnson, Avenger, 6.547, 212.26; 3. Mike Edwards, Chevy Camaro, 6.549, 212.79; 4. Shane Gray, Camaro, 6.556, 212.23; 5. Jason Line, Camaro, 6.565, 212.49; 6. Greg Anderson, Camaro, 6.591, 211.79; 7. Vincent Nobile, Avenger, 6.601, 210.57; 8. Rodger Brogdon, Camaro, 6.625, 211.39; 9. Tom Martino, Pontiac GXP, 6.639, 208.26; 10. Steve Kent, Camaro, 6.646, 209.36; 11. Larry Morgan, Ford Mustang, 6.672, 209.75; 12. Lewis Worden, Mustang, 6.696, 202.67.  Not Qualified: 13. Kenny Delco, 6.712, 208.23; 14. John Gaydosh Jr, 6.749, 205.22; 15. V. Gaines, 12.426, 69.80.
Pro Stock Motorcycle
1. Matt Smith, Buell, 6.844, 196.02; 2. Hector Arana, Buell, 6.866, 195.05; 3. Michael Ray, Buell, 6.870, 195.79; 4. Adam Arana, Buell, 6.881, 194.55; 5. Hector Arana Jr, Buell, 6.913, 193.60; 6. LE Tonglet, Suzuki, 6.918, 194.18; 7. Andrew Hines, Harley-Davidson, 6.923, 193.21; 8. Jim Underdahl, Suzuki, 6.926, 195.28; 9. Mike Berry, Buell, 6.937, 193.07; 10. Scotty Pollacheck, Buell, 6.957, 190.59; 11. Eddie Krawiec, Harley-Davidson, 6.961, 192.03; 12. Shawn Gann, Buell, 6.969, 192.82.  Not Qualified: 13. Jerry Savoie, 6.982, 191.32; 14. Steve Johnson, 7.010, 192.58; 15. Angie Smith, 7.018, 192.00; 16. Joe DeSantis, 7.038, 188.81; 17. John Hall, 7.051, 189.20; 18. Sam Hurwitz, 7.471, 182.08; 19. Michael Phillips, broke.