A mix of first-time winners and past world champions collected victories Saturday night at the Professional Drag Racers Association (PDRA) North-South Shootout at Maryland International Raceway. The all-eighth-mile series crowned winners in six professional categories and seven sportsman classes at the second stop on their eight-race 2018 tour.
Moroso Pro Boost low qualifier Tommy D'Aprile swept the weekend when he scored the victory, while Adam Flamholc (Bryant Industrial Pro Extreme presented by Pro Line Racing), Randy Weatherford (Switzer Dynamics Pro Nitrous presented by MoTeC), Steven Boone (Liberty's Gears Extreme Pro Stock), Eric McKinney (Drag 965 Pro Extreme Motorcycle) and Dillon Voss (East Side Auto Transport Pro Outlaw 632) also earned professional class wins.
The sportsman class victories went to Billy Albert in MagnaFuel Elite Top Sportsman, Vonnie Mills in Top Sportsman 32, Nick Hamilton in Lucas Oil Elite Top Dragster and Kevin Roof in Top Dragster 32. In the PDRA's Jr. Dragster classes, Nicole Zuccarelli ran 7.903 on a 7.90 dial-in to defeat Jarrod Kissinger's 7.969 on a 7.90 dial-in to win Coolshirt Pro Jr. Dragster. Local racer Kaiden Groves used an 8.985 on a 8.98 dial-in to claim the Gilbert Motorsports Top Jr. Dragster victory over Brooke Miller, who broke out with a 7.957 on a 7.97 dial-in. Dennis James defeated Mike Reavis in an all-dragster Edelbrock Bracket Bash final round.
PRO NITROUS
Randy Weatherford and his WS Construction team have been consistently dialing in their clutch-equipped '69 Camaro over the last few seasons in Pro Nitrous competition. He's qualified No. 1 and raced deep into eliminations, but he had yet to reach the winner's circle before he piloted his Musi-powered entry to a 3.882 at 163.57 over John Hall's 3.899 at 155.17 in the North-South Shootout final round.
"This is my first PDRA win, and it's been a long struggle to get to this point," said Weatherford, a past champion in various regional series. "The car was always real good. All the parts and pieces worked right. I had a good program last year, I just couldn't put it together right. This year I've got a better program together. I've always said clutch cars are faster and I think the scoreboards showed it."
Weatherford recorded three of the best passes of his career on his way to the final round. He posted a 3.699 over Tommy Mauney, a 3.701 over Johnny Camp and a 3.675 over Chris Rini. Hall also experienced a career-best weekend in his Clayton Murphy-tuned '68 Camaro, as he ran a 3.745 over Tony Wilson, a career-best 3.704 at 205.19 over past world champion Jason Harris, and a 4.017 in the semifinals.
PRO EXTREME

Racing in just his second Pro Extreme event since 2015, Adam Flamholc earned the North-South Shootout event win when he recorded his third consecutive 3.6-second pass and defeated No. 1 qualifier Terry Leggett in the final round. Leggett, who fired off a 3.552 at 216.97 on his first-round bye run, slowed to a 4.063 in the final round, while Flamholc ran 3.63 at 214.62 to take the win in his 5-Day Plantation Shutters & Blinds '63 Corvette. Flamholc, a Swedish native, qualified No. 2 and defeated Scott Farley before facing Leggett in the final round.
PRO BOOST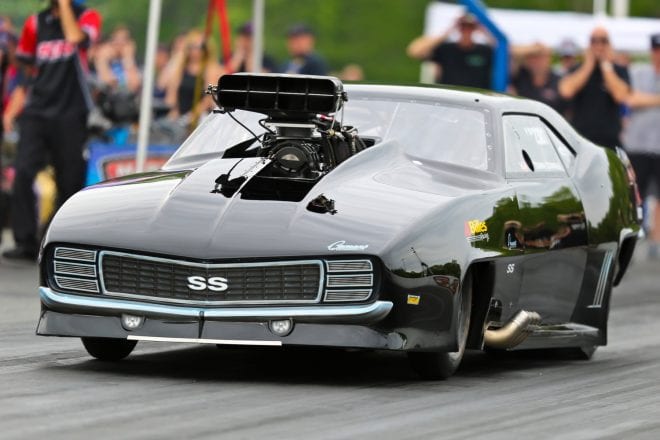 Former Pro Extreme star Tommy D'Aprile further solidified his status as a serious threat in Pro Boost this season when he and tuner/car owner Al Billes fired off one of the quickest supercharged passes in class history to win the event. D'Aprile recorded a 3.66 at 203.31 to beat Chuck Ulsch's 3.75 at 198.58 in the final round.
"This win was all about teamwork," said D'Aprile, the No. 1 qualifier for the second time this season. "This team is amazing. If I had an unlimited budget and I could go anywhere and pick my team, I couldn't pick it any better than this. God has put this team together. I make no bones about my faith. I'm a man of faith; I walk that, I talk that and I'm proud of that. I love this team. We have a brotherhood here that is just amazing. We're blessed."
D'Aprile dodged a bullet in the opening round when his Roots-blown '69 Camaro slowed to a 3.874 over Eric Donovan, but his performance picked up again with a 3.701 over Raymond Commisso and a 3.67 over Brazil's Roderjan Busato in the semifinals. Ulsch was running right with D'Aprile throughout eliminations, posting a 3.716 over Junior Ward, a 3.707 over Marc Caruso and a 3.715 to beat Jerico Balduf on a holeshot in the semifinals. Ulsch was appearing in his second consecutive final round.
EXTREME PRO STOCK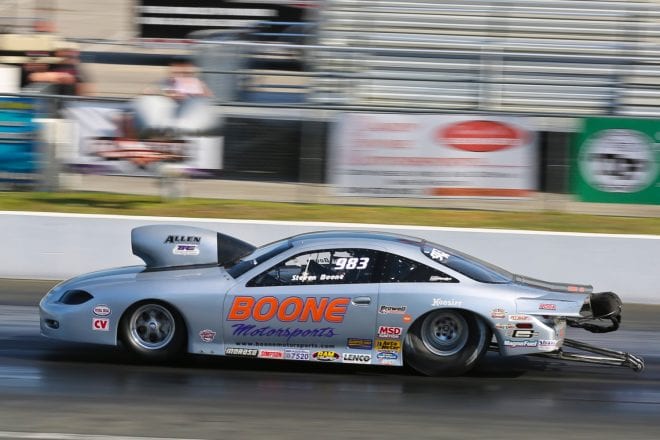 Longtime mountain motor Pro Stock driver Steven Boone didn't have the quickest car of the weekend, but he did have the quickest car when it mattered. In the final round, he drove his Boone Motorsports '07 Cobalt to a 4.066 at 178.57, the second-quickest pass of eliminations, to deny Elijah Morton his second consecutive Extreme Pro Stock event win.
"Elijah is a good driver and he's very tough, but I had to forget who's in the other lane," Boone said. "Both cars in the final were powered by Allen Competition Engines, which is the best power in my opinion. It's big power. Elijah is a class act. I knew I had to be on my game to beat him. I pulled a good light on him, then we just laid down a good number and got the win."
Boone's final-round elapsed time was one thousandth of a second quicker than the et he used to defeat No. 1 qualifier John DeFlorian in the semifinals. Boone ran 4.104 over 2016 world champion John Pluchino in the first round. Morton previously faced Jeff Dobbins and Lester Cooper before meeting Boone.
PRO EXTREME MOTORCYCLE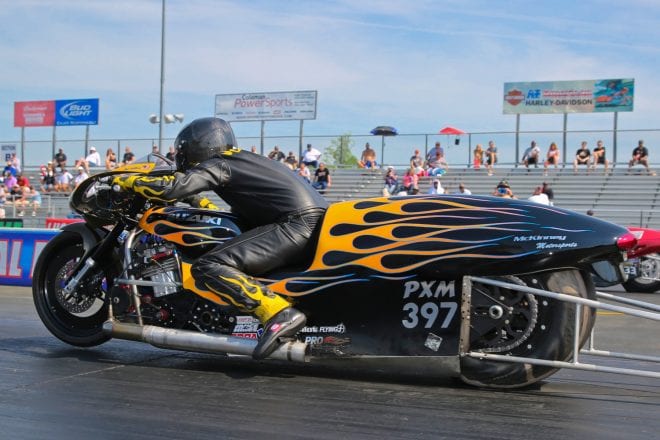 Three-time Pro Extreme Motorcycle world champion Eric McKinney missed the season-opening PDRA East Coast Spring Nationals, but he came back swinging this weekend aboard his McKinney Motorsports Suzuki. The Ohioan rider powered to a 3.998 at 177.70 in the final round, but it was his superior reaction time that allowed him to overcome the quicker 3.973 at 175.87 by Maryland's Ronnie Smith.
"My lights were horrible all weekend. I thought whether we get beat or not (in the final round), I'm going to get fired," McKinney laughed. "I pulled one out there in the final. To come back to the PDRA and win the first one we come back to is awesome. I just really appreciate Drag 965 and the other class sponsors, as well as Vance & Hines, Fast by Gast, and my family for their support."
McKinney qualified No. 5 and used a series of 4.0-second passes to defeat Terry Wynn and Paul Gast. He was set to race his tuner, teammate and No. 1 qualifier Ashley Owens in the semifinals, but Owens chose not to swap motors after wounding his engine in the previous round. Smith, the No. 7 qualifier, appeared to be the rider to beat as he posted a 4.022 and a pair of 4.002s before recording the quickest pass in class history in the final round.
PRO OUTLAW 632

Defending Pro Outlaw 632 world champion Dillon Voss has been vocal about his goal to become the first driver in class history to dip into the 4.1-second range. With twin brother Cory making the tuning calls on the family's Voss Racing Engines '17 Corvette, Voss was able to record a pair of 4.19s on his way to the winner's circle. The quicker of the two, a 4.194 at 171.03, was used to defeat No. 2 qualifier Ken Quartuccio's 9.82 at 77 mph in the final round.
"This is what we strive for with the engine business and it's what we strive for with the team," Voss said. "We have high expectations for ourselves and today solidified our efforts. We went .19, .20, .20 and .19 again, so we had a bracket car all day long. As long as the driver did his job on the tree, we were going to bring this thing home."
Lane choice in the final round was decided by speed, as Voss and Quartuccio both posted 4.203s in the semifinals. Voss had a competition single in the first round and was unopposed again in the second round when Jeff Ensslin broke after the burnout. Voss beat East Coast Spring Nationals winner Johnny Pluchino in the semis. Quartuccio's prior round wins came over Michael Newmann and Mike Oldham.
TOP SPORTSMAN
The two quickest cars in qualifying met up in the Elite Top Sportsman final as engine builder Billy Albert drove Stan Nance's '17 Camaro to a 3.934 on a 3.85 dial-in, defeating John Benoit's 4.112 on a 3.93 dial in his Buck-powered '15 Corvette. Maryland's own Vonnie Mills kept the Top Sportsman 32 trophy in the state, beating Dennis Gaboriault in the final round.
TOP DRAGSTER
Past Pro Jr. Dragster world champion Preston Tanner was denied his first Top Dragster event win when Nick Hamilton used a quicker reaction time and 4.011 on a 3.96 dial-in to beat Tanner's 4.184 on a 4.08 dial-in. Local Top Dragster driver Kevin Roof was nearly dead-on in the final round, though the race win was his at the starting line when Jarrod Kissinger red-lit.
The PDRA 2018 Tour will continue with the PDRA Summer Drags, May 31-June 2, at U.S. 131 Motorsports Park in Martin, MI.