From a nitrous-equipped Comp car to driving in the Outlaw 10.5 class and now his current place piloting his baby-blue turbocharged Mustang in NHRA Pro Mod, Michael Biehle has taken a great deal of pride in being able to successfully wheel his way out of any situation or adversity. This driving style has earned Biehle, the 2015 NMCA Pro Mod world champ, the nickname "Cowboy," perhaps making him the perfect fit to drive in the wild and often unpredictable Pro Mod class.
Biehle, who finished fourth in NHRA Pro Mod in 2016, grew up around cars, quickly taking a liking to trying to push the limits. With a family that wasn't actively involved in the sport, most of Biehle's driving skills were self-taught, making it clear he had a knack for putting together an impressive run when the situation seemed to indicate otherwise. In fact, it's become something Biehle has become known for, all the while toeing the line of being too aggressive almost flawlessly.
He talked to DRAG ILLUSTRATED about his driving style, how he processes a run in the midst of it and why that can make a difference.
You've been able to drive your way out of some pretty adverse situations and that's been a hallmark of your career. Where does that confidence come from?
Sometimes I push the limits on it or whatever, but it's kind of one of those things that's self-taught. I don't really know if there's an art to my driving style. I do what I do behind the wheel. I feel like at all times I still have control of the car before I get out of it. I've been through this a lot. I probably have over-driven cars before, 100 percent. I think everybody in this sport has, but it's just one of those things where I have control of it, and if I don't feel like I have control over it, I get out of it. Honestly, a lot of it is just feel. I seem to have a pretty good feel for the way my cars are and the way they are set up. The way I describe it, it's like driving on an icy road. You just have to feel which way it wants to go, and it's a finesse. In my opinion, you can't get out there with these cars and try to manhandle them.
I know it probably appears like I do a lot of the times, but you have to finesse them and you have to catch stuff early. If a car starts moving one way or another, you have to try and catch it early and make corrections before it gets too bad. You just have to be able to feel that in the car. Once you get things past the eighth-mile and you start yanking on the wheel, you're asking for disaster. You just have to kind of feel it, kind of finesse and treat it softly, but at the same time you have to drive it.
I guess what I've learned, there's just a point where you can push these cars and there's a point where you push them too far and there's no return. It's one of those things you have to really keep in mind where the groove is and how wide the groove is at certain tracks. You get over in the marbles and that thing is going to want to start pushing, and you're not going to be able to bring it back.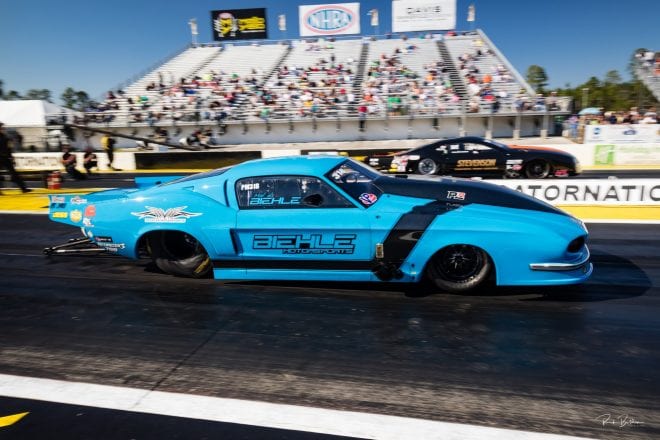 You mentioned a lot of it is feel in the car. When you're going through a run, how does that come into play?
When I let go of the button, that initial hit, you're going to make sure that car is going straight. When you do that, the wheels are up in the air, so you've got to be careful when you make corrections. If a car drifts a little to the left or the right, and it still has the front end hiked up and you make the correction too early, your front wheels are already in a turn motion and your car is going to want to do something real goofy. It's going to want to dart to the right or left, so you really have to feel what the car is doing. If it's just drifting a little to the left or a little to the right, and it still has the wheels up, I try to wait until it sets the nose down and then just start making slow corrections to bring it back. Once you make that correction, if that car is still not happy, it's playing a tug of war with you. I've had that happen a lot, where if you're a little bit out of the groove, you can feel that car playing tug of war. It wants to go one way or the other, and you have to fight it back the whole time. A lot of times, you fight it back and then you give it a little bit and if it still wants to go that way, you've got to fight more. If you feel like you have to fight it too much, it's probably time to say that's enough for this run.
It's amazing all this is able to go through a driver's head in less than six seconds as you're going down the track. Does it really slow down that much for you during a run?
Usually the runs where you're all over the place and you're really having to cowboy that thing down the line, those usually are the ones that feel the fastest. If you're on a smooth pass, everything does slow down in a car. When I first started in Pro Mod, it was one of those things where everything happened so fast. You come back and you had to sit and think about what actually happened on the run. Back then, I couldn't tell you what happened as soon as I got out of the car because it seemed like everything was happening so fast. As you get trained to do it, your mind slows down, in my opinion. Your mind just kind of learns to adapt to that. Now, I go through and I pull the chutes, and I'm on the radio already talking to Jamie (Miller, crew chief) telling him what I felt.
It's crazy the detail we can pick up in that short of a run. You drive a certain car for long enough and you can tell when something is off. Even the slightest noise, us drivers are able to pick up on that inside the car.
When you talk about the "Cowboy" nickname, is there a run that comes to mind that perfectly sums up that moniker for you?
I've had a lot of those moments. At one point, we were at MIR at a PDRA race in 2015, and this was when I had my old car. We were qualifying and the car got out there, and it did something really goofy, like way down track. We were trying some stuff with the tuneup and, I'm not kidding you, the thing just went out there and sat sideways on me. I caught it real quick and pedaled it, got it back and got into it, and I went ahead and put up a good enough number to qualify and we just barely got in the field in that deal. But it was one of those things where if I wouldn't have done that, we wouldn't have gotten in the field.
I remember coming back and Jamie was upset with me because it got hairy out there. He wants to see me come back safe every time. He's not just a crew chief; we're good friends and we've been doing this a long time together. He was pretty upset and he made the comment to me, he says, "If that happens, man, just get out of it. We'll fix the car, do something else, but it ain't worth that, you." He said, "Your luck's going to run out one of these days." I don't know why, but I looked right at him and I said, "If you think that's luck, let's go do it again." That was kind of one of the deals when he realized that's probably just going to be my driving style for a long time.
With fields so close and competitive these days in Pro Mod, that type of driving ability seems to be something that can really make a difference. Is that something you take a lot of pride in?
Oh absolutely. I've won races by pedaling it and being able to drive it to where I probably should have gotten out of it. With 35 cars fighting to get into the field or fighting on race day, you have to hang with these things. To be able to get one down when it doesn't want to go down, and to be able to get qualified or get the round win, yeah, that's something I definitely take a lot of pride in and I think every driver takes pride in it.
These things aren't easy to drive. It's like wrestling a bull, man, but we're willing to push it. I've been through some wild rides with these things. You just have to stay calm and deal with things as they come.
You've put together a great team with a great car, and obviously your driving is a big part of that. How meaningful is it to have that aspect be recognized as well, especially when it all comes together?
It makes me feel great. My goal, as far as my racing career, is I would like to be remembered as a very, very good driver. I think everybody wants to be that, and to be recognized for that or complimented for that, it's definitely a great feeling. It makes you feel like you're there and you're doing your job like you need to be. These races are tough and it takes a whole team to win and succeed, and I've got a great team. As a driver, I want to be able to do my part, and if something happens, I want to be able to pick up and do my job the best I can, just like those guys pick up and do their job the best they can for me.
Photographs by Rick Belden and Joe McHugh
This story originally appeared in DI #134, the Interview Issue, in July of 2018.