Ahten Racing is proud to welcome Cameron Ferrè and Racepak to the team for the NHRA Toyota Nationals at the Strip at Las Vegas Motor Speedway and the Auto Club NHRA Finals at Auto Club Raceway at Pomona. Ferrè will be piloting the nitromethane-injected Top Alcohol Dragster known as the Stump Puller with the guidance of Johnny Ahten.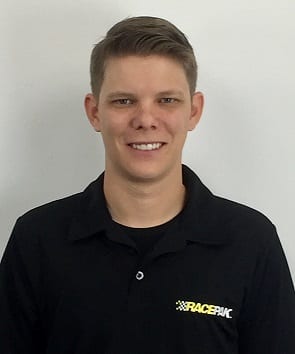 "Johnny called me up and asked me what I had going for the end of the year and I told him I was working on some Top Fuel deals and probably just Super Comp racing until 2018," said Ferrè. "He said, 'What do you think about coming out and driving my car to finish the year?' I jumped at the chance and I'm super grateful to him and the team for thinking of me. It will for sure help keep me in the shop window, so to speak, for 2018 opportunities.
"Ahten Racing has first class equipment and has been to the winners circle before and I hope to be helping them hoist another Wally here soon," Ferrè added. "I'd also like to thank Racepak and Ted Wiens Tire and Auto for their continued support in my career helping make all this happen. I have had great people around helping me my whole career and I am excited to be able to showcase them on the side of Johnny's family car along with his sponsors as well.
"I'm so ready to be back in a nitro car. That's where I am the happiest. This year we have kind of taken it easy while working on funding for a Top Fuel program. It's been nice to take a few months off and has allowed my new wife Angie and I to get settled in our new place, upgrade our sportsman set-up, and do some bracket racing. I did get to race my father-in-law's Nostalgia nitro Funny Car this summer to get a little nitro fix in the meantime. That was a blast doing it as a family, but now we are back and ready to hit it hard to finish out the year with Ahten Racing."
The primary sponsor of the Ahten Racing entry will be Racepak Data Systems, showcasing elite dealers, such as Figspeed, located in Henderson, NV. For over 30 years Racepak has been the leader in motorsports data acquisition, digital instrumentation and vehicle wiring.
Associate sponsor will be Ted Wiens Tire and Auto Centers with over 10 complete auto care centers in the Las Vegas Metro area. Ahten Racing is supported by DJ Safety, Island Renovations, Combust Filters and One11 Ink.
Johnny Ahten will be back behind the wheel for the Vegas LODRS Regional race, Nov. 2-5. According to Johnny Ahten; "It will be a bit strange to see my car go down the track, but I am very excited to have Cameron and Racepak come aboard for the last two races."