Southern California-based A-Fuel team, Miersch Racing and driver, Cameron Ferré, will head down south to compete at this weekend's O'Reilly Auto Parts Spring Nationals in Houston, TX. Ferré and Miersch are extremely excited to announce that they will receive backing from well-known El Paso based company MSD Performance. No stranger to drag racing, MSD has been the industry leader in producing the best performing and most popular performance ignitions for the over 40 years.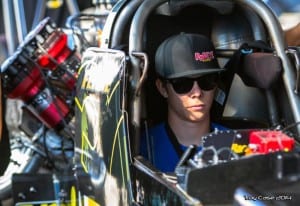 "MSD Performance is one of the biggest names in all motorsports and we are excited to showcase this on the Miersch Racing A/Fuel dragster in Houston this weekend. To have a sister company believe in me as much as Racepak does is a testament to what to what a great corporation I am privileged to be involved with. We are close to that first win in the TAD ranks and I cannot wait to give it another go this weekend with MSD riding along with us," Said Ferré.
Joe Dussol, Director of Marketing, stated, "We at MSD believe Cameron is one of the hot up and coming drivers in the NHRA and we are pleased to back him for this weekend's race. He is a well-spoken, hardworking individual. Ferré is also in the family of companies as an employee with Racepak Data Systems so it was a natural fit to jump on board with Cameron and Miersch Racing. MSD Performance is happy to support Cameron as he works his way through the ranks into the seat of a Top Fuel Dragster."
Miersch Racing has campaigned on a limited schedule so far this season but proved they have what it takes to run with the best in the Top Alcohol Dragster class. At the opening race in Pomona, Ferré piloted Miersch's injected nitro dragster to blistering speeds of 280mph with a career best elapsed time of 5.238 seconds. "We have had great success early on this season, I switched back to my standard combination with Brad Anderson Engineering heads and considering we do not even have 20 runs on the combo we have seen positive results thus far. With early weather forecasts we expect to see some big numbers put on the board this weekend," car owner and tuner Larry Miersch added. Miersch Racing receives support from the following companies: PJ1 Brands, CP Carrillo, XRP, Manton Pushrods, Popeye Energy Drink, Club Ted, Cold Cock Whiskey, Racepak Data Systems, Brico Industries, Bell Helmets, JBS, Ted Wiens Tire Auto Centers, Beachwood Brewing and Meridian Locker Plant, nitrohead.com, Ultimate Design, and MER.