Furiously fast famous cars and fireworks will fly as part of the 41st Annual Kelly Services Night Under Fire, Aug. 11, 2018 at Summit Motorsports Park in Norwalk, Ohio.
The action-packed and adrenaline-pumping event which park president Bill Bader Jr. has promised to go all-out on will feature fan-favorite NHRA Funny Car drivers John Force, Robert Hight, Tim Wilkerson, Del Worsham, Dale Creasy Jr. and an additional driver to be announced soon. They will race down track at well over 300 mph while flames shoot from their headers.
Bob Motz and his jet engine-powered Kenworth truck and Chris Darnell and his Shockwave triple jet engine-powered truck will bump into the beams and blast off, and among the jet engine-powered car drivers bringing extra heat to compete as part of the North American Jet Car Championship are Sarah Edwards and Queen of Diamonds, Ernie Bogue and Beast from the East, Scotty "Heat" Holdridge and Fifty Cal, Robert Albertson and Blazing Angel, Tammy Gatlin and Lone Star Lightning, Shelly Segal and Fire Starter, Al Zukauskas and Hot Blade and Danny Sullivan and Chicago Rush. The Lucas Oil Mav TV Missile Dragster, Lucas Oil Terminal Velocity Dragster and Bill Lutz also will be featured.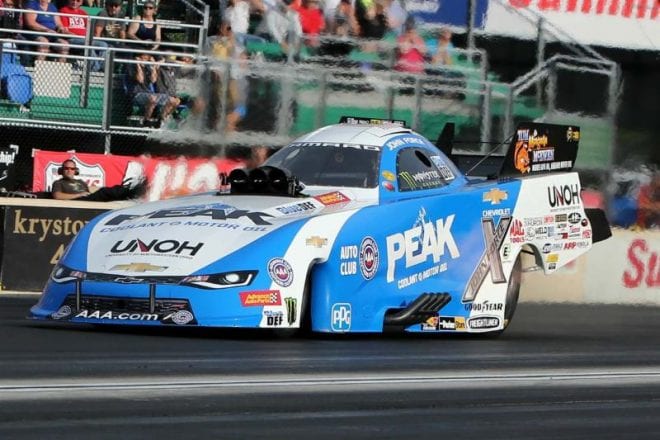 Mike Mantel will go wheels-up in the 1968 Barracuda wheelstander Hemi Under Glass, and four nostalgia Pro Stock cars will sail down track, including Rod Shop's Colt, Warren Johnson's Firenza, Bob Glidden's Arrow and Rickie Smith's Thunderbird.
The Nostalgia Drag Racing League's Pro 7.0 category will be in competition, and the chock-full of character ScottRod's AA/Gassers will round out the on-track action.
The not-to-be-missed finale features a $125,000 fireworks display shot off from multiple locations throughout the park and presented by R&R Auto Body.
"With 100 events on our calendar each year, I always circle this one as our best opportunity to deliver 'The Norwalk Experience,' and nothing is spared," said Bader Jr. "Ultimately, we're only as good as our last Night Under Fire. With the addition of the North American Jet Car Championship and two jet semi-trucks, it's going to be special. Fuel, fire and fireworks…What could be better?"
Various ticket levels are available from $13 to $202, but fans are encouraged to get tickets now as they're selling quickly. Summit Motorsports Park is at 1300 State Route 18, Norwalk, Ohio. For information or tickets, call 419-668-5555 or visit www.summitmotorsportspark.com.