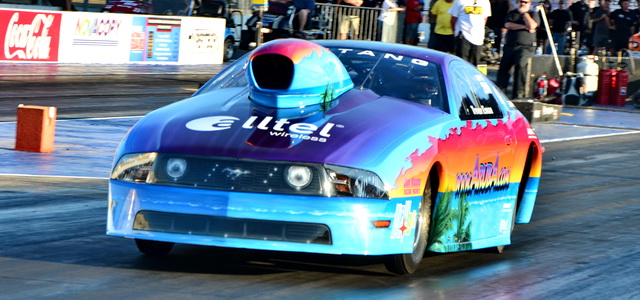 ADRL's Dragstock event has become legendary in its own right, and, as such, is the highlight of the year for many racers and fans. For Extreme Pro Stock driver Trevor Eman and his Aruba.com team, Dragstock is also their 'home stop' on the tour, since although much of the team hails from Aruba, their shop is based in Union, SC–a short drive from North Carolina's Rockingham Dragway, where Dragstock is held.
Dragstock is a week-long event for Team Aruba, with area displays for associate sponsor Alltel Wireless in the days leading up to the event, testing on Thursday and the highly anticipated Battle for the Belts Shootout on Friday before ADRL Dragstock X qualifying begins on Saturday.
"This is probably the longest and busiest race of the entire 2013 ADRL Tour for us," Eman said. "We really enjoy the added festivities surrounding this event. Alltel is a great sponsor and doing the displays gives us a chance to interact with our fans from Alltel, as well as spread the word about the upcoming event.
"We're especially looking forward to participating in the Battle for the Belts. It's a huge privilege to qualify for such a prestigious event," Eman said of the Shootout that takes only the top eight in points from each category. "Our goal is obviously to make three consistent and quick runs and take home the Belt. However, we have come such a long way in our Pro Stock career that just being a contender in this event is rewarding.
"After the Battle is over on Friday, we still have major work cut out for us on Saturday and Sunday. Although we're currently in fourth place in points, we still have an opportunity to win the Extreme Pro Stock Championship. Keeping ourselves in a position to do this will depend greatly on our performance this weekend. We have a good race car with good power; we can't thank our chassis builder and engine builder enough. Our team is more than capable of getting the job done, so we are fully ready to do well this weekend."
Being close to home has its advantages and for Eman and Team Aruba, this means added support.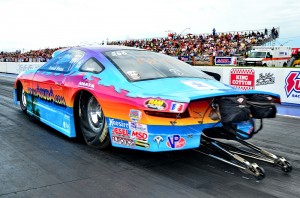 "Rockingham is always a nice facility to race at since we can consider it our home track. So besides it being a real busy week for us, it is also the race we have probably been looking forward to the most. We always have plenty of friends from the area around our shop in Union, S.C. that join us for this race, and thanks to direct flights from Aruba to Charlotte, this race is also the easiest travel distance for our Aruba friends and family. So it will be great to have plenty of moral support on our side both from Aruba and S.C.
"We're also happy to welcome Alltel representatives to Dragstock. It looks like we'll have full pits and plenty of support! Bottom line is, we are looking forward to a great weekend of racing surrounded by great people."
(Photos by Ian Tocher; Click to enlarge)