Third generation bracket racer Eric Tenney experienced a stellar season in 2014, one that saw him win several races and reach even more final rounds at two prominent Maryland drag strips. The dominant year didn't come necessarily as a surprise for Tenney, as he's been working at his craft since the age of eight. One might say he came by it naturally, too, since multiple members of the Tenney family race or have raced in the past. Maybe this season was a culmination of skill, family tradition and a little luck, but it was certainly a year Tenney won't soon forget.
Tenney, 27, campaigns a pair of Mopars – a '64 Plymouth Valiant and a '69 Dodge Dart – under the Tenney Motorsports umbrella. Though often switching between cars and classes, he spends most of his weekends racing at his local tracks, Capitol Raceway and Cecil County Dragway. These two tracks played host to Tenney's strong 2014 efforts.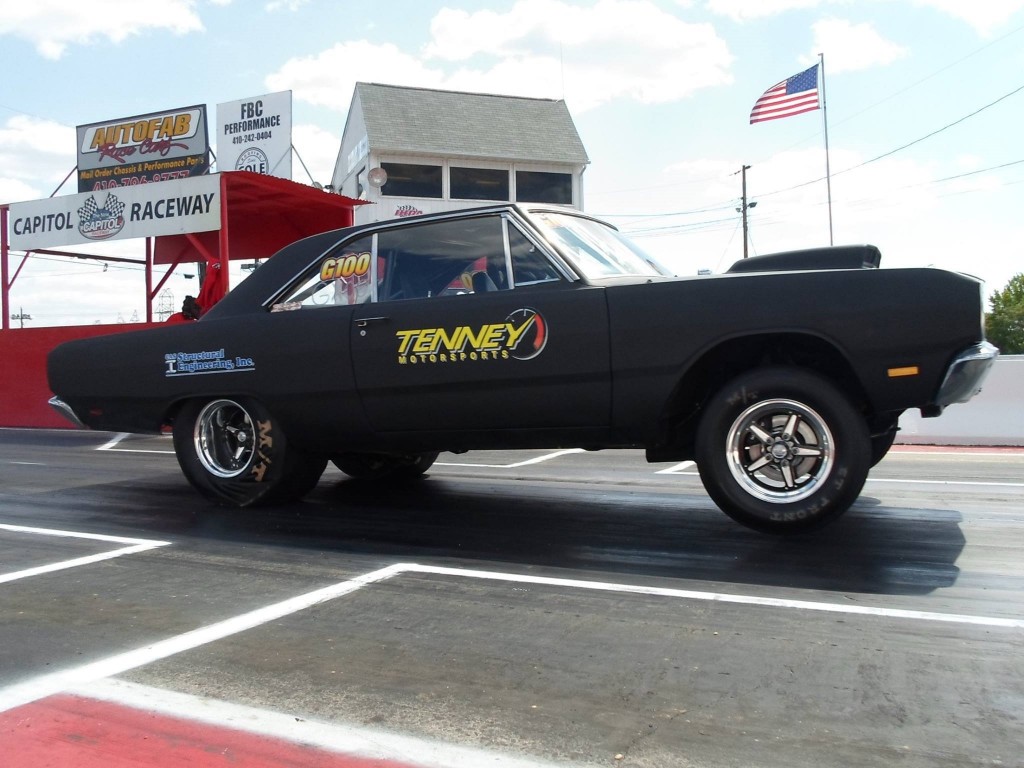 "This year was a really good year for me," said Tenney, who finish third in Heavy and second in Street at his local haunts. "I just started racing my second car, the Dart. I won the 2014 Modified class championship at Capitol Raceway with it. Then I double-entered the Valiant at Cecil County Dragway in Street Eliminator and Heavy Eliminator. I think I was the second car with the most round wins at Cecil this year: five finals, a couple semifinals and I won the King of the Track race. I was leading the points in both classes going into the final points race. I had a rocker arm break on my Valiant on my last time run. That pretty much cost me the number one position in the class. It's been quite a year. It's been building up."
Tenney is referring to his gradual success in recent years, when he won races here and there, did well at big money bracket races, and finished in the top five, but Eric's racing career has also been building up since long before he was old enough to legally drive, like many of today's young racers. He started racing Junior Dragsters in the class' second year of existence. Tenney did well in the scaled-down dragsters, earning the opportunity to race at national-level Junior Dragster competitions in Indianapolis and Bristol, where he would race with the likes of current NHRA Pro Stock phenoms Erica Enders-Stevens and Vincent Nobile. Eric says his experience in Juniors helped him "drastically" as he moved up to big cars, citing specifically the practice with starting line and finish line procedures, adding, "the more you do anything, the better you are at it."
The drag strip was familiar territory for Tenney even before he stepped into a race car of his own. His father, David, and grandfather, Charles, both raced for decades and continue to race along with the third Tenney generation today. Virtually any time Eric takes to the drag strip, he does so in the company of his father, grandfather and even uncle, Adrian, who while racing their own cars also provide him with a wealth of information and experience to draw from.
"It's great because you always have someone to look to for advice," Tenney, who spends his days as a programmer analyst for Baltimore County, readily admits. "It's kind of like having a multi-car team where it's an open book across the board. If something changes with the weather or something like that, we can compare notes. We all race Mopars, so one of us is bound to have the part to fix each others' cars if something goes wrong. There was a time when we blew up a motor on a Saturday, stayed up all night and had a different motor in it to race at another track on Sunday."
Such a stout season was almost inevitable when you take into consideration Tenney's recipe: two cars, two tracks, three classes, 20 years of driving experience and three generations of gear heads as a support system. Tenney thanked supporters CAS Structural Engineering, Maryland Performance Specialties, Interstate Racing Fuels, Shady Dell Speed Shop, Bart Tremper Racing Transmissions, and the Tenney Motorsports family before reflecting on the hectic year.
"Going into 2014, I planned on running the Dart for IHRA races and big-money bracket races and the Valiant for NHRA races, where I could double-enter in Heavy and Street. I had a blast. At times it was a little crazy, coming home Saturday night to unload one car and load the other up for Sunday, but switching cars kept me fresh and always on edge. I did not expect to have such a great season, but it was good to see the hard work and effort pay out," he says. "I am humbled by what I was able to accomplish and I'm really looking forward to the 2015 season with new goals already set."
Those new goals include racing in the new 11.50 index class at the IHRA President's Cup Nationals at Maryland International Raceway, as well as competing at select Super Street/Super Gas races. Moving forward, Tenney will continue to use the mindset that helped carry him to success in the past.
"I keep a positive attitude and a clear mind. You have to be able to isolate your thoughts and focus on your race, one round at a time," concludes Tenney. "Focus on the moment; concentrate on the here and now. You have to be able to concentrate because so many things will go wrong and you will never have a perfect race. I made every attempt at doing my very best in the moment."