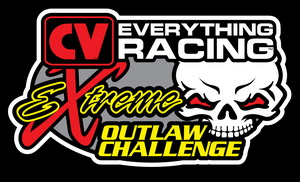 The inaugural champion of the $3,000 winner-take-all CV Extreme Outlaw Challenge presented by CV – Everything Racing will be determined this weekend at Rockingham Dragway.
The CV Extreme Outlaw Challenge is set to kick off during Saturday's qualifying for the Extreme Outlaw Pro Mod race at The Rock, which is being held in conjunction with the Super Chevy Show.
EOPM racers earned points for the CV Extreme Outlaw Challenge during qualifying of each race this season. The number-one qualifier at each race received eight points toward the shootout, seven points for qualifying second, and so forth. The eighth qualifier received one point.
The diverse group of Pro Mod drivers competing in the shootout features heavy hitters and living legends. The final qualifying order is as follows: Danny Perry, Chris Rini, Randy Weatherford, Greg Godwin, Jeff Blasi, James Litton, Bubba Turner and Ed Hoover.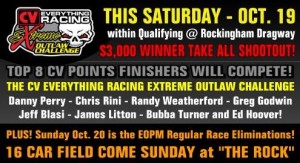 "With the race at Rockingham being a two-day event, the CV Extreme Outlaw Challenge will provide extra excitement for the fans and racers during qualifying on Saturday," said Matt Giangrande, CV Products Technical Support Representative and creator of the CV Extreme Outlaw Challenge. "There will be an awesome Quick-8 style shootout and an intense final-round atmosphere as these drivers gun for the $3,000 purse."
CV – Everything Racing is a proud supporter of Extreme Outlaw Pro Mod. Visit CV at www.cvproducts.com, on Facebook, or on Twitter @CVProductsInc.