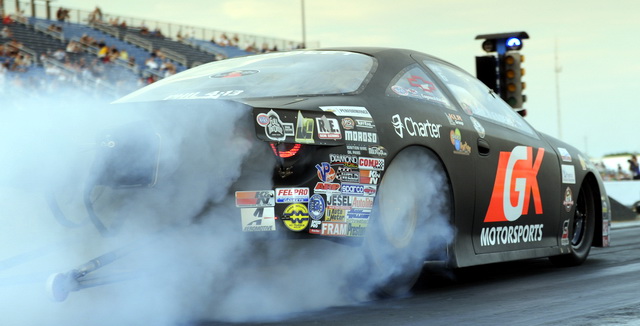 The luster of KLR Group driver Erica Enders' first Pro Stock victory still shines as bright as the smile on her face, even several days after she became the first woman in history to win in the class at Route 66 Raceway on Sunday.
"The smile isn't close to being gone off my face yet," Enders said. "It's a crazy feeling, and it's awesome that it's finally happened."
Enders beat four-time world champion and current points leader Greg Anderson in the finals of the O'Reilly Auto Parts Route 66 NHRA Nationals, securing her historic victory. Enders also got another victory late Sunday, as boyfriend Richie Stevens – who won an ADRL race recently – proposed marriage, and Enders happily accepted.
The proposal came where Enders had won hours earlier: In the left lane at the finish line of Route 66 Raceway, capping a memorable day. She cradled the Wally trophy for most of Sunday night and wouldn't let it out of her hands on her flight home, prompting numerous questions at the airport.
"Then there was a guy who works on a team that was in X Games, and he was on his way from LA back to Vermont, and he congratulated me," Enders said. "I just carried it through the airport. It didn't go through the x-ray machine, because the TSA guy knew what it was and said it was awesome."
In the days since, Enders has been busy catching up on e-mails, phone calls, texts and social media messages, all while conducting interviews with various media. Of course, she's found time to celebrate, thanks to family members.
"Richie's best friend and best friend's girlfriend came to the airport Monday night, and they had a big sign and balloons and flowers," Enders said. "We walk outside, and his parents had sent us a limo with Dom Pérignon champagne in there. That was pretty cool and unexpected.
"Then we get home, and his sister had decorated the house, with a sign that said, 'Congratulations on the two wins and the engagement.' She also had flowers, a bottle of wine and a card – and some wedding cake cupcakes. A lot of people have taken the time to make it special."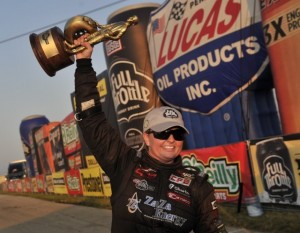 Enders' sister, Courtney, also traveled to New Orleans to celebrate, and she also spent the July 4 holiday at Stevens' parents' house.
Now, though, her focus moves on to this weekend's Summit Racing Equipment NHRA Nationals at Summit Motorsports Park. Though many have told her the victories will pile up after she broke through with the first, Enders knows Wallys won't simply be handed to her, especially not in the ultra-competitive Pro Stock class.
"Winning is not easy," Enders said. "I've had a lot of former champions tell me that once the first one comes, the rest will follow. I hope they're right, but we've still got to work hard to get there."
This weekend's race also includes the K&N Horsepower Challenge, a special, eight-car race within a race for Pro Stock's best. Enders was voted in last year's Challenge, but she and her GK Motorsports team earned their way in the 2012 event based on qualifying since the '11 race.
"I'm real excited that we earned a position in it this year," Enders said. "It's a fun race, but there's a lot on the line. It's really cutthroat because there's $50,000 to win, and a lot of the teams out there could really use that money. We'll be fighting tooth and nail for it."
Enders, interestingly, faces Greg Anderson in the first round of the Challenge on Saturday, which will also serve as the third qualifying session of the weekend. The semifinals of the Challenge is also Q4, with the finals slated for 2:50 p.m. Eastern.
(Photos courtesy NHRA/National Dragster)