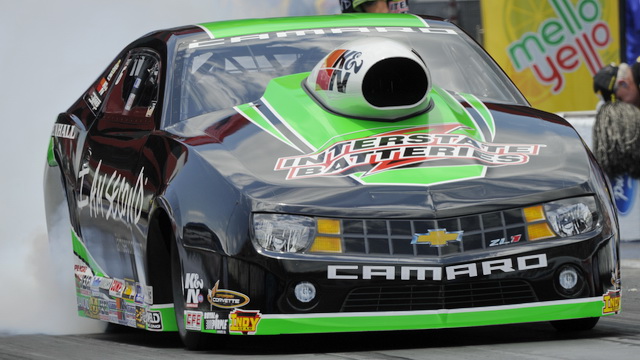 NHRA Pro Stock points leader Mike Edwards (above) will go for his fifth consecutive victory at the Ford NHRA Thunder Valley Nationals presented by Tri-Cities Area Ford Dealers Sunday at Bristol Dragway from the No. 1 qualifying position.
Spencer Massey (Top Fuel) and Del Worsham (Funny Car) also earned No. 1 qualifying positions and will lead their categories into Sunday's noon eliminations at the NHRA Mello Yello Drag Racing Series event.
With warmer weather conditions for Saturday's two qualifying sessions, no one improved on Edwards' Friday run of 6.632 seconds at a track record speed of 208.23 mph in his Interstate Batteries/I Am Second Chevy Camaro. Edwards has dominated the Pro Stock competition at Bristol in the last four seasons. He defeated hometown favorite Allen Johnson last year in a close final round and outran finalists Erica Enders-Stevens in 2011, Rickie Jones in 2010 and Greg Anderson in 2009.
"I love coming to this track and racing here," said Edwards, who will meet JR Carr in the opening round. "It has been good to us over the years. It's great to be running good here again. If we could get five in a row at this place, that's phenomenal for me. We are just going to take it like we have been doing all year long. You never know. We feel like we have as good a chance as anybody."
The 2009 Pro Stock world champ earned his ninth No. 1 of the season, second at Bristol Dragway and the 50th of his career.
"That's a goal that I have been trying to reach for a long time," Edwards said. "One of my goals starting out the year was to reach 50 No. 1s. It's truly a blessing that we have been able to do that and an awesome feat for me."
Hometown favorite Johnson qualified second in his Team Mopar Dodge Avenger with a 6.645 at 206.70 and will open eliminations against Lewis Worden. Erica Enders-Stevens qualified third in her Charter Communications Camaro with a 6.651 at 207.11 and she will face Lucas Oil Ford Mustang driver Larry Morgan.
In Top Fuel, Massey earned his first No. 1 of the season and the seventh of his career with his Friday track record performance of 3.775 at 326.79 in his Schumacher Electric dragster. He'll face veteran driver Doug Herbert in the first round.
"I definitely like that feeling of having the No. 1 spot," Massey said. "It's always a plus. I've never actually won from the No. 1 spot. It's something that seems like it's really tough to do. Sometimes when you qualify No. 1, it's like there's a target on your back. If you win out of the No. 1 spot, it would make it that much more special. I'd love to do it here."
With similar weather conditions expected on Sunday, Massey says teams will need to be a bit more conservative and rely on their trusted hot weather tune-ups to get round wins.
"We need to go up there and race the conditions to try to get the round-win," said Massey. "You can't look towards the semifinals or even the second round; you have to take it one round at a time. Today, the conditions were a little tricky because it was hot. We backed it down to where it only went a 3.94, but it gave us data that we're going to be able to use tomorrow in very similar conditions. I'm excited. I'm ready."
Steve Torrence qualified second with a 3.779 at 324.51 in his Capco Contractors dragster and will face rookie Leah Pruett, while native Tennessean Clay Millican qualified third in his Parts Plus dragster with a 3.787 at 326.48 and will race ageless Chris Karamesines in the opening round.
Worsham claimed the No. 1 qualifying position in Funny Car, also by virtue of his Friday track record time of 4.008 at 314.83 in his DHL Toyota Camry. It was Worsham's first top qualifying position of the season and 13th of his career. The top spot was the first in Funny Car for Kalitta Motorsports since Scott Kalitta qualified No. 1 at Baton Rouge, La. in 1988.
"That run last night was awful special and the entire team has been going above and beyond here lately," Worsham said. "The track was just hot today and the chances of running that good were pretty slim. We tried some things out there today. We'll be ready for tomorrow."
Worsham, who is the eighth different No. 1 qualifier in the extremely competitive Funny Car category this season, will meet 2009 world champ and 2011 Bristol winner Robert Hight in the opening round.
"The first run tomorrow is going to be a great match up," Worsham said. "It is truly what could be a final round match up racing Robert Hight. He is a great friend of mine and a fiercely competitive guy. It will be a great race. I am looking forward to it."
Defending world champ Jack Beckman qualified second in his Valvoline/MTS Dodge Charger with a 4.012 at 317.05 and will meet second year pro Blake Alexander in the first round, while series points leader Matt Hagan qualified third in his Rocky Footwear Charger with a 4.049 at 317.05 and will race two-time world champ Tony Pedregon.
In one of the most intriguing first round match-ups in any of the categories, 15-time world champ John Force will begin his Father's Day with a race against his youngest daughter Courtney Force. John qualified sixth in his Castrol GTX Ford Mustang with a 4.071 at 301.54, while Courtney, who was quickest in both sessions on Saturday in her Traxxas Mustang, qualified 11th with a 4.129 at 306.95.
 (Photos courtesy NHRA/National Dragster; Ian Tocher; Click to enlarge)
BRISTOL, Tenn. — Sunday's first-round pairings for eliminations for the 13th annual Ford NHRA Thunder Valley Nationals presented by Tri-Cities Area Ford Dealers at Bristol Dragway, the 10th of 24 events in the NHRA Mello Yello Drag Racing Series.  Pairings based on results in qualifying, which ended Saturday. DNQs listed below pairings.
Top Fuel
1. Spencer Massey, 3.775 seconds, 326.79 mph  vs. 16. Doug Herbert, 5.145, 289.57; 2. Steve Torrence, 3.779, 324.51  vs. 15. Leah Pruett, 4.744, 161.48; 3. Clay Millican, 3.787, 326.48  vs. 14. Chris Karamesines, 4.033, 293.54; 4. David Grubnic, 3.792, 321.12  vs. 13. Morgan Lucas, 3.864, 317.57; 5. Tony Schumacher, 3.795, 325.77  vs. 12. Antron Brown, 3.838, 317.05; 6. Khalid alBalooshi, 3.824, 324.20  vs. 11. Doug Kalitta, 3.837, 317.72; 7. Shawn Langdon, 3.826, 303.71  vs. 10. Bob Vandergriff, 3.836, 321.04; 8. Brittany Force, 3.828, 319.98  vs. 9. J.R. Todd, 3.835, 318.47.
Did Not Qualify: 17. Terry McMillen, 5.794, 307.16; 18. Troy Buff, 6.800, 300.60; 19. Pat Dakin, 6.993, 302.21.
Funny Car
1. Del Worsham, Toyota Camry, 4.008, 314.83  vs. 16. Robert Hight, Ford Mustang, 6.849, 294.37; 2. Jack Beckman, Dodge Charger, 4.012, 317.05  vs. 15. Blake Alexander, Charger, 6.150, 288.09; 3. Matt Hagan, Charger, 4.049, 317.05  vs. 14. Tony Pedregon, Camry, 4.414, 293.79; 4. Tim Wilkerson, Mustang, 4.061, 315.56  vs. 13. Cruz Pedregon, Camry, 4.177, 295.40; 5. Ron Capps, Charger, 4.066, 310.84  vs. 12. Chad Head, Camry, 4.136, 301.54; 6. John Force, Mustang, 4.071, 307.93  vs. 11. Courtney Force, Mustang, 4.129, 309.56; 7. Bob Tasca III, Mustang, 4.082, 310.70  vs. 10. Johnny Gray, Charger, 4.127, 298.73; 8. Alexis DeJoria, Camry, 4.096, 312.42  vs. 9. Jeff Arend, Charger, 4.109, 302.69.
Pro Stock
1. Mike Edwards, Chevy Camaro, 6.632, 208.23  vs. 16. JR Carr, Ford Mustang, 6.798, 205.16; 2. Allen Johnson, Dodge Avenger, 6.645, 207.85  vs. 15. Lewis Worden, Mustang, 6.754, 204.32; 3. Erica Enders-Stevens, Camaro, 6.651, 207.43  vs. 14. Larry Morgan, Mustang, 6.739, 204.79; 4. Shane Gray, Camaro, 6.654, 207.62  vs. 13. Steve Kent, Camaro, 6.736, 205.76; 5. Jason Line, Camaro, 6.661, 206.95  vs. 12. Vincent Nobile, Avenger, 6.700, 206.48; 6. Jeg Coughlin, Avenger, 6.661, 206.92  vs. 11. Rickie Jones, Camaro, 6.691, 206.99; 7. Greg Anderson, Camaro, 6.671, 206.57  vs. 10. Greg Stanfield, Camaro, 6.689, 205.91; 8. Rodger Brogdon, Camaro, 6.680, 207.05  vs. 9. V. Gaines, Avenger, 6.686, 206.51.
Did Not Qualify: 17. John Gaydosh Jr, 6.978, 198.23; 18. Kurt Johnson, 7.359, 200.77; 19. Warren Johnson, 10.531, 201.31.