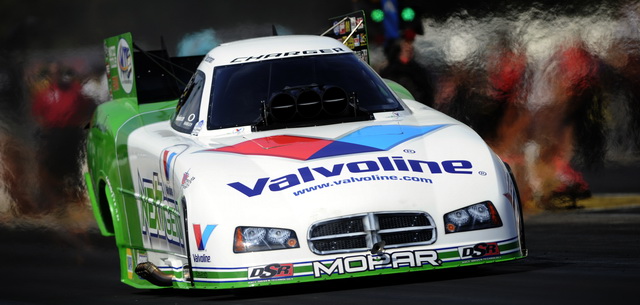 Points leader Jack Beckman (above), second-place driver Ron Capps and third-place Mike Neff are the three drivers in contention for the NHRA Funny Car world championship title, to be determined Nov. 8-11, during the Auto Club NHRA Finals  at historic Auto Club Raceway in Pomona, California. The title would be a first in the Full Throttle Series for each of the three drivers.
Only four points separate teammates Beckman and Capps. Neff, who tunes and drives his Castrol GTX Ford Mustang, is 88 points back and he would need to earn a maximum amount of qualifying points, post a winning performance and see both of the front-runners lose early to have a shot at the title.
The championship drama building between Beckman and Capps is extra spicy. Upon orders from team owner Don Schumacher, the two drivers traded crews and cars after the fourth race of the season. Capps and new tuner Rahn Tobler had instant chemistry and raced to six consecutive final rounds and to the top of the points order. Beckman fell to sixth in points and his turnaround has taken time with new crew chief Todd Smith.
However, Beckman hit his stride in the Countdown to the Championship playoffs and peaked with a victory in St. Louis and a national record-setting run at Reading, Pa. He was runner-up to Capps two weeks ago in Las Vegas.
"The nice thing is that we went from having a remote chance when we were almost 100 points behind (Capps) to now having as good as chance as anybody to win the championship," said Beckman, driver of the Valvoline/NextGen Dodge Charger.
"I'm excited to get to Pomona. I think we'll figure out what was ailing our car (at Las Vegas) and Pomona is our kind of race track."
It is a bit ironic that the two Don Schumacher Racing teams now will face each other in the final race of the season with an opportunity to win the championship. In order to win the title each driver must defeat his old team.
"We're both fighting for that first championship ring," Capps said. "I wake up in the morning thinking about it and go to bed thinking about it. And we're close."
Capps, who drives the NAPA Auto Parts Dodge Charger, has been close to winning a world championship title three times before. In 1998 and 2000 he came up short to John Force and in 2005 he lost a nail-biter by eight points to Gary Scelzi, also a DSR teammate. With 38 career victories, Capps is second on the list of winningest NHRA drivers without a world championship title.
"I can't wait for Pomona," Capps said. "I feel so confident that we're going to be able to at least show up and give the fans a run for this against Jack's car and make it fun.  Whatever is going to happen is going to happen.
"Tobler has brought a lot of confidence to me, and I've been through this before.  This one feels different for some reason, and that's a good thing."
Beckman has also been in this position before. Just one year ago he faced eventual champ Matt Hagan in a winner-take-all second round at the Auto Club NHRA Finals. Hagan won the round and the championship. Beckman finished second. The former Air Force Sergeant, cancer survivor, motivational speaker and drag racing school instructor wants desperately to add another title to his lifetime snapshot: NHRA Full Throttle Series world champion.
"It could very well come down to a head-to-head meeting between me and Ron," Beckman said. "It would almost be like two boxers at the top of their game meeting. The ultimate thing, I think, for the fans, is if we were able to race (in the final round) for the championship.
"The problem is there's going to be 14 other cars that qualify, assuming our cars run well enough to qualify, and we're going to have to try to beat everybody in our way to get to that NAPA car."
And speaking of qualifying, Capps feels like each of those four runs will be massively important for each team and will ultimately set the stage for Sunday's eliminations. NHRA awards the quickest three teams in each round of qualifying, 3, 2 and 1 bonus points, respectively. Additional points are available for qualifying position, with eight points going to the No. 1 qualifier.
"It's basically come down to Thursday, Friday and Saturday trying to gain more than Jack and four more, at least, than Jack in small qualifying points so that we can go into Sunday either tied or ahead," Capps said.
"You have to do that because if we happen to go out the same round, that's going to mean the world championship. That's going to be crucial. Qualifying is going to be as big as the race here probably."
The only prediction that either driver will make is that it's going to be an exciting affair, one that no NHRA fan can afford to miss.
"I don't think many people are going to be using their seats at Pomona," Beckman said. "I think a lot of people are going to be standing up watching every run that these cars make."
(Photos courtesy NHRA/National Dragster; Click to enlarge)