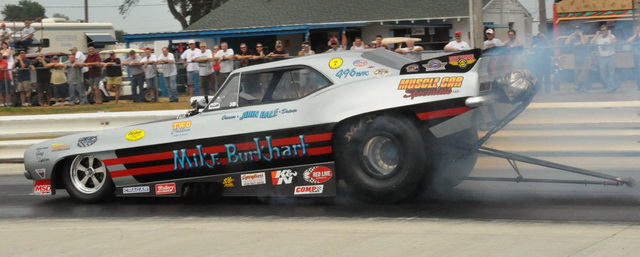 There will be two firsts for the Mickey Thompson Tires DragRacingOnline.com AA Funny Car Challenge on April 26-27.
It will mark the first time the series will appear at Texas Raceway in Kennedale, Texas, and will be the first time the racers will compete on the eighth mile instead of the quarter mile.
"I'm really looking forward to bringing the series to Texas," said Series Administrator Jeff Burk, a native of Amarillo, TX. "Kennedale is a great track with Texas hospitality and I know we're all going to have a lot of fun while doing some serious racing.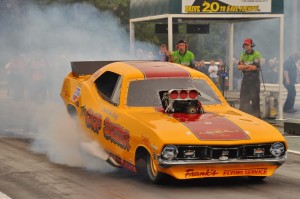 "Plus," Burk quipped, "I'm also looking forward to some Texas barbeque with John Hale's barbeque sauce."
Hale (above), the defending series champion, is from Addison, TX, and will be driving his 1969 Mike Burkhart tribute Camaro.
Former NHRA Top Fuel driver Tommy Johnson Jr. will be at the wheel of Illinois owner Frank Ousley's "Crop Duster" Cuda (left).
Other cars and drivers are Shawn Bowen in the "Violator," Kebin Kinsley in the "Wild Child," Brian Stewart in the "Bear Town Shaker," and Ronny Young in the "Blue Max." Also expected to be in attendance are the "Brand X" and "Jungle Jim" cars owned by Henry Gutierrez, though drivers have not been announced.
2013 Mickey Thompson Tires DragRacingOnline.com AA/FC Challenge presented by Comp Cams
Apr. 26-27        Texas Raceway; Kennedale, Texas
July 19-20         Cedar Falls Raceway; Cedar Falls, Iowa
Aug. 2-3             Maple Grove Raceway; Reading, Pennsylvania
Aug. 23-24        Cordova Dragway Park; Cordova, Illinois
Sept.  6-7           U.S. 131 Motorsports Park; Martin, Michigan
Sept. 13-14        Osage Casino Tulsa Raceway Park; Tulsa, Oklahoma
* Events at all of the racetracks except Kennedale will be contested on the quarter mile. This is also the first year for the DRO Series at Maple Grove.