A huge crowd was on hand for Day 3 of the Fuchs Winternationals at Willowbank Raceway for final qualifying in the ANDRA Drag Racing Series.
Overshadowing the day's proceedings was a dramatic moment involving Phil Lamattina. At the site of his previous high-speed accident in 2007, Lamattina experienced a copycat incident when his new McKinney chassis broke apart, sending the Fuchs Top Fuel Dragster skyward.
The car did exactly as it was designed to do by breaking apart and when safety crews arrived, Lamattina was alert and responding. Medical staff transported the reigning ANDRA Top Fuel Champion to Princess Alexandra Hospital for tests and observation.
"At this time, he is alive and well with some serious back pain," confirmed brother Angelo Lamattina. "He has been taken to the hospital for further scans to find out what is causing the pain. He was talking to medical personnel at the time."
The family provided an update on Lamattina's condition by issuing a statement on the team Facebook page later in the day.
"The Lamattina family would like to advise that Phil is currently in hospital after suffering a shattered vertebrae in today's racing incident. Surgeons have advised that a full recovery is expected and the team will keep everyone up to date with his progress over the coming days. The family thanks all for the well wishes and support.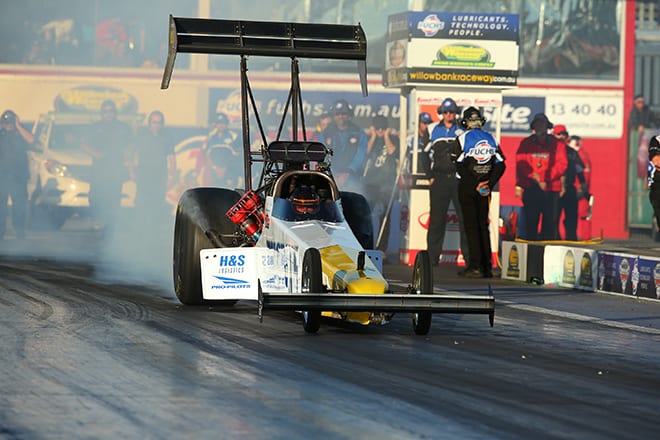 When all was said and done Steve 'the Pom' Read shot to the top of qualifying on the final pass of the day when he posted a 4.755 at 306.12 mph, from Anthony Begley who had earlier run 4.772 at 295.20 mph.
That last chance saloon of a pass was a vast improvement from earlier in the day when a rebuilt supercharger generated far too much boost and blew out the burst panels.
"To say I was under pressure was a bit of an understatement," said Read. "We didn't come out last night because it was that cold there was no point. We haven't got enough parts to waste on a cold track like that.
"We knew with Lamattina's accident we'd be out later still tonight but it didn't get as cold as last night. We started up, I let my foot off the clutch and nothing happened. I revved it up and the car started to move so I thought at least it will move and do something.
"When I backed up it was tugging on the motor and I thought this won't be too bad. And it just fell down the track."
American Cory McClenathan qualified third from Mark Mariani, Peter Xiberras, Mark Sheehan, Damien Harris and Wayne Newby. Understandably the Lamattina team will take no further part in the weekend.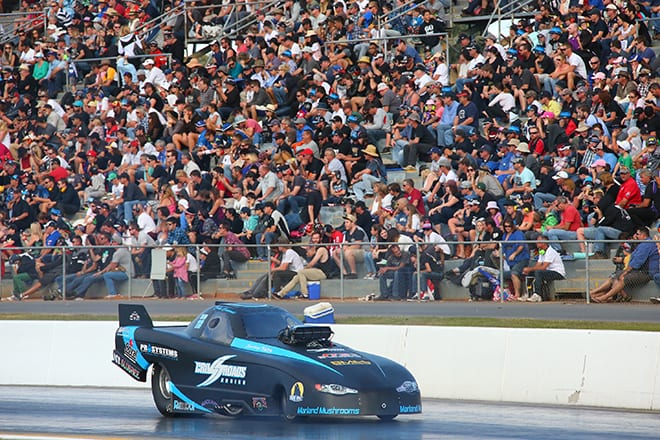 Following Gary Phillips accident on Friday there was speculation he may step into a spare car to keep his title hopes alive. Unfortunately that did not eventuate opening the door for John Cannuli to win his first title provided he can go rounds on Sunday.
Cannuli made a statement by running a 5.422 at 265.80 mph in Q3 to move into first place by a long way with Steven Reed and Jon Sting both recording identical 5.541 second passes in 2nd and 3rd.
"We feel really good going into raceday, that's what we wanted, that's what we've been planning on the last few weeks in testing," said Cannuli.
"The car has been good, it took us three qualifying rounds to get it back to where we were last week.
"We'll take it one run at time tomorrow and see what happens."
Robert Ambruosi is under a cloud to take his place on raceday when his Chevy Monte Carlo Funny Car did the misty mountain hop before a big fireball erupted when the engine popped wildly. Ambruosi brought the car to a halt down track and fire crews were quick to the scene.
John Zappia's 5.730 from Q1 on Friday was unbeatable in Top Doorslammer with his closest competitor Grant O'Rourke running a personal best 5.881 ET at 246.53 mph for 2nd place. Ben Bray ran his father Victor Bray's 57 Chev as quick as it has ever gone with a 5.911 at 235.02 mph for 3rd.
Mark Belleri, Marty Dack, Peter Kapiris, Paul Cannuli and Russ Pavey completed the filed leaving Stuart Bishop, Pino Priolo, Daniel Gregorini and Bill Goonan among those on the outside looking in.
Defending champion Mark Drew proved his class in Top Fuel Motorcycle once again with a 6.380 at 194.80 mph in Q2 securing another top qualifying position for the West Aussie followed by Gavin Spann with a 6.991 in 2nd.
Phil Parker qualified 4th followed by Chris Matheson, Chris Porter, Neville Smith and American Darian Guillory who had a troubled weekend. Drew is now almost certain to clinch his second Top Fuel Motorcycle championship in a row.
Pro Stock produced some numbers with Emilio Spinozzi and Lee Bektash producing the eliminator's quickest side-by-side pass in Q2 leaving the fans on their feet. Spinozzi recorded a 6.922 ET at 196.70 mph alongside Bektash on a 6.917 ET at 198.58 mph in the other lane.
In the same session Nino Cavallo laid down a 6.931 ET at 190.43 mph to move into 3rd but Lee Bektash went quicker yet again in his final qualifier with a 6.896 at a 190.46 mph to claim the number one.
"We probably won't see quicker than 6.89, 'cause we had to swap the motors and put the old girl back in," said Bektash. "We don't want to risk damaging that motor, it's such a good piece.
"But it ran well today, the tail wagged towards the end so we lost a couple of hundredths in the back half. I reckon today should have been an 6.86. I don't know what's going on with that mile an hour trap, I didn't shut it off coming up to 190 mph so that's definitely not right. It's been happening to Nino (Cavallo) as well. All in all we're happy.
"It's exciting, the Tremaynes ran well. Spinozzi ran well and Cavallo. It's still tight, we'll put it on kill tomorrow and they'll know that obviously – that motor's probably four hundredths slower than the good one. Last year we ran a 6.95 with that engine so it's no slouch. Ran a 6.99 with it last Sunday so it's good enough to run with 'em, we just gotta make sure that we got our 'A game' on."
Rookie Brad Lemberg caused a boilover taking the top position in Pro Stock Motorcycle in his first competitive event from Maurice Allen after he came out all guns blazing in Q2 recording a 7.197 ET at 183.64 mph.
That pass looked unbeatable but Lemberg returned for Q3 to throw down the challenge on a 7.173 ET at 182.55 mph. Scott White qualified in 3rd with a 7.272 followed by Lock Ireland, Ryan Learmonth, Glenn Wooster and Luke Crowley.
"That was my seventh full track pass, so we've only tested two meetings prior to this," said Lemberg. "Pretty happy at the moment. Good to knock Maurice (Allen) off number one, we've been fighting backwards and forwards. I'd go out and top qualify and then he'd beat me every qualifying except for that last one. So I'm stoked.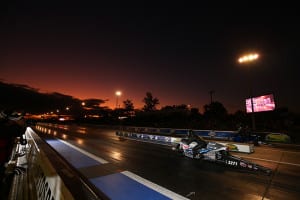 "We should have the bye first round, being seven bikes. That gives us a bit more data with a tune up during the day. We're expecting tomorrow to have similar conditions throughout the day so we're pretty confident with a tune up.
"We're stoked, I give all the credit to Dad for letting me hop on this bike. He made the decision eight months ago to step aside and let me hop on it. And my other crew members Jase and Jeff and Ken. Tune up was awesome this weekend, couldn't fault it.
"I would just like to thank Pauly and Johnny from VP Racing Fuels Australia, they've been helping us out for a number of years. And also R and H Transport Services back home in Mackay, they've come on board this year and been a tremendous help financially. And everything goes to them to get me here."
ANDRA Drag Racing Series eliminations in the season deciding Fuchs Winternationals at Willowbank Raceway commence from 10:40am on Sunday following the opening ceremony at approximately 10am.