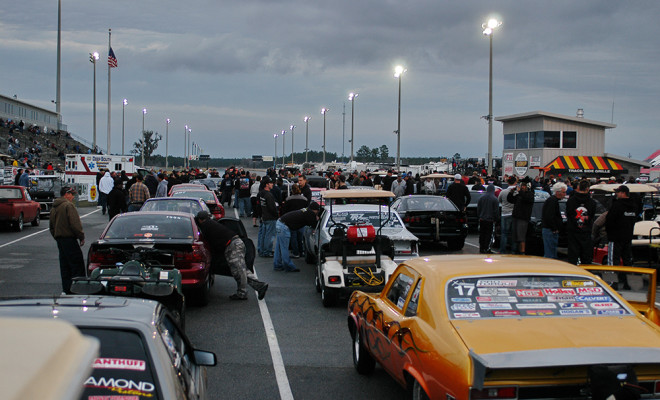 Exclusive
DONALD LONG: Duck X Signs 5-Year Deal with SGMP; Moya Takes Ownership of Facility
By
|
"It's time to squash all the bullshit," says Donald "Duck" Long, owner of Duck X Productions and promoter of the two biggest drag radial races on the planet in his annual "No Mercy" and "Lights Out" events at South Georgia Motorsports Park. "Ozzy [Moya, owner of Orlando Speedworld Dragway] is signing the papers right now and will take ownership of the facility immediately. Ozzy and I have signed a five-year agreement to keep all Duck X Productions – our September and February dates – at SGMP. It's a done deal."
Long explained that Wade Rich, the general manager at Moya's Orlando Speedworld Dragway, will be hands-on with all major events at South Georgia Motorsports Park and that he and Moya fully intend to bring even more large-scale races to the popular facility in 2015 and beyond.
"It's a long story, but, basically, I've had an agreement with Larry Dean, who re-took ownership of SGMP via foreclosure last week, that no matter what happened with the ownership of the track my races would go on," explains Long. "Larry Dean is definitely a man of his word, and I'm really happy with the way all this worked out. Ozzy has big plans for the track and he has good people involved. It's great for Duck X Productions, but I think it's great for all of drag racing that this popular track is in good hands."
Longtime track prep specialist at SGMP, Joseph Harnage, will also remain a fixture at SGMP and will be overseeing the racing surface at the upcoming Lights Out 6 event February 19-22, 2015.
Comments
comments