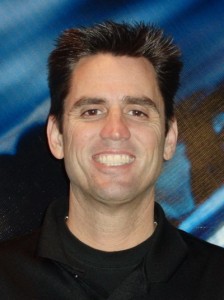 Three-time NHRA Mello Yello Top Fuel drag racing series champion Larry Dixon (left) continues to work long and hard on his 2014 Top Fuel program.
In the meantime, Dixon, the second winningest Top Fuel driver in National Hot Rod Association history with 62 national event victories, will jump into the cockpit when he pilots 320 mile-per-hour Liquid MPG Fuel Additive Top Fuel dragster for Tuttle Motorsports on Sept. 20-22 in the AAA Texas NHRA Fallnationals at the Texas Motorplex south of Dallas.
Dixon, the 2002, 2003 and 2010 Top Fuel series champion, agreed to assist team owner Dexter Tuttle in Tuttle's return to the NHRA Mello Yello drag racing series this year.  Both Dixon and Tuttle plan to field Top Fuel cars in next year's 2014 circuit.
Dixon, a two-time NHRA winner at the Texas Motorplex (2001, 2007) is a longtime friend of Tuttle and was asked by the Texas businessman to assist in his team's initial testing runs at the Fallnationals in three weeks. Dixon is a five-time No. 1 qualifier at Texas.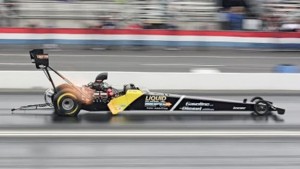 "Dexter and I were chatting about the upcoming season and he asked if I wanted to run the Dallas race for him," said Dixon, who began the 2013 season as the controls of the Rapisarda International Autosport car before concentrating on 2014.
"Dexter has always fielded outstanding machinery in the past and he wanted to test some new parts.  So I said, 'Let's go to Dallas.' It will feel good to be back in the cockpit again this year."
Earlier this year (March 29), Dixon set an all-time Australian national record with a quarter-mile reading of 4.50 seconds at Willowbank Raceway.
Tuttle is a veteran team owner who last fielded a fulltime Top Fuel dragster in 2011.
"We are happy to have Larry driving our Top Fuel car at the Motorplex in a few weeks," Said Tuttle, a motorsports veteran who owns two Texas-based firms near Fort Worth.
"We are going to use the Texas race as a test session for the new parts we recently acquired from Don Schumacher Racing.  We'll have new cylinder heads, a new clutch and a whole new combination from what we had at our last NHRA race.
"I think having Larry in the car will give us some good feedback for the 2014 season.  We just are not sure how many races we will run in 2014, but we want to get some good data this year and be ready to go in 2014."
Dixon is also developing a new program for 2014. Dixon has been concentrating on a new team and looks to have an organization ready to go for the 2014 NHRA Winternationals.