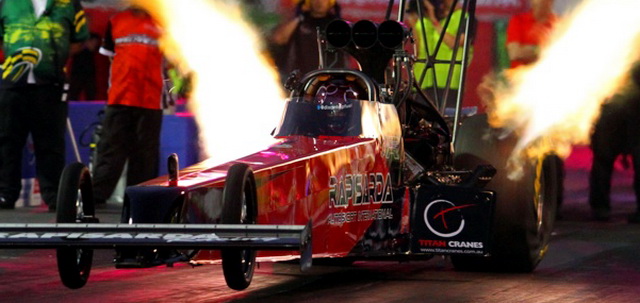 Australia witnessed its quickest ever drag racing pass on Saturday night (Mar. 30) at Willowbank Raceway when three-time NHRA World Champion Larry Dixon stormed to a 4.503 second time, as Queensland's own Steve Read doubled up at the Santo's Cranes Super 3 Extreme Drag Race.
Dixon's incredible run came after a dramatic incident on Friday where the Rapisarda Racing dragster sheared an axle, seeing a wheel come off the car and sending it on a 360-degree spin (video) down the track. His team thrashed to have the car ready for a safety check out pass later on Friday night and then loaded it for bear for Saturday's qualifier, reaching a top speed of 534 kmh.
The run surpassed the late Scott Kalitta's long standing mark of 4.517 seconds, which he recorded at Sydney Dragway in 2006. Dixon's pass was also backed up with a later 4.543 second run meaning he reset the official national record.
At an event honouring the memory of Top Fuel racer Louie Rapisarda, who passed away in a racing accident at Willowbank Raceway in 1990, it was a poignant moment for the Indianapolis-based racer.
"Scott Kalitta was the quickest in the country and he lost his life in 2008 and it made me think a lot about him this weekend," Dixon said. "Then obviously with Santo (Rapisarda's) son Louie, it means there is a lot of good people we have lost in this sport, but they were at the forefront of our minds this weekend."
Dixon thanked team owner and event sponsor Santo Rapisarda for providing him a race car that allowed him to shoot for the moon.
"Santo let us go out and fire some shots and it was a lot of fun," he said. "We got to put some big numbers on the board and bring the elapsed time record home for him."
The accomplishment meant just as much to Dixon's crew chief and fellow American, Lee Beard.
"It's extremely satisfying. Coming here to Australia and making the quickest run outside of the US, backing it up for the national record, I couldn't be happier," he said.
The only sour note for the team was when they overpowered the track in the elimination round, meaning they had to settle for third place.
While Dixon's qualifying pass had much of the attention, Queensland's Steve Read proved consistency reigned over brute horsepower by doubling up, winning both Friday and Saturday night's individual championship rounds.
Read was never out of the four second zone in all six passes of the weekend and his final round 4.766 proved too much for opponent Darren Morgan who spun the tyres early in his pass.
"We managed to get it down the track smoothly each time," he said. "In the past we've qualified really well and then had small things go wrong. Sometimes the right things happen and that's drag racing."
As the highest point scorer overall for the weekend, Read also took home the coveted Louie Rapisarda Top Fuel Trophy. It meant a lot for Read, who drove for Louie's father Santo Rapisarda for a number of years.
The Top Fuel points battle has taken an interesting twist, with Morgan's two runner up results across the weekend meaning he is now tied for the lead with Phil Lamattina.
In Top Alcohol national champion Gary Phillips took his Lucas Oils Funny Car to the win, defeating Steve Ham's East Coast Lubes Funny Car in the final.
After a lacklustre day one of the Santo's Cranes Super 3 Extreme Drag Race, the current points leader stamped his authority over the field by top qualifying, running the quickest Top Alcohol time of the weekend and then winning each of his races. The win also allowed Phillips to extend his points lead over nearest rival Steve Reed.
(Photos courtesy ANDRA.com.au; Click to enlarge)