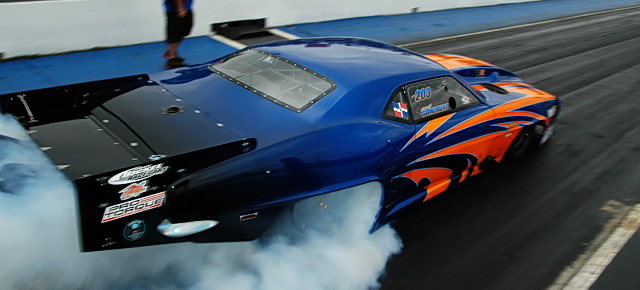 At the debut event for the new X-treme Drag Racing League (X-DRL) in Tulsa, Oklahoma, Eric Dillard made his own incredible history Apr. 7, by reaching a monumental turbocharger milestone.
Competing in the X-DRL's Precision Turbo & Engine Pro Turbo class, the Pro Line Racing co-owner became the first turbo doorslammer driver in drag racing history to reach the 3.70s in the eighth-mile, running a remarkable 3.796 at 209.79 mph. Dillard's picture-perfect pass came in the car of customer and noted turbo standout Jose Gonzalez and took place during the final qualifying session for the X-DRL Spring Nationals at Osage Casino Tulsa Raceway Park.
"It felt great. We were confident that run was going to be the one and it just felt great to put it on the scoreboard," Dillard said. "This has been a big deal for me. Jose owns the car and runs the car, and he wanted to support this class and the X-DRL. He knew a 3.79 was there and to let me come here and do it, I can't thank him enough. He's just excited and happy for everyone. This is just awesome to be able to do this."
Dillard had been closing in on the record all weekend, running a strong 3.83 at 206 mph right off the trailer. That was a career-best for the talented turbo driver, but crew chief Steve Petty continued to dial in the Jerry Bickel Race Cars Camaro. Dillard next ran 3.807 at 208.42 mph under the lights, just missing the mark during Saturday's final qualifying session, but that only motivated the team heading into Sunday.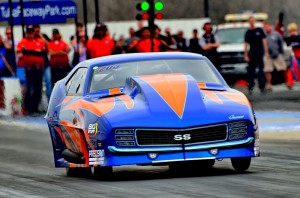 With excellent track conditions, Dillard responded with the history-making pass.
"It's just amazing. This 3.70s deal has been such a big hurdle and to get it, it's just awesome. We had it set up where we could do it on the last round of qualifying and it just came together," he said. "As soon as it hooked up, I knew it was there. By 300 feet, I knew the scoreboard was going to pop up with a 3.70. This was a big one."
Gonzalez's Camaro continues to turn in brilliant performances since it debuted last year, while Dillard also praised the work of Petty in making the turbocharger combination so consistent.
"He's so good at what he does. He's one of the best, that's for sure," Dillard said. "He was extremely confident today. He knew the 3.70 was there.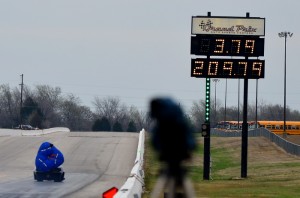 "There's a lot of people to thank, including Pro Torque and the guys at Rossler Transmission. For Harry (Hruska of Precision Turbo) to do what he's done and help put this (Precision Turbo & Engine Pro Turbo) class together to create a level playing field with these turbo cars, I can't thank him enough."
It's a monumental achievement for a team that has chased the mark for quite some time and Dillard, the 2011 U.S. Nationals Pro Mod winner and multiple-event winner, held the historic moment in high regard.
"For me, this is by far the biggest accomplishment I've ever had in my Pro Mod career," Dillard said. "This is so big for us and definitely the biggest milestone for me."
(Photos by Ian Tocher, Click to enlarge)