Diamond Racing is announcing two new pistons—flat tops and dished—for Chevy L92 / LS3 engines (Camaro).
Suitable for use in virtually every segment of the aftermarket, including restoration, street-strip, pro-touring, and off-road, these new 2618 conventional forgings are supplied with alloy steel 8620 piston pins and spiral locks as well as a standard ring package, comprising 1.5mm (top); 1.5mm (second) and 3.0mm (oil control).
Configured for bore dimensions of 4.005 to 4.130in and stroke lengths of 3.622 and 4.000in., these new pistons have compression heights of either 1.304in or 1.115in. Because their top rings are positioned 0.260in down from the piston crown, these pistons accommodate small nitrous kits or super/turbochargers.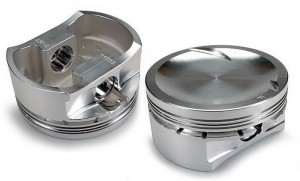 On the piston crowns both the flat tops and the dished versions are furnished with valve relief pockets of 0.175in (intake) and 0.105in (exhaust). Double pin oilers with interlinking grooves ensure adequate lubrication between the piston pins and their pin bores.
Lastly, Diamond makes available these new pistons in either an uncoated condition or with the Diamond Double Coat—fully anodized with a molybdenum skirt coating.
Flat top & dish designs for popular L92 cylinder heads
Bore & stroke dims of 4.005 to 4.130in & 3.622 to 4.000in respectively
Top ring placement accommodates N/A & nitrous or forced induction
Premium 8620 piston pins & standard ring pack (1.5, 1.5, & 3mm) included
Valve relief pockets 0.175 (in) & 0.105 (ex) & double pin oilers standard
Available uncoated or with Diamond double-coat (anodized with moly skirt)
For more information contact:    
Diamond Pistons 23003 Diamond Drive, Clinton Township, MI 48035
Telephone (877) 552-2112 or visit www.DiamondRacing.net or e-mail Nick D'Agostino at [email protected]