Have you ever owned a really cool car that you acquired as a youngster, only to sell it with hardly a thought and then agonize over the decision many years later? Tim Takash certainly knows the feeling; in fact, it's happened to him twice! The most ironic detail of all though is the reality that on both occasions it involved the exact same make and model vehicle.
It all started for Tim, a life-long native of Orlando, Florida, when he was 16 years old and spotted a classified newspaper ad. For sale in Miami was a beautiful Dodge Coronet R/T; black on black with a 440 engine and a 4-speed, which immediately caused him to quiver with desire. "I love cars in general, but Mopars are my favorite," Tim states with conviction.
So, with an address scribbled down on paper, he hastily set off on the 3.5-hour drive to south Florida where a deal was struck to acquire the car—a mighty righteous ride for a kid who had just recently received his driver's license. Tim loved the car so much, he actually bought a second one (nearly identical to the first) the following year. "I came to own the second one when a buddy of mine casually mentioned that he knew where I could find yet another '67 Coronet R/T, and this one was for sale right here in Orlando."
Tim could hardly believe his ears, especially considering the rarity of this particular model. When he arrived at the designated location to look at the second car, he was immediately taken aback when he met the unlikely owner.
"You hear these stories about people buying a particular vehicle from a 'little old lady', well, I quite literally bought my second Coronet RT from this little old lady in Orlando!" he laughs. Tucked away in her garage in pristine condition was a jet-black, low-mileage R/T with a 440 engine and sitting on Cragar mag wheels. "I couldn't help but ask how in the world she wound up with a 375-horsepower muscle car as her daily driver and she says to me, 'Well, I needed a vehicle so I sent my son to the dealership to get me a car and this is what he came back with!'"
Her car was equipped with an automatic transmission, however, so after buying the second car Tim was the proud owner of a pair of classic Coronet R/Ts featuring both choices of transmissions.
And despite being an anomaly among muscle cars, Tim's dad, Gene, even owned a Coronet R/T of this exact model. Actually, years before Tim ever even dreamed of owning a pair of black Dodges, his dad bought a Coronet R/T brand spanking new in 1967, and drag raced the living daylights out of it for the next two years. He traveled far and wide competing in various events, including the U.S. Nationals where he raced the car in the SS/E class.
"Dad only had the car for several seasons and wound up selling it in 1969," Tim recalls, though he adds that he and his dad drag raced together for years, campaigning a variety of vehicles. While some were full-fledged drag cars, others were beaters that Tim would buy and race for as long as they would hold together. "When I was a kid I used go to the local car lots and see what they had on the back row for $150, then I'd buy it, take it home, wash it and then go bracket race with it!"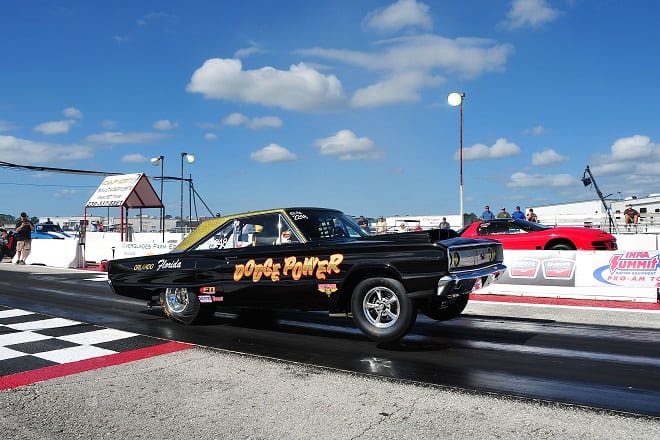 As far as his vintage Coronet R/Ts were concerned, though, they weren't really viewed as a desirable collector's car back in those days, despite being quite limited in production. "Mopars in general weren't really sought after when I was a kid; not nearly as collectable as they are today," Tim points out.
As a result, he sold both Coronets when he was still a teenager, hardly giving it a second thought at the time. But as the decades began to pile up, the regret also increased with each passing year. Tim says he often wondered whatever became of those rare rides, though more often than not he admits to catching himself daydreaming about his dad's car far more than the pair he'd owned.
As a result, Tim launched a massive search for the car a few years back. "Even though dad bought his Coronet brand new in 1967 we could never come up with any documents that had a VIN number on it, and since this wasn't the computer age back in those days it was really difficult to trace what became of the car." Eventually, after years of following dead-end leads, the search was eventually called to a halt and another plan was put in motion. "Since I couldn't find Dad's original car, I figured the next best thing was to just find another Coronet and restore it to look exactly like the one he had," Tim says.
That's when history surprisingly repeated itself, as Tim stumbled upon not one, but two 1967 Dodge Coronets, just as he had when he was a teenager. After looking on the Internet for the desired make and model, his search had led him to Detroit, where sure enough a guy had a pair of '67 Coronets for sale. "One was an R/T, the other was just a plain ol' car," Tim remembers. Consequently, one of them was a rust-free California car, while the other had been subjected to harsh Michigan winters its whole life and was full of rust as a result. Regardless, Tim wanted them both, so a deal was struck to acquire a pair of Coronets for the second time in his life.
Upon returning to Orlando with his classic Mopars in tow, Tim went straight to work on the restoration project. "Since I owned a pair of them once again, I now had two of everything, so I completely disassembled both cars and kept the best parts from each one," he says. He makes it sound so simple now, but what transpired was a rotisserie restoration of epic proportions that brought two cars together into one spectacular piece of American muscle with a 426 Hemi residing where the original 440 had previously toiled.
"The engine actually belongs to a friend named Bill Brooks who was a young racer in the 1960s when my dad was still racing his Coronet. When Bill heard we were restoring this car he wanted to get involved and he graciously let me use this engine," Tim explains. The entire car, in fact, is Mopar from front to back, including the 3-speed TorqueFlite automatic transmission all the way to the Dana 60 rear end. The whole project took five years to complete with the end result being a meticulously restored, show-quality drag car.
"The goal was to honor my dad with the restoration of this car, right down to the 'Dodge Power' lettering across the door—the exact same way Dad had it lettered on his car nearly 50 years ago," Tim says. "Dad had lots of cars back in the day, but his 'Dodge Power' '67 Coronet really represents his heyday in my eyes."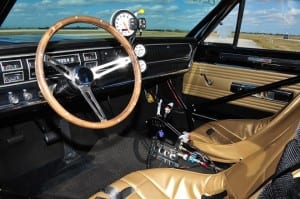 Now 83 years old, Gene Takash enjoyed the restoration of Tim's project car every bit as much as his son and when the finished project emerged from the shop, the two of them took it to nearby Orlando SpeedWorld Dragway for a quick test-and-tune session. The elder Takash was excited to see his memories going down the track, and while he doesn't always feel well enough these days to attend the races himself, he does enjoy the play-by-play updates he receives between rounds via telephone—especially last October when Tim put the car in the Orlando winner's circle in just its third outing during the track's annual Night of Fire event, featuring a Stock/Super Stock combo race.
All things considered, the new-old Coronet is one swift mass of heavy metal, so far clocking a best of 10.10 seconds at just over 136 mph in the quarter mile. "And I pretty much babied the car when I first took it out," Tim stresses. "I mean seriously, when you put this much time and love into something we didn't want to go out there and try to see everything it's got right out of the gate."
A skilled race car builder himself, Tim is employed by Titan Motorsports in Orlando, where he's constructed numerous cars for customers over the years. If there's one thing he's always encouraged people to do upon taking delivery of a new car, it's to simply get acquainted with it and learn where everything is located. "I've always thought that driving a new car around in the pits is the smartest thing you can do. Even now after a year, I'm still getting acquainted with this car," he says.
As may be imagined, he's also loving every second he spends behind the wheel of his Mopar time capsule, especially considering it's like rolling the highlight reel of his father's life. The most recent footage, in fact, was unveiled at Florida's Immokalee Regional Raceway, where Tim competed in the IHRA season-opening Pro Am, a circuit he plans to follow in its entirety this season.
"These days, my biggest regret is not starting this restoration project 10 years ago, back when Dad felt more like going to the races," he sighs. It's been said the best time to plant an oak tree is 50 years ago, but the second best time is today. So with that sentiment in mind, Tim adds that the treasure called "today" is being cherished by both of them to the fullest. "Me and Dad are enjoying our time together like we never have before," he says with a big smile.
This story originally appeared in DI 98.