The number of racers switching over or stepping up to compete in the Professional Drag Racers Association's second season seems to grow weekly. You can add second-generation drag racer Ryan Hill's name to that list, as the former Junior Dragster standout will compete in PDRA Top Sportsman this year, starting at the season-opening Texas Nationals, March 19-21.
Hill, 24, plans on attending all 10 PDRA races. His Top Sportsman entry will ride along in the Tanner family's hauler with the Junior Dragsters belonging to Preston Tanner and his sister, Alexis. On top of the PDRA plans, Hill and his father, former NHRA A/Fuel and IHRA Pro Fuel driver Dave Hill, will hit the first three NHRA Division 3 races – Indy, Joliet and Norwalk – and the NMCA's Joliet race.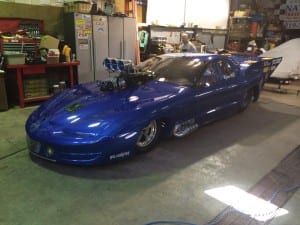 The car is a 2002 Pontiac Firebird built in 2005 by TNT Chassisworks. Chassis updates were required to drop in the supercharged, 519 CI Brad Anderson motor, and those were completed by Dave Moldenhauer. Graphics will be supplied by Eric Verbich and Mark Janiga of Largus Graphix Solutions. The powerplant and transmission equipment come from Snyder Motorsports.
"We basically got all of our parts from Mick Snyder. We're also running his three-speed Lenco. Snyder helped us piece everything together, the whole motor, aside from a couple things here and there. We went with the three-speed Lenco because it's something we're familiar with," Hill said.
The 2015 season will be Ryan's 15th season in drag racing. He raced Junior Dragsters with his brother Josh from 2000 until 2008, picking up three consecutive track championships at U.S. 131 Motorsports Park in Martin, Michigan. He spent the next few seasons working on his dad's nitro-injected A/Fuel dragster before deciding to get back in a car.
"We bought the car in 2012 and took our sweet time to make sure it was put together right. We debuted it last year to get our first test hit and it worked out way better than we thought it would."
The positive results from a late-season test session and licensing outing provided Hill with the data he needed to come up with his performance goals for the season.
"We want to dip down into the 4.0s and if we can, if we're not going to hurt anything, we want to try to run in the 3.9s. I know we can, I just don't know if the car can. The car has never seen this kind of power. The guys who had it went 6.58 at 212 (in the quarter-mile) with the nitrous car and we went faster than they did and we still have plenty left in it. We want to run in the 6.3s in the quarter-mile. We'll turn that thing up," declared the 24-year-old CNC machinist.
As for plans beyond the upcoming season, Hill is focused primarily on PDRA competition, though not necessarily limited to Top Sportsman.
"We're going to try to do two to three seasons with this car to see where we're going. If money is right, we've considered stepping up to Pro Boost. What I have in the shop is basically a Pro Boost car, we would just have to change some stuff. But we're going to play with Top Sportsman and eventually we want to step into some Quick 8 stuff. Maybe a couple heads-up races here and there. We're going to run PDRA as long as it's there."
GOOD READS
GOOD VIEWS
This is just another angle from the horrifying eKanoo Racing Lexus crash in Bahrain over the weekend. Fortunately the driver escaped without serious injury.
The Dodge designers give viewers a look at the new Charger Funny Car body design process, and explain why the new body is better than its predecessors.