As a 14-time NMCA/NMRA champion, Mike Murillo knows when racing is legit, and when it isn't. The newly-minted reality star confirms the Oklahoma-based Midwest Street Cars' TV action is the real deal, and the street racing is just as competitive, if not more so, than its drag strip counterpart.
In late 2013, Murillo and Midwest Street Cars head honcho Justin "Big Chief" Shearer started talking. Chief had some questions about what boost controllers Murillo used, and the two quickly struck up a friendship during their talks. "I got Chief hooked up with SCT Performance, and I went up to Oklahoma to tune the Ford stuff that he just doesn't have time to handle anymore," says Murillo of how the relationship evolved between the two larger-than-life personalities.
"I've been doing what I'm doing for years, and I got a great opportunity to do something new and exciting here. I've been blessed to be able to be around these guys, to be a part of their family, and to learn how to tune cars for the street," says Murillo, who is also happy that he's had the chance to simultaneously grow his business, Murillo Motorsports, by tuning cars up in Oklahoma.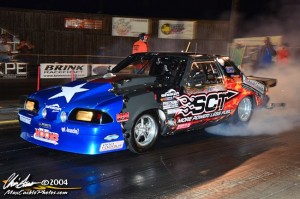 During his time with the Midwest Street Cars crew, Murillo has been having some fun racing "Lafawnduh", his well-known Mustang on the street. "We're not even running half the amount of boost we run at the track," Murillo explains of one of the changes he's made to accommodate for the concrete and blacktop surfaces he now races on. "I'm also going to race at an upcoming Cash Days and I'm really excited to hit that up."
The street racers have recently been the center of attention and controversy as many in the racing community feel that it's detrimental to have such a strong focus placed on televised illegal and potentially unsafe activities. Murillo, however, thinks it's a blessing in disguise. "Motorsports as a whole have started to decline, but the fact that this 'illegal' street racing is drawing in millions of fans is nothing but positive as far as I'm concerned," he says. "The more people you get involved in racing, the better. If it needs to be perceived as illegal, then so be it."
Having been around to see the action firsthand, Murillo adamantly declares that "yes, the racing environment is controlled, but the action itself is real." Many people have questionedwhether or not the races are scripted, but Murillo alleviates those concerns by explaining that "these guys are the for real deal. They do on the street what we do on the track, and the racing sure as hell isn't staged. Never once have I seen anyone tell anybody 'I think so-and-so should win this time'. Nothing like that goes on, and even if it did, I don't think these guys would do it – you couldn't pay 'em enough to take a dive."
Meanwhile, Murillo's having a blast hanging out with new friends and learning how to go fast on a new surface. It's been challenging, but he's up to the task. "These guys are racing on the street, not on a prepped track or a street that's been prepped. It's an art form to get these 2,000+ horsepower cars to go down a naked street. It's a totally different world," says Murillo of how he respects the racers that run on a track that really isn't a track at all.
With his time in Oklahoma coming to an end soon, Murillo's planning to get in on the action during an upcoming Oklahoma rivalry battle against another state. If given the choice, Murillo says that he'd most want to race "ALL of Midwest Street Car guys! Just kidding. Honestly, I'd love to race Daddy Dave but I don't think our car can lay down the power to be competitive on the street. On the track, it'd be a different story. There's one other guy that I'd really like to run against, but I can't say who just yet!"
Old school Murillo fans need not worry, because the champ plans on heading back to the track after his time in Oklahoma comes to an end. Lafawnduh and her pilot will make an appearance at the PSCA Street Car Super Nationals (SCSN) race in Las Vegas later this year, and then will get back into the normal swing of things in 2015 with the NMCA and NMRA.
(Photos by Paul Huizenga & Chris Graves)