Back in the late-'80s, whenever Luke Hutchens would pull through the gates of Wilkesboro Raceway Park with his race car in tow on an open trailer, track announcer Tommy Greene would communicate enthusiastically over the loud speakers: "Here comes Luke the Drifter!" The catchy name stuck and it wasn't long before Hutchens even painted the nomadic nickname on his race car.
"Ol' Tommy was a great announcer and he was good at coming up with stuff like that, sorta' off the cuff," says Hutchens, reflecting on the familiar tag he received more than two decades ago.
In addition to his enduring handle, Hutchens also is well known for his passionate use of the Chrysler brand in drag racing, although during his lengthy career he's certainly been around the block with regards to dabbling in a wide range of American muscle. "Back when I first started racing I didn't think there was anything in the world other than a Chevrolet, but then I got to noticing that Chrysler cars were kinda' rare at the track, so I decided to start racing them!"
His dad on the other hand loved Fords, and yes, Hutchens has raced them too, most notably a 1970 Torino that he had many moons ago. Mopar products though—much like his catchy nickname—is how most people identify with the veteran racer from Yadkinville, North Carolina.
Hutchens first took notice of the sport of drag racing at a young age when his dad used to take him to Farmington Dragway, their local strip in nearby Mocksville. Some of his earliest childhood memories involve hanging on the fence at Farmington when he was roughly six years old, all the while thinking, "I'd like to do this someday!"
Although Hutchens' dad was a big fan of the sport he never raced personally, so when Luke made good on his childhood dream of driving race cars, he sort of blazed a trail into uncharted territory, at least within his family. He landed his first driving gig at age 15, though not in the most conventional of ways.
"I used to go to the track with my neighbors and they'd get to drinking and by the time the race started they weren't in any shape to drive so they'd put me in the car and let me enter the race!" Hutchens recalls with a laugh.
His early driving experience (eyebrow-raising as it was) did give the youngster a feel for cars. So, by the time he got a driver's license and some wheels of his own—a 1965 Chevrolet Impala Super Sport, no less—Luke was out racing all the time … just not at the drag strip. "I dabbled in street racing and I raced that Impala a lot," he admits.
The car was fast, but it had a habit of breaking rocker arms during its many street races. Right about then something peculiar caught Luke's eye. "Behind this guy's house sat a 1965 Plymouth Sport Fury with a 426 wedge and a 4 speed!" Luke wound up buying his first of many Mopars for $700 and handily beat anything else on the street he ever went up against with it.
Eventually, when he was ready to straighten up and fly right with regards to street racing, Luke decided to drive the Fury to Farmington and also East Bend Dragway, an infamous North Carolina track that's long since closed.
"There was this guy at East Bend with a '41 Willys and a Chrysler 440 engine and that car would fly," remembers Luke, which sparked his interest in the Chrysler brand further. Then there was the racer with the Hemi Barracuda who eventually built an engine bigger than the chassis could handle. "Rules were different back in those days and it got to where East Bend wouldn't even let the guy run that Barracuda because the engine was so big!"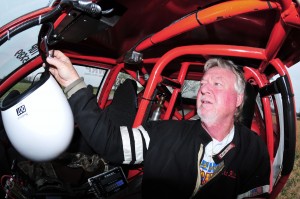 As his interest in Mopars grew, Hutchens eventually sold his Sport Fury and bought a '69 Plymouth Road Runner, this one with a factory 383 engine and 4 speed. Other cars would follow, some of which were streetable, while others were full-fledged race cars.
His current ride, a Plymouth Arrow that Hutchens bought for $600 from a neighbor, even started out as a street car that little by little evolved into a fast, five-second bracket car. "The Arrow was a factory 5-speed car, brown in color, and I used to drive it back and forth to work long before I ever turned it into a race car," Luke says.
Hutchens says the purpose-built race car conversion began over 20 years ago, but he took a five-year break along the way to go race go-carts with his sons, Greg and Brandon, before resuming work. "After I returned to drag racing with the Arrow in 1994, I haven't missed a race since," he declares.
There was, however, a spur-of-the-moment interest in changing race cars back in 2000 when Luke actually sold the Arrow to a racer from Ohio, only to buy the car back a few years later when he saw it for sale again on the Internet. It turned out to be a good decision, too. "I went to the finals in the first race after buying the Arrow back!"
After being so fortunate to be reunited with the car a second time, there are no plans of ever being without his beloved Plymouth again. "Even if I just let the car sit in the garage I guess I'll hang onto it forever this time around," he says.
Since being reunited, Hutchens has won a good many races with the car and even competed at three different events in a weekend. Most recently, his on-track success includes back-to-back wins at Wilkesboro and a Mopar event win at Farmington. "Every weekend during warm weather I'm racing," he says.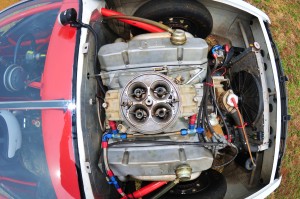 And though he's known as "The Drifter," Hutchens is somewhat predictable at the same time. You can pretty much guess which area races he'll hit, and you can always be sure he'll be pitted right beside his son, Brandon, who eventually became a drag racer himself after his go-cart racing days were over.
Despite a racing career that's now well into its fourth decade, Luke Hutchens still gets fired up at the mere mention of the sport he loves and eagerly counts the days until the next race. "I've got a lot of great memories from being at the track over the years and I think about racing pretty much all the time," he laughs. "It's something that you just can't get off your mind." Or out of your heart.
GOOD READS:

DragRacingOnline.com's Patrick Hale takes a look at modern day Nostalgia Nitro Funny Car racing – determining these not-so-old-school fuel floppers are making over 3,000-horsepower.
Heading into this weekend's Auto-Plus NHRA New England Nationals it never hurts to have a look at NHRA's "Tricky Tipster" to get the odds for the pro categories, especially if you've got any skin in the game.
DRAG ILLUSTRATED Senior Editor Ian Tocher says what everyone's thinking in his profile of the Elite Motorsports Pro Stock team, specifically driver Erica Enders-Stevens – she's the real deal.
MEDIA ROUND UP: 
Drag racing looks different in Thailand.
DRAG ILLUSTRATED Editor-in-Chief Wes Buck's uncle, W.R. Buck, lays down quite possibly the longest burnout ever performed at U.S. 36 Raceway in Osborn, Missouri, prior to a 4.70-pass down the fast-and-fun eighth-mile in his naturally aspirated 600ci Donovan-powered, manually shifted Ozark Mountain Super Shifter '68 Camaro. Interestingly enough, the car was painted by Wes' younger brother, Bradley, at his Brad Buck Paint & Body in their hometown of Kirksville, Missouri.
Cruz Pedregon lays down a ridiculously awesome 3.959-second lap at Old Bridge Township Raceway Park in Englishtown, New Jersey, and his crew celebrates like cage fighters after a walk-off knockout.
LONG WATCHES:
There may well be no one better than Les Mayhew when it comes to high-end drag racing videos, and his latest – which relives the 2014 March Meet at the legendary Auto Club Famoso Raceway in Bakersfield, California – may be his best-ever.
The 2014 Gasser Reunion from Thompson Raceway Park, including the one-and-only Steve Cook and his "Blew By You" 1956 Chevy.