Elite Motorsports driver Erica Enders-Stevens turned in another brilliant driving performance to continue her run of success at The Strip at Las Vegas Motor Speedway, winning the SummitRacing.com NHRA Nationals on Sunday to secure a second consecutive double-up at The Strip.
Enders-Stevens also won the K&N Horsepower Challenge on Saturday, completing the Challenge/national-event sweep for the second year in a row. The sweep earned Elite Motorsports a $25,000 bonus to go with the $50,000 earned from winning the Challenge.
"I guess we can start saying Vegas is our lucky track," Enders-Stevens said. "Winning is very challenging, and to be able to do it at both Vegas races last year and then come back here and do it again shows what we're capable of. But it's also very surreal. There are so many tough competitors out there, and the bar has really been raised. I'm just proud of my team.
"It's certainly a high-pressure situation, but my guys thrive on it. They perform very well under it, and I'm so proud of them."
The Las Vegas winning streak has reached 18 round-wins, including last fall's national event. She last lost a round here in October 2013 when she was with another team. She also became the first driver to sweep the Challenge and national event in consecutive years since Bob Glidden did it in 1987-88.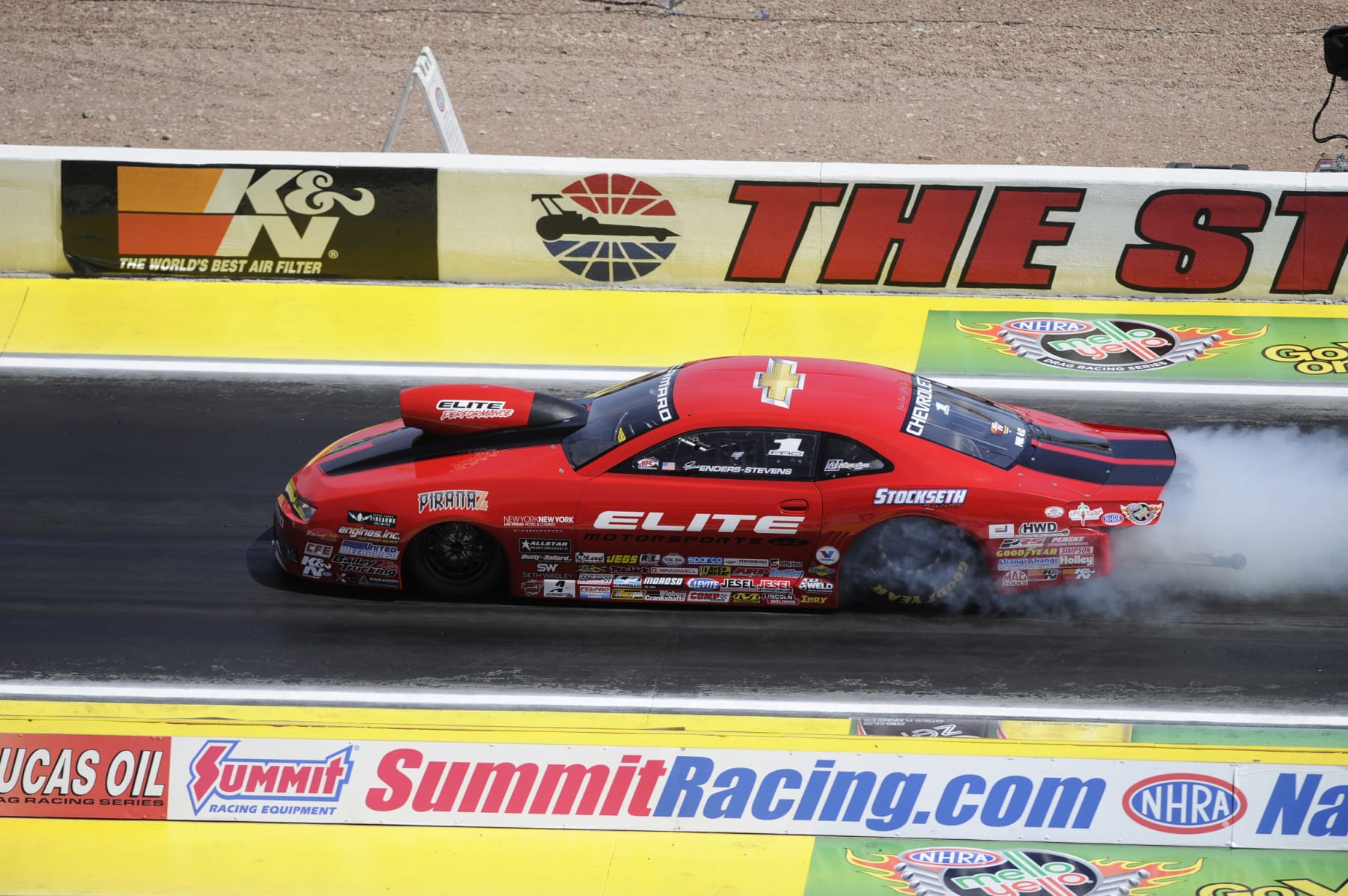 "I'm just really proud for Elite Motorsports and Elite Performance," Enders-Stevens said. "My guys have worked so hard and continue to give me a great race car, which has been a struggle at the start of this year. I think we've got our hot rod back."
The victory was Enders-Stevens' 13th of her career and first of the season. A test session following the Four-Wide Nationals in Charlotte two weeks ago went a long way in her Elite team overcoming troubles with a new tire and new fuel for 2015.
Sunday, though, Enders-Stevens had to undergo her own troubles. Flu-like symptoms, including a sore throat and fever, left her dehydrated before the race, and she took intravenous fluids before the first round. She took another IV later in the day.
"I just really had to focus on the mental side of it," Enders-Stevens said. "Anybody can relate to feeling so bad you don't even want to get out of bed. To have to get in a race car on a 130-degree racetrack in a 15-layer firesuit certainly tests you. I just had to be positive.
"I asked my crew chiefs (Rick and Rickie Jones) to do their best to pump me up on the radio, so we had some fun out there. I give them the credit today. They gave me a consistent race car. Granted, we did win on a couple of holeshots, but that's my job as a driver. You don't get sick days here."
Enders-Stevens responded with holeshot wins in the semifinals and final. She had a bye in the first round after Matt Hartford failed to make the call, and she then beat Jimmy Alund with a pass of 6.661 seconds at 207.27 mph to Alund's 6.697 at 206.70 mph.
She then ripped off a .001-second reaction time in the semi's to overcome Greg Anderson's quicker 6.671 at 208.71 mph with her run of 6.673 seconds at 207.53. The difference was on the Christmas Tree, where Anderson's light was .055.
In the final Enders-Stevens and Vincent Nobile — opponents in the K&N Horsepower Challenge final on Saturday — made identical 6.674-second passes. Enders-Stevens, though, had a .024 light, a tick quicker than Nobile's .040.
"I don't want to dwell on being sick," Enders-Stevens said. "It's not that big a deal. Everybody gets sick. They took care of me, and we were able to get it done today and that's all that matters."
GOOD READS
Over 2,000 miles away from The Strip, Rockingham Dragway hosted the PDRA Spring Nationals last weekend. DI Senior Editor Ian Tocher was on the property and reported back with this recap of the event in the hotbed of fast doorslammer racing.
One of the hottest drag racing stories on the web right now isn't about what happened in Las Vegas or Rockingham, but instead is a recollection of events that unfolded over the last several years. Competition Plus editor Bobby Bennett posted this powerful piece about John Medlen and why the brilliant tuner believes in life after death after losing son Eric Medlen in a Funny Car testing accident in 2007.
Readers of the Drag Illustrated Digital Edition – available for FREE at www.dragillustrated-digital.com – might notice more digital content lately. The DI gang is working to bring you an expanded digital edition, with videos and links intertwined with the articles from the print edition. Check out this example from our new Crew Chief special issue, featuring shop tours from chassis builder Jerry Bickel and engine builder Pat Musi.
GOOD VIEWS
Erica wasn't the only one to win big at The Strip last weekend. Eight K&N Filters contest winners were paired up with each of the eight drivers in the K&N Horsepower Challenge, and the winning driver's paired fan was given a brand-new Toyota pick-up truck. As you'll see in this video, the contest winner was as excited about Erica winning as she was.
Pro Nitrous racer Travis Harvey gave competitor John Camp a scare during the PDRA Spring Nationals last weekend. If you haven't already seen it, the video of the near-miss is worth a look.
The hot, new body style in Pro Mod racing is definitely the C7 Corvette. It's easy to see why; it looks super-clean, the aerodynamic numbers are there and the car really resembles the street-legal C7. The latest edition to hit the track is this G-Force Race Cars-built Pro Boost car driven by Canadian Paolo Giust.