The National Hot Rod Association's annual east coast opener, the 46th Annual Amalie Motor Oil NHRA Gatornationals, is one of the most anticipated races on the NHRA Mello Yello Series tour. One of the "majors", the long-running, prestigious races like the Winternationals and U.S. Nationals, the Gatornationals, March 12-15 at Auto-Plus Raceway, is an exciting race for several reasons.
It's the NHRA J&A Services Pro Mod Season Opener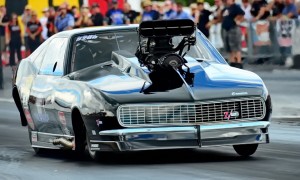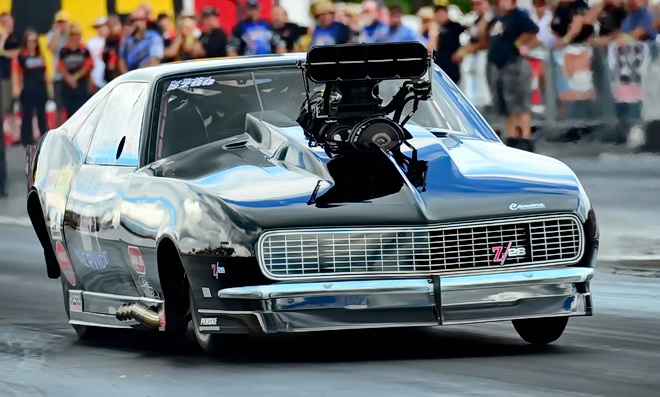 The first of 10 races on the J&A Services Pro Mod Series schedule, the Gatornationals is where we all get a first look at the major players in the legal Pro Modified scene for 2015. We're working on a full Pro Mod season preview for next week, but until then know that there are 30 cars entered for Gainesville. A couple other tidbits: sportsman standout Troy "TJ" Coughlin Jr. is making his Pro Mod debut behind the wheel of his father's JEGS.com Corvette and Pro Mod-turned-Top Fuel driver Khalid alBalooshi will be back in a doorslammer as a teammate for Precision Turbo driver Don Walsh.
The Kenny Bernstein Auction Benefitting the Darrell Gwynn Foundation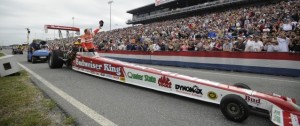 Auto-Plus Raceway is the home track for one of Florida's most accomplished drag racers, Darrell Gwynn, who was paralyzed in a racing accident in England and now runs the Darrell Gwynn Foundation. The foundation raises funds to support individuals with paralysis. DGF is holding a special fundraiser at the race this year, thanks to a generous donation by Gwynn's former teammate, Kenny Bernstein. Bernstein is donating hundreds of thousands of dollars worth of items from his personal racing collection, like Top Fuel and Funny Car bodies, event winner jackets, and more. The items will be auctioned off at the track and online on Saturday at 6 PM.
The Two-Wheeled Pro Stockers Kick Off Their Season
Like the Pro Mods, the Pro Stock Motorcycle teams will make their 2015 debut at this race. There aren't many changes in the PSM class going into the season, though a big one is the presence of Victory Motorcycles, joining the class as a factory sponsor for the husband-wife team of Matt and Angie Smith. Three-time Gatornationals champion Eddie Krawiec and reigning world champ Andrew Hines are back for another season riding the Vance & Hines/Screamin' Eagle Harley-Davidsons. The Arana family is back to a two-bike team, after Adam Arana elected to serve in the U.S. Coast Guard this year instead of continuing racing with his dad, Hector, and brother, Hector Jr. Again, look for a full PSM preview here next week.
The Pre-Race Festivities

Back for 2015 is the pre-race celebration in downtown Gainesville, featuring a fired-up nitro car. Terry McMillen and his Amalie-sponsored Top Fuel team will start up their "Instigator" dragster in front of Piesano's Wood Fired Pizza in Gainesville. After the warm-up, the crew will perform regular between-round maintenance and fire up the car again to display the power and precision required to turn around a Top Fuel car between runs. The event is scheduled for Wednesday, March 11th at noon.
The Sportsman Racing is Great, Too

Fans of the Sportsman classes have plenty to expect, too. Top Alcohol Dragster national champion Chris Demke is making the trip from California, and last year's TA/FC national champion, Steve Harker, is kicking off his title defense here, just down the road from his Gainesville, Georgia base. East coast racers in Comp Eliminator, Super Stock, Stock, Super Comp, Super Gas and Top Sportsman will all kick off their seasons.
Don Garlits' Drag Racing Museum is Right Down the Road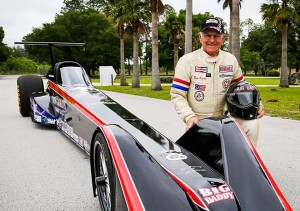 If you make it out to the Gatornationals and you find yourself with some extra time on your hands, perhaps a rain delay considering the forecast, think about shooting down I-75 to "Big Daddy" Don Garlits' Museum of Drag Racing in Ocala. Garlits and his staff have put together an incredible collection of historic race cars, equipment and memorabilia, and it's all a little over an hour away from Auto-Plus Raceway. The museum is open 9 AM to 5 PM daily.
GOOD READS
In the years when Service Central sponsored the Gatornationals, the Lagana brothers lit up the Gainesville Ale House parking lot with the header flames from their Service Central Top Fuel dragster at the pre-race party. DragRacingOnline has a great shot of the warm-up in their Gatornationals pictorial.
Still looking for more from Lights Out 6? DI Senior Editor Ian Tocher compiled images and stories on 10 of the cool, unique race cars at Donald "Duck" Long's race a couple weeks ago. The popular small-tire event might be overrun by a sea of Mustangs and Camaros, but this article proves there are exceptions.
You can't deny that Don Garlits is one of the most influential and fascinating people in drag racing. He revolutionized Top Fuel when he ran the first successful rear-engine dragster, won 17 collective world championships and even ran for U.S. Congress. He spoke with DI Editor-in-Chief Wes Buck for this in-depth interview in 2011.
GOOD VIEWS
Doug Kalitta paid tribute to Darrell Gwynn in 2010, wrapping his Top Fuel dragster in Coors Extra Gold colors to match those of Gwynn's entry when he won his last race, the 1990 Gatornationals. In this video, Kalitta Motorsports VP and crew chief Jim Oberhofer talked with team owner Connie Kalitta about the tribute car and what it meant to him.
Two of the sport's late, great drivers met up in the final round at the 1996 Gatornationals, and the outcome was unexpected to say the least.
Before his highly-publicized run-ins with the law, NASCAR driver Kurt Busch tried his hand at NHRA Pro Stock racing at, you guessed it, the Gatornationals. Driving a Dodge Avenger prepared by Roy and Allen Johnson, Busch lined up against Erica Enders-Stevens first round at the 2011 Gators.