If you've kept up with NHRA Top Fuel and Funny Car racing over the last four years, you've likely seen Tom Patsis's work in action. As one of the main fabricators at Don Schumacher Racing's Brownsburg, Ind. headquarters, Patsis has had a hand in more than a few aspects of the megateam's four Funny Cars and three Top Fuel dragsters. He's worked for the last four years in the fab shop, building chassis and headers, mounting Funny Car bodies and putting together dragster bodies and canopies. Before that, he was a crew member on DSR's U.S. Army Pro Stock Motorcycle teams with riders Angelle Sampey, Antron Brown and Matt Smith.
When he isn't in the shop at DSR, Patsis is busy running Cold Hard Art, a brand of unique sculptures he makes from scrap metal, much of it coming from the race shop. The business started as a simple hobby and has grown since its inception in 2009.
"I used to just make art after work to practice tig welding," Patsis remembers. "When you're practicing, if you're just slapping two pieces of sheet metal together, you don't really do your best because you're just going to throw that sheet metal away anyway. So I always try to learn how to weld and do a lot of stuff and make something at the same time that you actually want to keep. You try a little harder that way. It was just practicing, learning how to weld, that's it. And then it got crazy."
Crazy is probably an accurate description of Cold Hard Art's growth over the last few years. Patsis and his brand have built an incredible online following, with over 70,000 Facebook fans and 21,000 instagram followers waiting to see what he builds next. His customers have ranged from race fans to iconic team owners and drivers. We've composed this list of just a few of Tom's projects and the stories behind them and their owners.
(Click the photos for full-size images)
1. Bodie Brandt's NAPA Funny Car
One of  the first-ever CHA pieces, this car was built for Bodie Brandt, a hardcore racing fan Tom met at the races. Patsis was stuck without welding equipment midway through the building process, so Brandt gave him a brand-new Miller welder and air compressor – this is one of several generous acts that Patsis mentioned. When the car was finished, Bodie and his wife drove to Indianapolis from their Texas home to take delivery of the car. Just months later, Brandt was killed in an oilfield accident at one of his oil derricks.
"He continues to give me stuff without even being here. Everything I build is with that welder, and through the welder and this NAPA Funny Car I took part in a Miller contest and built a reputation with the company, so now I don't pay for any welding equipment," Patsis said.
2. Hendrick Motorsports Stock Cars
The crew members of the#48 and #88 cars pitched in to buy these cars for Michael Landis, then a Hendrick Motorsports team manager, Steve Letarte, Dale Earnhardt, Jr.'s crew chief, and Chad Knaus, Jimmie Johnson's crew chief. The two crew chiefs' cars are hand-etched with their team's sponsors, while Landis's is split down the middle, with one half bearing #48 markings and the other half resembling Junior's #88 car. Patsis made two more #48 cars for a Lowe's charity event and most recently built a 1:12 scale '67 Corvette for Rick Hendrick himself.
3. In-Motion Top Fuel Dragster
One of CHA's first commissioned pieces, the in-motion dragster was built for Steve Schiewer of Aerodine Composites, a company that makes carbon fiber parts for a variety of motorsports applications. "He said he wanted it to look like it was going 300 miles per hour so I did this multi-panel design where you can see the panels and the chassis arching. Steve let me borrow the car back for shows and such so I added the copper flames and clearcoated it for him. He's been one of my supporters since before I had the internet following."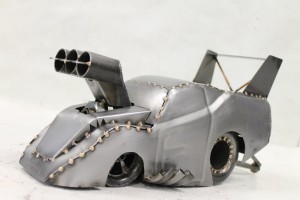 4. Vincent Nobile's Pro Mod Superbird
This cartoon version of a Pro Modified Plymouth Superbird was ordered as a Valentine's Day gift for NHRA Pro Stock driver Vincent Nobile. "It has exaggerated features, like the injector and the tires, kind of like a Rat Fink style. It's fat and misshaped but you can tell exactly what it is. The Superbird already looks like it's driving into the ground so it actually was an easy car to do."
5. Don Schumacher's Fish
"Megan Schumacher ordered that for Don's birthday. She wanted something because he loves fishing, and I wanted to integrate something drag racing. All of the rod bolts say DSR on them. I think it weighs something like 32 pounds and it's on a carbon base. It's at his Florida home over the entrance. That was a cool one because it's for the bossman."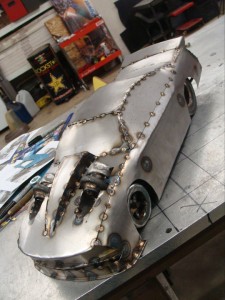 6. Erica Ortiz's Twin Turbo Mustang
Patsis used a unique process to make the turbochargers for this project. "I took some 3/8th tubing and heated it up. I had to fill it with sand because when you bend metal too tight it just collapses, shrinks and looks like crap. So I filled it with sand, welded the ends up, and heated and rolled it around a piece of tubing to keep it tight and give it the turbo look. I cut out a circle of sheet metal and used a pair of snips to make it look like the blades."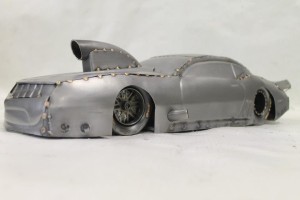 7. Rickie Smith's 2013 Camaro Pro Mod
Tricky Rickie's daughter ordered this car to commemorate one of her father's recent accomplishments.
8. Dallara IndyCar Award
This IndyCar replica, nickel plated and mounted on a carbon fiber base, was commissioned by IndyCar builder Dallara. One was given to Indiana Governor Mike Pence, and another given to IndyCar driver Ryan Hunter-Reay to recognize the 200th win by a Dallara chassis.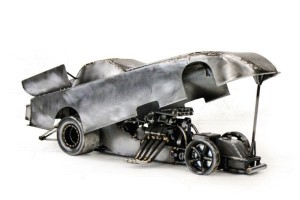 9. Toyota Funny Car
Thanks to new tricks and tools acquired since he built his first Funny Car replica, this version has a smoother body and more accurate features. One of the challenges was building the body to fit the chassis. "I usually build the chassis first and the body second to make sure the injector lines up with the hole and everything looks square and scaled. This was, to me, one of my best drag racing pieces."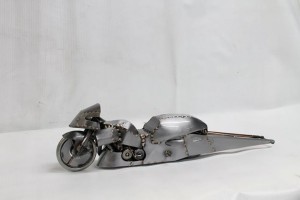 10. John Hall's Pro Stock Motorcycle
NHRA Pro Stock Motorcycle rider John Hall received this Buell as a gift from his wife. It's one of three drag bikes built by CHA.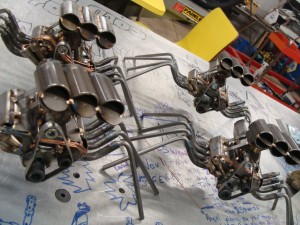 11. Nitro Hemi Spiders
These replicas of nitro-burning Top Fuel motors are some of the best sellers for Patsis. "If I could make a hundred of those per year, I would have every one of them sold. I've never been able to keep up with those. I posted one on eBay last year and said it would be the last one I made that year. I usually sell them for around $250. The morning after I posted it, the bid was at $5,500. Someone meant to enter a max bid of $600 but they added an extra zero. We got that fixed and it ended up going for a thousand dollars, which is still stupid-awesome."
GOOD READS
On Monday, a California state court decided to uphold the conviction Michael Goodwin, who is serving two life terms for the 1988 murder of racing legend Mickey Thompson and his wife. For more on the decision, read this update from the Los Angeles Times.
Longtime public-relations representative Joe Sherk was recently inducted into a Sports Hall of Fame in Washington. Read more about the honor and Sherk's career as a drag racing P.R. rep in this article from Competition Plus.
In preparation for DI's upcoming 2015 Hottest Women issue, our annual spotlight on the best, brightest and baddest women in drag racing, flip through the 2013 Hottest issue here.
GOOD VIEWS
Check out a weekend of European drag racing with Swedish brothers Johan and Jonnie Lindberg as the 2010 FIA Pro Mod champs race in Hockenheim, Germany.
David DeMarco is testing at Bradenton Motorsports Park this week with his new set-up, running his supercharged Buick on drag radials. This was just his second pass with the new combination.
This week's Wheels-Up Wednesday video comes from Lights Out III at South Georgia Motorsports Park. Hit "play" for six minutes of hard-charging, wheelstanding small-tire machines.