The 10th annual Summit Racing Equipment NHRA Nationals is one of the most anticipated events on the NHRA Mello
Yello Drag Racing Series schedule for drivers, teams and fans. It's the halfway point on the professional tour, the last of four races in four weeks, and the only race on the tour where a pound of ice cream can be acquired for one dollar. The fan-centric Summit Motorsports Park played host to another thrilling event, packed full of quick, close racing and impressive performances.
The ice cream has melted, the Wallys and commemorative billet ice cream scoopers have been presented to the winners, and the tire smoke has cleared. It's time to look back at the Summit Racing Equipment NHRA Nationals, presented by our event coverage sponsor, Cometic Gasket, Inc.
BEST EVENT PERFORMANCE: RON CAPPS
The Funny Car class is absolutely crushing track records at every stop on the tour, and Norwalk was no exception. The track record elapsed time, a 4.000, was reset seven times in the first qualifying session before Ron Capps recorded a 3.923 at the end of the session. The record was ultimately taken away by number one qualifier Del Worsham's otherworldly 3.875, but Capps and his Rahn Tobler-tuned Napa Dodge Charger didn't need a track-record performance to turn on all four win lights on Sunday. Tobler tuned Capps to four three-second passes in eliminations – 3.966, 3.990, 3.963, and a 3.956 to drive around Courtney Force's 4.010 in the final round. The Norwalk win was Capps' third on the four-race swing, and 49th overall, tying him with his former team owner, Don Prudhomme, on the list of all-time Funny Car wins.
BEST EXHIBITION CLASS: OHIO AA GASSERS
We've all seen jet cars and wheelstanders making runs to end the day at a national event, and they're great, but it was refreshing to see about a dozen different gassers from the Ohio Outlaw AA/Gasser group as the grand finale for Friday qualifying. A wide variety of cars, from Anglias to '53 Corvettes, rolled into the waterbox and laid down long, smoky burnouts, dry hops and squirrelly runs down the famed Norwalk strip during qualifying. Defending event winner Brian Spotts went back-to-back, running a 5.677 at 123.88 on the AA Gasser index of 5.60 seconds, to beat Alan Borowski's 5.692 at 124.22 in the final round. In this selfie video interview, DI Editor-in-Chief Wes Buck checks in with AA Gasser driver Micky Hale, who is also a sales tech at Cometic.
BEST 'ZERO TO HERO' PERFORMANCE: BILLY GLIDDEN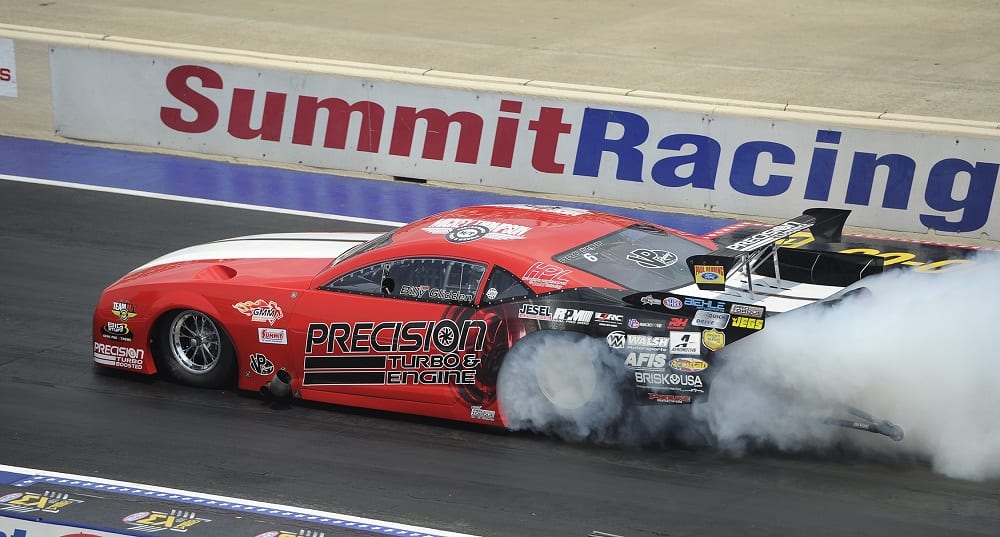 Harry Hruska's Precision Turbo Pro Mod team raised a lot of eyebrows when it was announced that Billy Glidden would leave his own successful nitrous-assisted Mustang to drive Hruska's turbocharged Camaro starting at the Englishtown race three weeks ago. The duo made a strong statement with a final round appearance at their first race together, then suffered an upset DNQ at the NHRA Thunder Valley Nationals in Bristol. Hruska and Glidden came back at Norwalk and qualified 10th in the 30-car qualifying order. The second-generation doorslammer driver strung together runs in the high 5.8s to beat the supercharged entries of Eric Latino, Von Smith and Mike Janis, then unleashed a Sunday best of 5.893 at 245.63 to take the event win over a red-lighting Bob Rahaim, who qualified number one.
 SCARIEST ON-TRACK MOMENT: STEVE HARKER'S CRASH
Past NHRA Top Alcohol Funny Car world champion Steve Harker sustained a devastating impact with the right-side retaining wall during the third and final round of qualifying. Harker's 2015 Camaro lost traction and shot across the centerline and avoided collision with John Headley before taking a hard hit into the wall. The likable Aussie had to be cut out of the chassis and was airlifted to a hospital in Toledo, where a full evaluation found three cracked ribs and a punctured lung. According to an update from the team's Facebook page, Harker is to be released from the hospital today.
MESSIEST WINNING PERFORMANCE: EDDIE KRAWIEC
What not to do but with the help of a great team and good friends we turned it around for me to do it again #Sorry pic.twitter.com/UClMQotoeV

— Eddie Krawiec (@EddieKrawiec) June 27, 2016
There's a sizable list of drivers and riders who have went into the sand trap at Norwalk, and multi-time Pro Stock Motorcycle champion Eddie Krawiec ended up on that list not once but twice on his way to his third win on the season. His Screamin' Eagle/Vance & Hines team was cleaning pea gravel out of Krawiec's V-Rod after his semifinal win over Jerry Savoie. It was an all-Harley final round with Krawiec and teammate Andrew Hines leaving with identical .019 reaction times, then Krawiec held on for 6.926/194.72 victory before nosing into the sand trap again.
BEST ADAPTATION TO PRO STOCK RULES PT. 12: KB RACING

KB Racing drivers Jason Line and Greg Anderson won all 11 of the prior races in this new era of electronic fuel injected Pro Stock cars. There was no way they were going to loosen their grip on the class at Norwalk, the home track of their sponsor, Summit Racing Equipment, who as you've probably noticed, is also the title sponsor of the track and the race. It's safe to say Line and Anderson were motivated to do well here, too. The red and blue Summit Camaros qualified one and two with a pair of 6.56s and continued to be the two quickest cars throughout eliminations, with Line eventually beating Anderson in a 6.678-to-6.717 final round.
STRONGEST "MAKE DRAG RACING GREAT AGAIN" PERSONALITY: BILL BADER JR.
Even before Norwalk Raceway Park became Summit Motorsports Park and the track switched from IHRA to NHRA sanction in 2007, the Bader family has been legendary for doing whatever it takes to put on an unbeatable show, put people in the stands, and keep them coming back for years to come. A decade after joining the NHRA tour, the track still pulls out all the stops, from extremely friendly track workers and fan shuttles throughout the facility, to 10-minute fireworks shows and of course, the $1 pounds of ice cream. Track president Bill Bader Jr. announced during pre-race ceremonies that the track has plans to make additional improvements to the already immaculate facility in the coming years, and also debuted a new, exclusive trophy for winners of the Summit Nationals. Watch Bader's interview above for a look at the trophy, as well as a sample of the philosophy he follows to help Make Drag Racing Great Again.
LUCKIEST ROUND WINNER: SHAWN LANGDON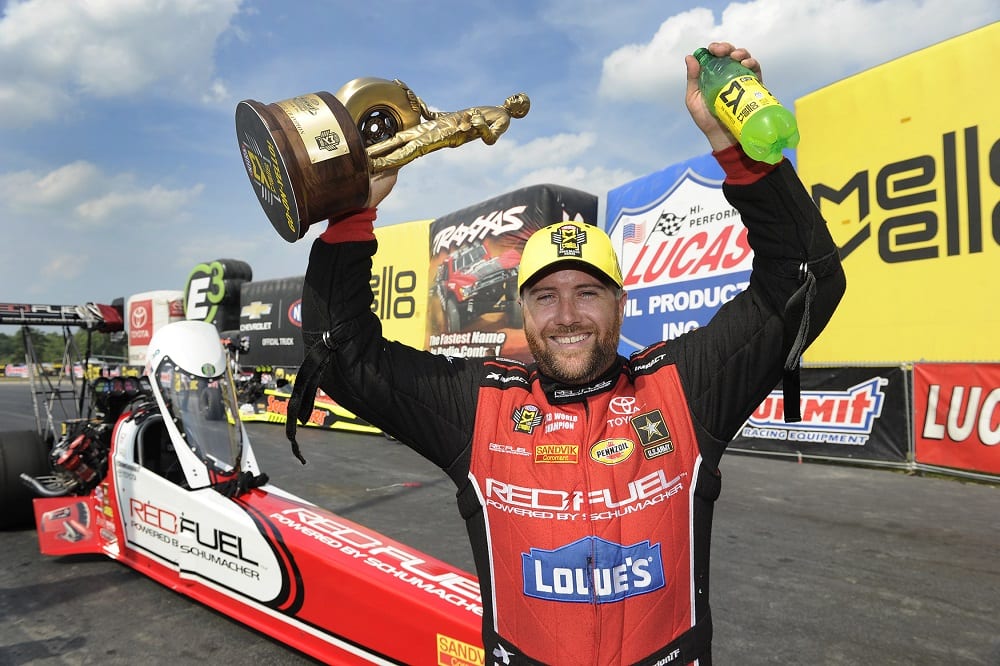 Bristol winner Shawn Langdon dodged a major bullet in the first round of eliminations when he went into nearly immediate tire smoke. Fortunately for him, opponent Troy Buff left the starting line thirteen thousandths of a second too soon on his way to a 3.899 performance. That was the only lucky break Langdon and his Phil Shuler-tuned RedFuel dragster needed, though, as he was the quickest driver of the subsequent three rounds. A pair of 3.80s took care of Antron Brown and Brittany Force, then a 3.846 defeated J.R. Todd's 3.937 in the final round.