From offering a helping hand as an 11 year old in 1977 to his gasser legend father, Tom Prock, to currently serving as crew chief on Jack Beckman's Infinite Hero Dodge Funny Car for Don Schumacher Racing (DSR), Jimmy Prock's career has been dotted by a star-studded line up of drag racing royalty. Early in his crew man ascension Prock worked for Tom McEwen, Kenny Bernstein and Dick LaHaie before getting his first turn as a Top Fuel tuner in 1992 with Cory McClenathan, whom he came within one round of winning the championship with that rookie year.
By the late-'90s, Prock was crew chief for Joe Amato, with whom he earned the "Prock Rocket" nickname that has stuck for his race cars ever since. His first stint with DSR and as a Funny Car crew chief came late in 2000 when he was hired to tune Whit Bazemore's ride, but even before the 2001 season was over he was lured away to become the third leg of the John Force Racing (JFR) crew chief "braintrust" alongside Austin Coil and Bernie Fedderly.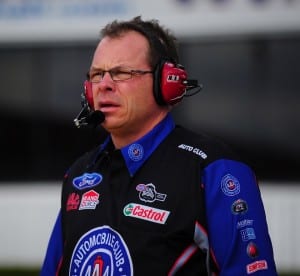 Though known as an aggressive but consistent tuner and ready to rise to any challenge, it took Prock until 2009 to win his first NHRA championship when he guided JFR's Robert Hight to Funny Car wins in three of that year's six Countdown events, making Hight the only driver so far in any class to climb from worst (10th) to first among Countdown contenders. Then, a 2013 mid-season crew chief swap saw Prock leave Hight's team to take over Force's car, ultimately leading to Force reaching five consecutive final rounds in the Countdown—including three wins in a row—to clinch an unprecedented 16th Funny Car championship for Force. Prock's JFR tenure ended abruptly last October, however, after he revealed an intention to resign once the final two races of the season were completed, but Force decided to cut ties immediately.
The next day Prock was announced as Beckman's new crew chief and this year with the same two races left on the schedule he'd delivered seven national-event victories and an official elapsed time record three times for Beckman as he sat less than two rounds away from first place and his second career championship. It was at this point Prock sat down with DRAG ILLUSTRATED to discuss what it means to be a top-tier nitro crew chief in today's NHRA.
Did many of your crew members come with you in the move to DSR?
Well, Don (Schumacher) hired me and then he leaves it up to me to hire the team to run the cars. He has input on it, but he basically hires the crew chief to run the race team and assemble the crew and that. So yeah, we have a lot of the guys that I had worked with for years. They wanted to come over once I wasn't at Force's anymore, so a lot of the people that work on Jack's car have worked together for quite a few years and there are a couple of people that were there with Don that are still on the team, too.
Is creating a good, harmonious team the most important part of the puzzle?
Well, obviously you have to have the equipment and the funds to do everything and once you have all of that, it's the people that are really important. If you have to start over it takes a while to get everything gelling and running smoothly. But it depends on how much experience the people have that are on the crew. The more experience, the easier it is, usually. But we also find people that don't have a lot of experience, we're able to train them to do what we need to do and get the job done.
Most of our work is done behind the scenes. All your preparation and everything leading up to going to the race has a lot to do with how you do. I think that's true in any form of racing. And we have a great group of people that work on the car and they deserve a lot of the credit for as successful as it's been.
As the team leader, is it important for you to always remain calm, or is that just your natural demeanor?
Yeah, it's hard sometimes but you don't want to get too emotional, really. If you're doing this you have to stay focused on what you're doing and try to make the best decisions you can because just a little this way or that way is the difference between winning and losing. I think anybody that does this has to try and harness that competitive nature and put it in a positive direction.
Considering all the computerization now in these cars, how much does talking to Jack factor into the decision making for you?
Well, it helps. As far as the tuning of the car, we look at the parts, study the data and tune it. But as far as how it drives, or making sure the driver's comfortable, the car steers properly, it leaves the line; Jack has a good feel for all that. So we do listen to what he says and make adjustments.
Without giving any secrets away, can you explain the dramatic performance increase you introduced earlier this year?
I always look at racing as it's always evolving. You're always trying to find the next thing that you can do better. And we had a few ideas of stuff and as the season went on, we started implementing some of those things and it really helped pick apart the performance. It's just we're always striving to do the next thing we can or better understand what we're doing. And find stuff that can help us be more consistent or more reliable or faster and there's a lot of elements that go into that, everything you're looking for.
From the outside looking in, it's always fascinating to see these cars already going so quick and so fast and yet you step it up a little bit. But then not only do you step it up, suddenly there are other cars able to run almost as quick or just as quick as you are. How does that work in general? Why do the other teams improve so much after one team picks up?
Yeah, well, people see the ET slips and they can see where it's going quicker. If an ET just came up on the board and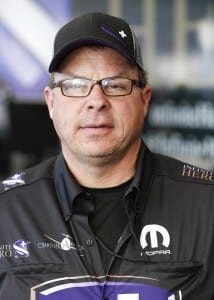 you didn't have any incremental times or any of that, that would be a lot tougher to replicate. All the teams out there for the most part, or at least the bigger ones, have comparable parts. I would say nobody has anything that's incredibly better than what the next team can have or what you can buy. So it's a pretty level playing field as far as that goes.
Then it comes down to how much power can you make, but it's really the clutch management, the application, maybe car dynamics, that's what helps you go faster mostly, I would say. And the other thing in our business is there's so many ways to go about and get pretty much the same result or close to it. And it comes down to how often you can do it, how consistently and in good conditions, in hot conditions, whatever. And that is stuff you have to learn by running the car, collecting data, making mistakes, learning from them and making yourself better.
Is being part of DSR, with four Funny Cars in the stable, easier or more challenging since you not only want to be the best overall; you probably want to at least be the best among your teammates?
Well, it's not any different for any of us. Everyone that works over there wants to be the best they can be and better than anyone else. And we do help one another there, too. But like I said, all these cars a little bit different. We have similar parts, but some things are different. Engine parts-wise, we have similar stuff; clutch-wise there's some variances on what people are doing, but there's a million ways to skin a cat. And you don't always know what the best way to do it is.
But that's what's good. Everyone runs their own thing, but we all help one another over there if we need help. You learn more that way, I think. It's not to say that everything I do is the best. Some guys may do some things better than I do, or vice versa. So that's what's good. You have smart people working at Schumacher's and everyone runs their own car the way they want to run it.
Do the various crew chiefs at DSR share much with each other in the way of data when you're actually racing or out there setting records?
We do, because it means there's that much more problem solving, mostly. The cars are all performing well so we'll talk back and forth about what we see. And if someone has a question and wants someone's opinion, they can go get it to help them figure out what they need to do and all that. So that's where we have an open door, to help one another figure things out, solve problems or decide what's better.
Where will the sport's future nitro crew chiefs come from?
Typically, how it goes is you have the people that work their way through the business and they get into an assistant role. And the assistant crew chief studies the data, helps run the operation, watches over the parts, works with the crew chief. And then you move up into that. And I think there's definitely people that are capable. And people do get chances. Jon Schaffer over there at Force's, he moved in when I left and he's worked his way up and I believe there'll always be people that can do that.
A lot of it is you need an opportunity. Just like me. I'm lucky; I got an opportunity with Cory Mac to be a crew chief when I was 26 years old. I know it was 20-something years ago, but that's the biggest thing. You just have to work for a chance to do it.
It's a fascinating business you're in, certainly a unique niche within motorsports and even within drag racing itself; pretty incredible, really.
Yeah, it's a tough thing to do. But it's fun and it's constantly evolving for me. I'm not sure where we're headed next, but you just keep doing it and as you use the things that are available, you always try to understand more about what you're doing and try to learn and make it better.
Photographs by Gary Nastase, Mark J. Rebilas, and NHRA Media.
This story originally appeared in Drag Illustrated Issue No. 103, the Interview Issue, in September of 2015.