With hundreds of racers and thousands of race fans at last year's Summit Racing Equipment Shakedown at the Summit presented by Mickey Thompson Performance Tires and Wheels at Summit Motorsports Park, it seemed that the rules packages, payouts and pavement pounding action were prime.
But as president of the globally known dragstrip which welcomes more than 500,000 fans annually and has been named Track of the Year sixteen times by the NHRA, NMCA and IHRA, Bill Bader, Jr. is determined to make the event even bigger and even better each year.
Categories contested at this year's event, Sept. 16-18, include ProLine Outlaw Pro Mod, Precision Turbo and Engine Outlaw 10.5, Speedwire Systems Outlaw Limited Street, Holbrook Racing Engines Top Sportsman, Wiseco X275, Callies Pro Street, Team Z Motorsports Ultra Street and Trick Flow Open Comp. Additionally, the G-Force Race Cars/Resolution Racing Services Money Shot guarantees that the driver of the quickest car on-site receives $5,000.
Below, Bader, Jr. discusses what he's doing for this year's event to ensure that it will see the same caliber of cars that have crushed the famed track surface in years past.
You recently announced that the ProLine Outlaw Pro Mod winner will walk away with a whopping $40,000 and that the purse is packed to $66,600.
Pro Mods have always been warmly received in this market, and the Pro Mod teams are professional-caliber teams that spend a lot of money and deserve this kind of payout. It's on par with what you can win in Top Fuel and Funny Car at national events, and it rewards the teams for their efforts while also raising awareness in the market for Shakedown at the Summit.
What prompted you to go from a 32-car field to a 24-car field in ProLine Outlaw Pro Mod?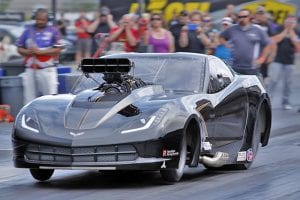 It's no secret that last year's car-count wasn't what we had hoped it would be. We had 19 cars for a 32-car field, and that was embarrassing, to be honest. To have 19 Pro Mods at an event like this is unacceptable, so I worked with a number of people to create a rule set that was more favorable to the majority of the teams. Now, I want to let the car-count for this year's event dictate the size of the field for future events, and I'm hoping we have 30-40 cars fighting for spots, and when we get to the point where we have 40 or 50 cars, I'll look at going back to a larger field.
We have fed this thing on steroids and we should see a favorable response. We didn't take baby steps. We didn't say 'Let's take three years and rebuild Pro Mod.' We said 'Let's rebuild Pro Mod right now.' It will be highly competitive and talked-about, and I can tell in part by how many calls I'm getting. There's a lot of excitement around it. Once we get this nailed down, our focus will be on what we want to do with the radial class. The future is exciting.
Holbrook Racing Engines Top Sportsman went the other way, with a move from a 32-car field to a larger 48-car field.
Based on the level of support, the field warranted it. We had a monster turnout of 64 cars at last year's event, but with the field at 32, only half got to race. The bump spot was 6.788. If it had been a 48-car field, it would have been 7.128. With the change to the 48-car field for this year's event, we may very well top 70 Top Sportsman cars, and to have that many cars running that fast is pretty damn impressive. I feel that the move to a 48-car field will help ensure that Top Sportsman continues to grow.
Precision Turbo & Engine Outlaw 10.5 and ProLine Outlaw Pro Mod saw some notable rules changes.
In Precision Turbo & Engine Outlaw 10.5, we relaxed the rules regarding chassis and firewalls, and we opened them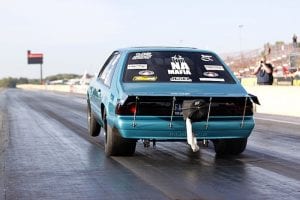 to allow 3062R radial tires. In ProLine Outlaw Pro Mod, we went back to the drawing board and created rules that were more closely aligned with those of the NHRA and PDRA. I had input from industry experts, and I have not had one call from anyone to indicate that they feel any part of the rule set is unfair. We made the changes to try to appeal to the masses, and we'll measure the results, but they should be positive.
The word is ticket sales have doubled for this year's event.
Ticket sales are up 100 percent. My dad (Bill Bader, Sr.) always said it takes three years for an event to be entrenched, and now that this event is in its fourth year here, it has paid its dues and it's starting to come into its own. People will start to mark it on their calendars.
What contributes to the event's success?
I think it's the mix of cars. If you like slick tires, we have the most badass slick tire cars in the country. If you like drag radial tires, we have the most badass drag radial tire cars in the country. I commend Dave Hance on that because he created it and we massaged it. It's a great blend of cars and classes, and it's held at a great time of the year, when drivers can potentially make hero runs. We're going to continue to watch this event grow. It will never be a static event. It will always be a dynamic and ever-changing event.
Summit Racing Equipment Shakedown at the Summit is Sept. 16-18, 2016 at Summit Motorsports Park, 1300 State Route 18, Norwalk, Ohio. For more information, call 419-668-5555 or visit www.summitmotorsportspark.com.
Story by Mary Lendzion
Photos by Andrew Courter